Most competitive sporting lives finish once an athlete hits their mid-thirties.
Some manage to stretch it out past their 40th birthday, but then that's that and retirement follows.
Some sports though offer a pathway for people to continue competing as long as they are humanly able and triathlon is one of those.
This weekend Ireland will send a team of nearly 70 age-group triathletes from 16 years old right up to 69 to the European Championships in Glasgow.
On the same course as the elites will battle it out for podium places, they will swim, cycle and run for their country.
"The business went down and I found the discipline of exercise helped me through it because I got quite low during that period." - Charles Russell
"If you told me ten years ago that I would be representing Ireland in triathlon I would have said you were crazy," laughs retired secondary school teacher, Siobhán Greer from Blackrock in Louth.
'Absolutely crazy. I had no athletic background of any kind."
Greer only took up triathlon in her late fifties and now at 62 years old she is getting ready for the European Championships.
"I was over at the Olympics in London in 2012 and I saw triathlon; I happened to be talking to people from all over Britain my age who were in triathlon clubs," she explained, speaking to RTÉ Sport.
"They told me that it was an age group sport and that they did it so I decided to give it a go and I took it up when I retired at the tender age of 58.
"I was 59 when I started to run, I had never run in my life, I had swum a little bit in my teens and I always liked the water, I cycled to work and that was the height of it. I joined the local cycling club, I joined the local triathlon club, went to the masters swim sessions and I decided I'd try a sprint.
"Once I did one, I was hooked.
"The club I was with, Setanta in Dundalk, decided they were going to Austria in 2016 as a club to do a half Ironman and I decided that would be a great way to celebrate my 60th birthday. It would either kill me or make me!
"It has been brilliant. It has been transformational; it's surprising what the body can cope with and it has been very enjoyable."
Saturday's is a sprint race - 750m swim, 20km cycle and 5km run. An Olympic distance is 1,500m in the water, 40km on the bike and 10km running. Half Ironman is double that with the gruelling full Ironman a 3.9km swim, 180km cycle and full marathon.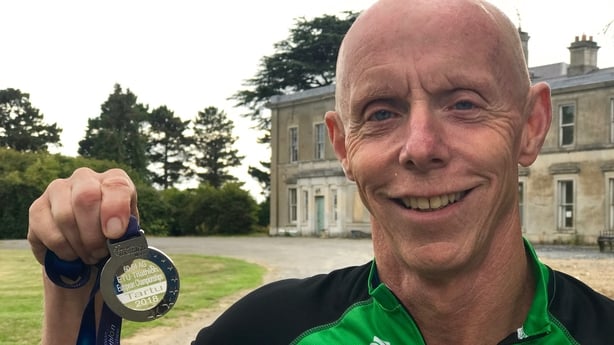 Charles Russell from Bushmills in Antrim is one of Ireland's older competitors at 66 years old and was once an Ireland international in trampoline and diving.
"I took up triathlon as a result of getting injured, hurting my hand playing rugby, so in the off-season I borrowed a bike in 1984 and did my first triathlon," he explained.
"I had a 20-year break when my children were growing up. My son decided to do the London triathlon in 2007. He said, 'Dad, would you like to come along' so I decided I'd do it and it all started again!"
At 59 years old John Bruton from Westmeath and a proud member of Athlone Triathlon Club, won a silver medal in his age category at the recent European Olympic distance championships in Tartu, Estonia.
He is a relative youngster, turning 60 later this year and under triathlon rules he competes in the 60-64 age group which gives him an age advantage over many of his rivals.
"I have no intention of stopping!" he laughed. "I'm just back from Estonia, the Olympic event, and there was a man and a woman from the UK in their eighties and it makes you think 'I can keep going'. They were super."
All three of these evergreen athletes speak about the positive influence that exercise has in their lives - it keeps them fit and well, mentally and physically, and it helps to keep them young.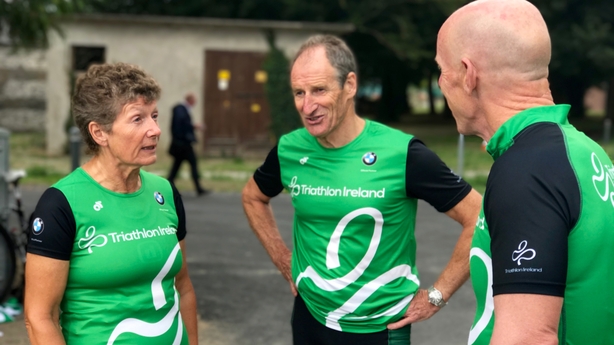 Perhaps the most powerful testimony is from Russell, who says sport helped to keep him sane during tough periods of his life.
"In 2013 the property crash hit me, I was involved in property, and I went through a rough period," he said.
"The business went down and I found the discipline of exercise helped me through it because I got quite low during that period. Going back to the basics with my exercise always made me feel better and it definitely helped me through that difficult period of my life.
"If I feel as if I can still do it, put one foot in front of the other, one arm in front of the other swimming, I'll still do it. That's how I feel about it because it makes me feel good - I will always come back to it.
"I've seen a competitor who was nearly 80 and I feel that's inspiring - that's someone who has decided to keep going until the bitter end!"