Germany's Anne Haug won the elite women's ITU World Triathlon Series Grand Final in Auckland on Saturday. Ireland's Aileen Morrison failed to finish the race.
Haug pulled clear on the final lap of the run, finishing in a time of two hours 10 minutes and 48 seconds, 12 seconds ahead of American Gwen Jorgensen with Barbara Riveros Diaz of Chile in third.
Sweden's Lisa Norden was fourth to claim the overall world title, with Britain's Jodie Stimpson given the same time as the Olympic silver medallist in fifth.
Morrison was second in the race after the swim. However, the Lisburn athlete pulled out of the event on the bike leg, later revealing on Twitter that she had not recovered from a cold and felt she could not finish the event.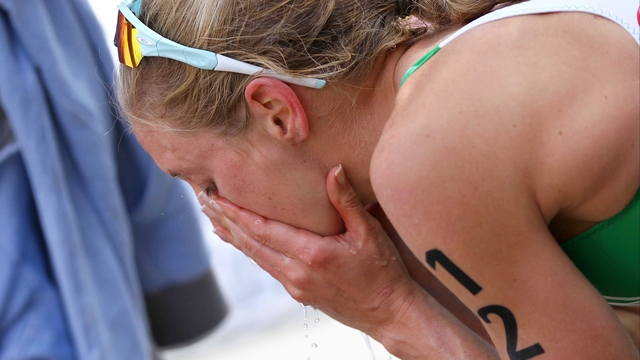 Norden's fourth place was enough to secure the 2012 ITU World Championship, capping off a breathtaking season in which she won silver at the Olympic Games and collected two series wins.
Haug's win catapulted her to number two in the overall series rankings, making her the ITU World Championships silver medallist.
Morrison's race in detail
Morrison was towards the head of a world-class field during the early stages of the swim, rounding the first buoy in eighth spot.
Over the second 750m loop, Morrison moved through the field still further, exiting in a super quick time of 19 minutes 4 seconds, and second place.
Rachel Klamer of the Netherlands was three seconds ahead, while a number of the sport's top swimmers were trailing behind.
Entering transition 1, Morrison had a smooth changeover, allowing her to easily make the lead bike pack.
Over the eight-lap bike course, the effects of a cold, which Morrison had been suffering from for the previous week, came back to haunt her, and she dropped off the pace, eventually recording a did not finish.
The Irishwoman puts her DNF down to the effects of a cold
Morrison said: "It was a tough call for someone like me, but after being passed by the second pack I knew I was cooked.
"I spent much of last week resting after a cold. I just wasn't up to the standard. I was second out of the water though so chin up."
Morrison will enjoy an end of season break before returning to build on the success of her 2012 season which included Olympic qualification; a World Triathlon Series silver medal in Madrid; a World Cup silver medal in Japan; a European Cup silver medal in Portugal; and a 17th-place finish in the World Triathlon Series.
Westport youngster Con Doherty will race in the Junior World Championships on Sunday, while the Age Group race takes place on Monday.