Novak Djokovic surpassed Rafael Nadal's all-time record by reaching his 17th French Open quarter-final.
The 22-time grand slam champion defeated Juan Pablo Varillas 6-3 6-2 6-2 to maintain his run of not having lost before the last eight at Roland Garros since 2010 and set up a clash with 11th seed Karen Khachanov.
Djokovic is still 12 Paris titles behind Nadal though, and, with the Spaniard missing for the first time since 2004, his great rival knows what an opportunity this is.
He said: "I'm proud of it, but my attention is already on the next match. Obviously quarter-finals, Khachanov, I know what my goal is here. I'm trying to stay mentally the course and of course not look too far.
"Obviously the performance of today gives me a great deal of confidence about how I felt, about how I played. So I'm looking forward to the next match."
Peruvian Varillas, ranked 94, has enjoyed the best week of his career but he had needed five sets to get through all three of his previous matches and was unable to trouble Djokovic.
The third seed had been pushed extremely hard by Alejandro Davidovich Fokina in his previous match and struggled physically, so this was a very welcome easy afternoon.
Djokovic raced into a 4-0 lead and the only time he looked in any discomfort was when Varillas won two games in a row and forced a break point in the next one.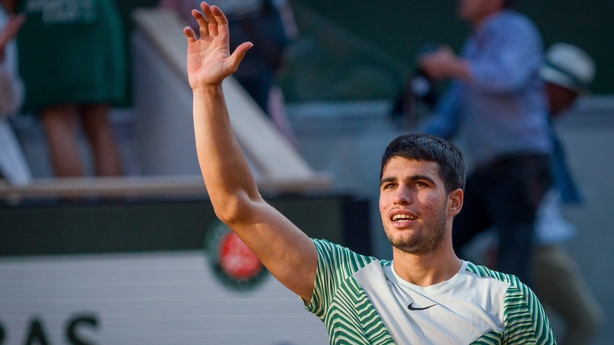 The third seed, who criticised the crowd for booing while he took a medical time-out in his previous match, was again jeered for his reaction and cupped his hand to his ear after winning the next-but-one point.
There were plenty of cheers at the end, though, as Djokovic wrapped up the victory after an hour and 57 minutes.
He said of the crowd: "I thought they were great, especially at the end. They gave me a very nice chanting and support and, as a player, you always want to receive that love from the crowd."
A semi-final blockbuster against Carlos Alcaraz is looming ever closer, and the Spaniard continued to look every inch a potential champion in a 6-3 6-2 6-2 victory over Lorenzo Musetti.
The 21-year-old Italian is a big talent, especially on clay, and this was a crowd-pleasing encounter, with Alcaraz pulling off several shots through his legs.
Ultimately it was a straightforward win, though, as world number one Alcaraz, who missed the Australian Open through injury, stayed on track for a second successive grand slam title.
Khachanov is bidding to reach the semi-finals at a third straight major tournament and he recovered from a poor first set to beat Italy's Lorenzo Sonego 1-6 6-4 7-6 (7) 6-1.