Novak Djokovic overcame a troubled build-up and a nervy first set to defeat Tommy Paul and reach his 10th Australian Open final.
The Serbian will take on Stefanos Tsitsipas on Sunday in his 33rd grand slam final bidding to equal Rafael Nadal's record tally of 22 titles, while the winner will overtake Carlos Alcaraz as world number one.
His 7-5 6-1 6-2 victory over American Paul looks straightforward on the scoreboard but it certainly did not feel that way when Djokovic lost four games in a row from 5-1 up in the opening set.
The 35-year-old had steam-rollered Alex De Minaur and Andrey Rublev in the previous two rounds but did not look settled from the start here, perhaps a legacy of the events of the past 24 hours after his father was filmed with Vladimir Putin supporters at Melbourne Park on Wednesday.
Srdjan Djokovic released a statement on Friday saying he had been unwittingly caught up in the demonstration as he took pictures with his son's fans but had decided not to attend the match to ensure there was "no disruption".
Djokovic himself offered no comment on the incident but it would certainly have added a sour note to what has generally been a very positive return to Australia following last year's deportation.
At times it has felt like a love-in for the Serbian on Rod Laver Arena, with his fans packing the stadium to welcome him back.
It was different here, though, with support for first-time slam semi-finalist Paul growing as he threatened to do the unthinkable in the first set.
Djokovic looked nervous to begin with but was not punished, saving two break points in the opening game and coming out on top in all the big moments to move into a 5-1 lead.
He then got into a row with umpire Damien Dumusois around when to start the shot clock and remarkably lost 11 of the next 13 points, dropping serve twice in succession.
But Paul was unable to hold his own serve to force a tie-break and, to boos from the crowd, Djokovic returned to his seat gesturing for the noise to get louder.
Winning the opening set allowed Djokovic, who again showed no sign of being bothered by his left hamstring issue, to loosen up a little.
He broke serve at the start of the second set and from there Paul, who is a willing runner with a fine backhand but no big weapons, was unable to land more than a fleeting blow on Djokovic.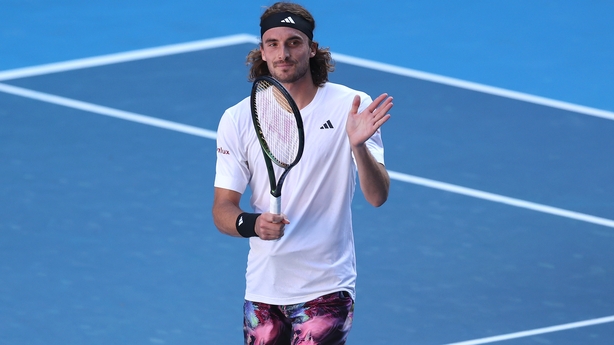 Earlier Tsitsipas overcame a third-set wobble to defeat Karen Khachanov and reach his first Australian Open final.
The third seed has been a man on a mission all fortnight, troubled only by Jannik Sinner in the fourth round until now, and he looked set to cruise into the final as he stepped up to serve for a straight-sets victory.
But Russian Khachanov clung on, breaking Tsitsipas and then saving two match points in the third-set tie-break before the Greek eventually clinched a 7-6 (7-2) 6-4 6-7 (6-8) 6-3 victory.
Tsitsipas had reached the last four in three of the last four years at Melbourne Park without going further, losing in 2019 to Nadal and in 2021 and 2022 to Daniil Medvedev.
He was not to be denied this time, though, and will now aim to go one better than his only previous slam final at the French Open in 2021, when he led Djokovic by two sets to one but was eventually beaten.