Dressed in Ukraine's blue and gold colours, a fired-up Elina Svitolina thrashed Russian Anastasia Potapova in Mexico on Tuesday and said it was her mission to unite the tennis world behind her country following Russia's invasion.
Svitolina had initially refused to play her opening match against Potapova at the Monterrey Open but went ahead after tennis authorities decided to ban Russian and Belarusian players from competing under the name and flag of their countries.
That decision followed Russia's invasion of Ukraine last week, which Russia calls a "special operation". Belarus has been a key staging area for the invasion.
"I think it's my mission to unite our tennis community to stand with Ukraine, to help Ukraine because what we're going through is a horrible thing for all Ukrainians," Svitolina told reporters after her victory.
"That's why I'm here. That's why I'm playing for my country and doing my best using my platform and using my resources to introduce that and try to invite people to support Ukraine."
Svitolina, who has said she would donate her prize money from the tournament to the Ukrainian army, defeated Potapova 6-2 6-1, thumping her chest repeatedly on court.
The players exchanged a few words at the net after the match before Svitolina showed her appreciation for the support from the crowd.
Television graphics had a blank space next to where Potapova's flag and country would normally have been.
On the mission ✊🏼🇺🇦 #Ukraine #StandingWithUkraine #Україна pic.twitter.com/D3FyuF6yXH

— Elina Monfils (@ElinaSvitolina) March 2, 2022
"For me, playing the match here, I'm not playing only for myself," said Svitolina. "I'm playing for my country, I'm playing for the help of the Ukrainian army and people in need.
"Every victory that I'm going to get is going to be very special."
In Lyon on Tuesday, fellow Ukrainian Dayana Yastremska collapsed in a heap on court after her victory over Romanian Ana Bogdan at the WTA 250 tournament.
The 21-year-old and her younger sister had spent two nights in an underground car park last week before their parents sent them out of Ukraine by boat to Romania and then safely to France.
"I'm happy that I won for my country, but at the same time I'm very sad," said Yastremska, who wrapped herself in an Ukrainian flag after her 3-6 7-6 (9-7) 7-6 (9-7) victory.
"My heart stays at home, and my mind is fighting here, so it's very difficult to find the concentration, to find the balance.
"This win, compared to what's going on in my country, is nothing. But I'm happy, at least, I'm also fighting for my country. I'm really proud of the Ukrainians and they're really heroes. I hope everything is going to finish soon."
Our thoughts are with the families, friends, and teammates of young Ukrainian footballers Vitalii Sapylo (21) and Dmytro Martynenko (25), football's first reported losses in this war.

May they both rest in peace. pic.twitter.com/f6l9oHHRMr

— FIFPRO (@FIFPRO) March 1, 2022
The International Federation of Professional Footballers (FIFPro) has announced that Ukrainian professional footballers Vitalii Sapylo (21) and Dmytro Martynenko (25) have died in the invastion.
Sapylo's club Karpaty Lviv said the goalkeeper had died defending Kyiv while FC Gostomel player Martynenko died when his apartment block was bombed.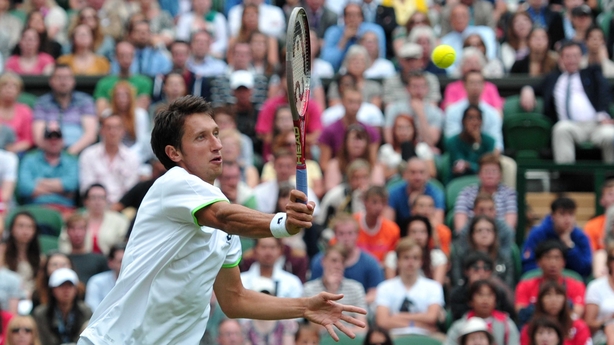 Former player Sergiy Stakhovsky, who has joined the fight against the Russian invasion has admitted that sporting sanctions alone will not stop Vladimir Putin's army.
Stakhovsky, who was once ranked 31 in the world and defeated Roger Federer at Wimbledon in 2013, is among a number of athletes who have travelled to Ukraine to join the resistance effort.
"The support and even the restrictions and sanctions of the Russian federation in terms of sport, culture, is great, it's working. I'm very sure it's working," Stakhovsky said.
"But it doesn't stop him from what he's doing and somebody needs to put a stop to him."
Stakhovsky was speaking to Good Morning Britain dressed in army fatigues in a stark reminder of the desperate situation in Ukraine.
He added: "I would never in my life believe that they would invade on a full scale. But that's what Russia's agenda is – to deliver chaos and instability in Europe.
"We are being punished because we want a better life and are reaching out to Europe.
"I am not really sure we can have a person in today's world who has the capability of nuclear weapons. We are not sure what he is going to do next."
Boxer Vasiliy Lomachenko, a former three-weight world champion, has also joined the territorial forces, while WBA, IBF and WBO heavyweight world champion Oleksandyr Usyk has been pictured holding a weapon.
Vitali Klitschko, the former WBC and WBO champion, is the mayor of Kyiv and has remained in the capital despite the onslaught from Putin's forces.
Formula One has opposed the wishes of the International Olympic Committee by allowing Russian and Belarusian drivers to continue racing.
Although athletics has followed the lead of FIFA and UEFA by banning athletes of those countries from all major events – F1's governing body, the FIA, confirmed that Nikita Mazepin could race on.
Mazepin, the grid's sole Russian driver, will be permitted to race under a neutral flag, "subject to specific commitment and adherence to the FIA's principles of peace and political neutrality, until further notice".
The 23-year-old's Haas team said: "At this time we decline to comment."
F1 last week cancelled the Russian Grand Prix which was due to take place on 25 September.
Motorsport UK has moved to stop drivers with Russian licences from competing in the UK, meaning Mazepin will not be able to take part in July's British Grand Prix at Silverstone.
But former F1 chief Bernie Ecclestone, 91, has backed the FIA's stance on Russian drivers.
"It was absolutely the right decision by the FIA," said Ecclestone, who ran F1 for four decades.
"There are so many things being agreed by the world about this conflict between Russian and Ukraine. But I don't think anybody has really thought it through, or got their heads around it.
"If there is a Russian driver in F1, what does it have to do with Russia fighting a war? There is no relationship there.
"The Russian athletes have nothing to do with this conflict. They are not part of it, and they have never been part of it. They just happen to be Russian."