Two other people connected to the Australian Open have joined Novak Djokovic in being instructed to leave the country by the Australian Border Force.
Djokovic has been detained since Thursday morning at an immigration facility in Melbourne after his visa was cancelled following scrutiny of the medical exemption he had secured to enter the country.
He has appealed against the decision and must wait for a hearing on Monday to discover his fate, but the furore focused attention on other exemptions granted to unvaccinated players who cited a recent infection to gain access to Australia.
An Australian Border Force spokesperson told the PA news agency: "The Australian Border Force (ABF) can confirm that its investigation into the visa status of two other individuals connected to the Australian Open has concluded.
"The ABF can confirm that one individual has voluntarily departed Australia following ABF inquiries.
"We can also confirm that the visa of a third individual has been cancelled. This person has been taken into immigration detention pending their removal from Australia.
"The ABF employ a multi-layered approach to border management. This includes avenues to investigate, locate and detain individuals who have been found to breach our border entry requirements after their arrival into Australia."
One of the individuals is Czech doubles specialist Renata Voracova, who played in a warm-up tournament in Melbourne this week but has now opted to leave Australia.
A spokeswoman from the Czech Ministry of Foreign Affairs told the country's Sport newspaper: "Renata Voracova decided to give up further participation in the tournament due to the limited possibility of training and to leave Australia. Our embassies in Australia are assisting her in completing the formalities for leaving the country."
The spokeswoman also said a protest note had been filed with the Australian authorities and an explanation of the situation sought.
Friday was Christmas in Serbia but Djokovic faces spending the weekend in Melbourne's Park Hotel, which is used to house asylum seekers and refugees, before Monday's hearing.
He broke his silence with a brief message on Instagram, saying: "Thank you to people around the world for your continuous support. I can feel it and it is greatly appreciated."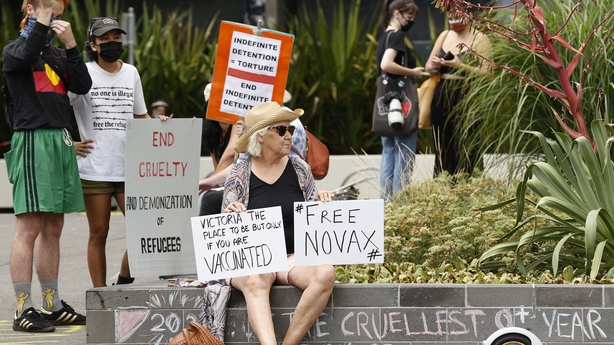 His wife Jelena also took to social media to express her gratitude to the player's fans for their backing.
In Instagram and Twitter posts, Jelena Djokovic wrote: "Thank you dear people, all around the world for using your voice to send love to my husband.
"I am taking a deep breath to calm down and find gratitude (and understanding) in this moment for all that is happening.
"The only law that we should all respect across every single border is Love and respect for another human being.
"Love and forgiveness is never a mistake but a powerful force. Wishing you all well!"