Second seed Daniil Medvedev avenged his recent defeat by Jan-Lennard Struff to move into the second round at Wimbledon.
On a bad afternoon for Germany in London, Struff – who beat the Russian in Halle a fortnight ago – went down 6-4 6-1 4-6 7-6 (3).
Unlike his nation's football team, Struff did threaten a comeback from 2-0 down, but Medvedev took a tight fourth in the tie-break to get through.
"After those first two sets I thought I'd got it – then he started showing unbelievable tennis," said Medvedev.
"The match turned around, there were so many opportunities for both of us and until the last point it was not over. It was a rollercoaster match so I'm happy to get through.
"It's tough, I saw the draw the week before and was like 'OK that's not going to be easy' but tennis is about rematches and revenge and it's nice to get revenge here."
Nick Kyrgios made a belated entrance and was then hauled off too early, at 3-3 in the deciding set, after providing a late-night thriller.
The eccentric Australian found his match with Ugo Humbert shoved back to an 8pm start under the Court One roof due to rain.
And a thrilling encounter had to be halted after just under four hours due to Wimbledon's strict 11pm curfew.
The decision drew a few boos from an enthralled crowd before a standing ovation for the players, who will now have to come back on Wednesday.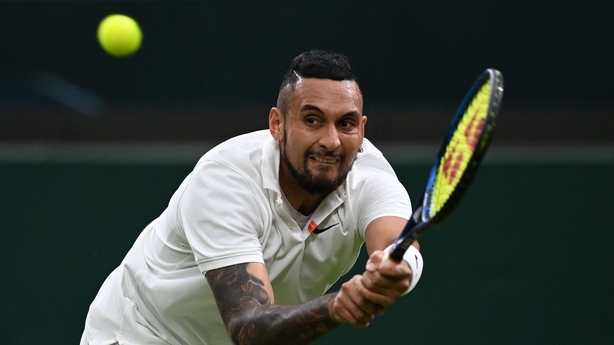 Kyrgios was playing only his third event of the year but did not look particularly rusty as he came from 3-1 down to take the first set, throwing in a trademark underarm serve for good measure.
But Frenchman Humbert, seeded 21 and in fine form on grass after his win in Halle, hit back to lead 2-1.
Ever the showman, Kyrgios tried the tweener behind the legs shot when facing set point in the third, and as is so often the case, it let him down.
But a 43-second game of three aces and an unreturnable serve suggested Kyrgios meant business in the fourth.
Clearly keen to get the job done on the night, he rattled through the set with an astonishing display of power, getting 95% of his first serves in and winning every one of his second serves.
However, Wimbledon's curfew waits for no man, not even Kyrgios in full flight, and the match was on a knife-edge with the scoreline 6-4 4-6 3-6 6-1 3-3 when an SW19 official came on to court and called play off for the night.
Earlier, Roger Federer survived a major scare thanks to an unfortunate injury to opponent Adrian Mannarino in the first round at Wimbledon.
The Frenchman was two sets to one up and a break down in the fourth against a rusty Federer when he slipped under the Centre Court roof and hurt his right knee.
Mannarino tried to continue but was severely hampered and, after losing the fourth set while barely able to serve, called it quits to Federer at 6-4 6-7 (3) 3-6 6-2.
Playing under the roof has appeared to make the grass more slippery, with Novak Djokovic falling several times during his first-round match against Jack Draper on Monday.
Federer said: "It's awful. It shows that one shot can change the outcome of a match, a season, a career. I wish him all the best and I hope he recovers soon. He could have won the match, he was the better player, so I got a bit lucky.
"You don't get many walkovers throughout a career. I'm obviously happy I can get another chance for a match here. I worked very hard and I enjoyed myself out here until the end."
Federer had focused his recovery from two knee operations on being fit for possibly a final tilt at a ninth Wimbledon title and he was good enough in the first set against a player who plays his best tennis on grass and had made the fourth round here three times.
Federer lost the first three points of the match on his own serve but thereafter had more of the chances and took the set with a vintage backhand pass.
But the sixth seed, who turns 40 in just over a month, has only played a handful of matches in the last year and a half and suffered a dispiriting loss to Felix Auger-Aliassime at the warm-up event in Halle.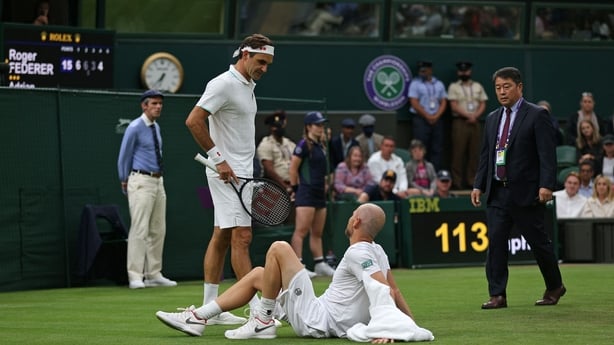 Federer insisted in his pre-match press conference that he had put that match behind him but he began to make an increasing amount of errors as the second set wore on, particularly on the forehand side.
He played a poor tie-break to help Mannarino win just his second set in their seventh meeting, and the Frenchman was clearly the better player at the start of the third.
Federer would surely rather have faced a player less comfortable on the surface against whom he could exploit his grass-court wiles but it was Mannarino producing the magic and, although the eight-time champion recovered an early break, his opponent forged ahead again.
Federer had not lost in the first round at a grand slam since the French Open in 2003 but that looked a serious possibility, particularly when Mannarino forced another break point in the opening game of the fourth set.
Crucially, Federer saved it, and from there he began to appear more comfortable, stepping up his aggression and shortening the points.
Whether he would have completed the comeback became a moot point, with it immediately apparent that Mannarino's slip was anything but innocuous.
He stayed down on the court for a couple of minutes before limping back to his chair and, although he received treatment, there was no way back.
Sebastian Korda reflected on a "crazy" few days after following up his sister's first golf major title with a victory on his Wimbledon debut.

Korda overcame 15th seed Alex De Minaur 6-3 6-4 6-7 (5) 7-6 (5), just two days after big sister Nelly triumphed at the Women's PGA Championship and became world number one.

Korda, 20, whose other sister Jessica is also a top 20 golfer, admitted: "The last few days have been pretty crazy.

"My sister winning her first major and now at number one in the world is incredible, she's 22 and already doing crazy stuff and it's inspirational. But it's my first Wimbledon and I'm having a lot of fun as well."

The sporting siblings' father is, of course, Petr Korda, a former world number two and Australian Open winner in 1998, who has travelled to SW19 to support his son.

"It's super special having my dad here, we don't travel too often together so it's super cool - especially here at Wimbledon," added Korda.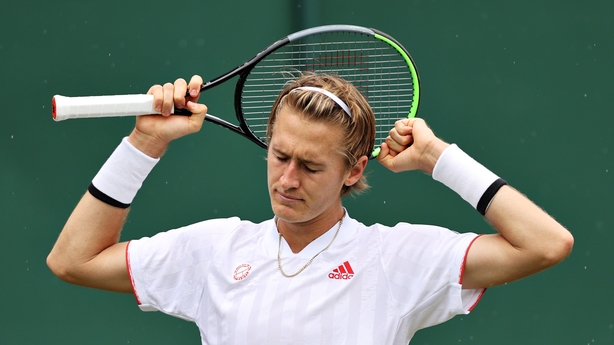 Controversial Frenchman Benoit Paire received a code violation for a lack of effort and was heckled by a supporter as he crashed out in round one.

Argentinian ninth seed Diego Schwartzman resumed 6-3 6-4 ahead following Monday's rain, and dispatched the seemingly disinterested Paire in 16 minutes, 6-0 in the third.

A supporter was heard to shout 'you're wasting everybody's time' from the stands on Court Two, while umpire Mohamed Lahyani issued a warning.

Paire has continually voiced his frustration about life in the tennis coronavirus bubble.

Andy Murray beat the 32-year-old 6-3 6-2 at Queen's Club on his comeback a fortnight ago and described the match as not "particularly taxing".

Speaking in his press conference afterwards, Paire insisted: "I do not care about the people. I play for me and that is it. I do not play for people.

"I just try to stay in my room, do my Covid test. I disagree with everything. I like the tournament.

"The thing I don't like is how they treat us, like 'stay in bubble' and everybody is out in the city."

Schwartzman plays Britain's Liam Broady in round two.

Fourth seed Alexander Zverev of Germany is safely through after beating Tallon Griekspoor of Holland 6-3 6-4 6-1.