There were mixed results for Ireland's international tennis teams in the Davis and Billie Jean Cups on Friday.
The Davis Cup team are playing in Larnaca, Cyprus and had a clean sweep in their tie against Malta.
Ammar Elamin made his debut for Ireland and defeated Alex Degabriele 6-1, 6-2 in a solid performance.
Osgar O'hOisin was second up for the day and took the No 1 singles spot as Simon Carr is resting a foot ahead of the play-offs. Osgar defeated Liam Delicata 6-4, 6-2.
O'hOisin and David O'Hare then beat Delicata and Matthew Cassar Torregiana 6-1, 6-1 to seal the 3-0 win and play-off against Georgia on Saturday.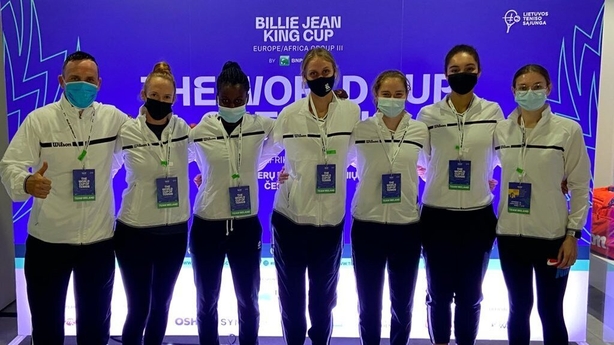 The Billie Jean King Cup team are in Vilnius, Lithuania and lost 3-0 to Bosnia Herzegovina on the first day of playoffs.
Anna Bowtell was edged out 6-3, 6-4 by Dea Herdzelas, Celine Simunyu lost 6-2, 6-0 to Nefisa Berberovic and doubles pair Shauna Heffernan and Sophia Derivan were beaten 7-5, 6-1 by Suana Tucakovic and Anita Husaric.