Rafa Nadal's bid for a record 21st Grand Slam title came crashing to a halt at the Australian Open as Stefanos Tsitsipas rose up to topple the Spaniard 3-6 2-6 7-6(4) 6-4 7-5 and reach the semi-finals.
World number two Nadal had not lost a set coming into the evening clash at Rod Laver Arena and was locked on target for the last four at Melbourne Park after roaring to a two-set lead over the listless Greek.
The match turned on its head when Nadal wavered in a messy third set tiebreak, and a rejuvenated Tsitsipas rallied brilliantly to take the match into a decider.
Capturing Nadal's serve at 5-5 in the fifth, Tsitsipas saw two match points slip through his fingers as he served for the match but fired a backhand winner down the line on the third to claim one of his finest career victories.
"Well done for him, he played better than me probably in the important moments," Nadal told reporters.
"I tried my best in every single moment ... I think I stayed positive all the time during the match, fighting, and it was not enough. Sometimes it's enough, today was not enough."
Fifth seed Tsitsipas will meet Russian Daniil Medvedev for a place in the final.
"I fly like a little bird and everything was working for me," Tsitsipas said on court. "The emotions in the end are indescribable." 
He said: "Physically I was not fantastic but not bad. I was able to fight until the end, and that's it.
Defeat meant Nadal will have to wait another year in his attempt to become the first man to win every grand slam title twice in the Open era.
He said: "Physically I was not fantastic but not bad. I was able to fight until the end, and that's it.
"The whole issue is I missed an easy smash at the beginning of the third, an easy forehand at 2-1 in the tie-break, and then another smash in the tie-break.
"In that tie-break I made a couple of mistakes that I can't make to win the match."
There was also good news for Australian Open organisers after it was confirmed that fans will be allowed back into Melbourne Park on Thursday after the city's five-day coronavirus lockdown comes to an end.
The crowd will be capped at 7,477 for each session, which is approximately 50 per cent capacity in the Rod Laver Arena.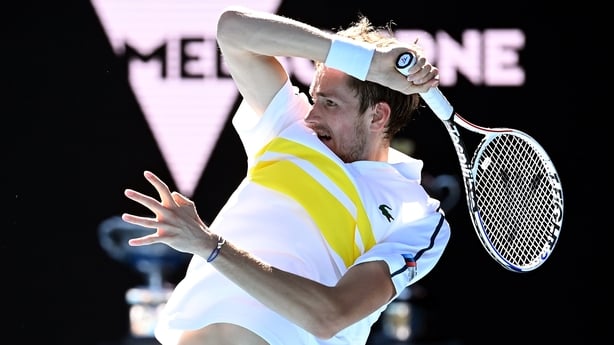 Earlier, in-form world number four Medvedev won the all-Russian clash with Andrey Rublev to reach his first Australian Open semi-final.
Medvedev, a former US Open finalist, stretched his current winning streak to 19 matches with a 7-5 6-3 6-2 victory against his ATP Cup team-mate.
Rublev, ranked eight in the world, was clearly struggling with the Melbourne heat as the match wore on and is still yet to take a set off his friend and compatriot in five meetings.
Medvedev, who won the ATP Finals in London at the end of last year and went unbeaten through Russia's ATP Cup triumph, needed treatment on his thigh after the match.
He said on court: "I started cramping in my quad. I saw he was cramping also so I tried not to show it. But I couldn't really move my left leg at the end.
"It was super tough, we had some unbelievable rallies. I think I'm one of the first players to make Andrey tired on court so I'm quite happy about it.
"To play my friend? It's never easy but we're all super competitive. It was one of the best matches I've played lately. To beat him in three sets without a tie-break, I'm very happy about that."
The result represents a fourth consecutive quarter-final defeat at Grand Slam events for Rublev, who is tipped to challenge for major trophies in the coming years.
"Maybe next tournament is going to be the same story in the semi-final or maybe I will lose first round. So it's not only about quarter-final," the 23-year-old said.
Rublev said he still would rate his Melbourne campaign as a success, having set a personal best at the Australian Open and also helping Russia win the ATP Cup title.
"I took also a lot of (ranking) points, which put me in a good position at the beginning of the year," he added. "I hope I can show great level, not only now but for the rest of the season."