Rafael Nadal blew away American qualifer Sebastian Korda 6-1 6-1 6-2 to romp into the French Open quarter-finals on Sunday and close in on a record-extending 13th title at Roland Garros.
With the sun out and the wind up on Court Philippe Chatrier it always looked like mission impossible for the 213th-ranked Korda and so it proved in a one-sided fourth round match.
Korda, 20, actually had two break points in Nadal's opening service game that spanned nine minutes and also had game point in the next game in a competitive opening.
He did not win either, however, and once Nadal had sprinted into a 5-0 lead the American already looked forlorn.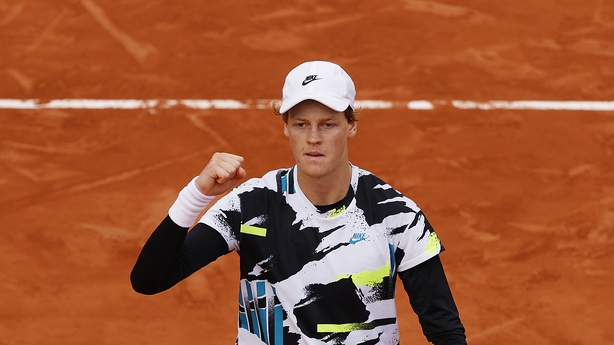 Korda, son of 1992 runner-up Petr, was unable to cope with the strong breeze or Nadal's heavy spin as the first two sets went by in little more than an hour.
Even the 34-year-old Nadal can lose focus occasionally though and he dropped serve at the start of the second set to trail 2-0 before rattling through the next six games.
Nadal has dropped only 23 games so far and is yet to face a seed. He will next face rising Italian Jannick Sinner in his 42nd Grand Slam quarter-final, third on the all-time list.
Sinner became the first debutant to reach the quarter-finals at Roland Garros since Nadal did so in 2005 when he downed German sixth seed Alexander Zverev 6-3 6-3 4-6 6-3.
The 19-year-old will also be the youngest male player since Novak Djokovic in 2006 to feature in the last eight at the French Open.
The South Tyrolian, winner of last year's NextGen ATP Finals, dropped a set for the first time in the tournament but he never lost his composure.
Sinner ended it on a windswept Court Suzanne Lenglen with a booming forehand that Zverev could only return into the net.
Zverev later said he played with fever and breathing difficulties during the match, raising questions about the Covid-19 protocols at the claycourt Grand Slam.
Zverev appeared to be in discomfort and was seen coughing on court and called for the doctor and trainer. He kept pointing at his throat and later took a pill.
The French tennis federation (FFT), who run the claycourt Grand Slam, told Reuters that Zverev was last tested for Covid-19 on 29 September and the test returned a negative result the following day.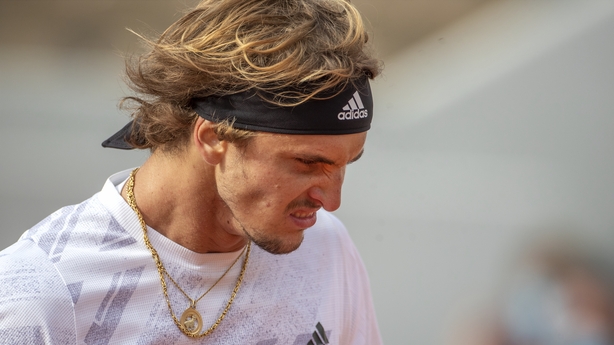 Zverev, 23, was up to date with his testing and was notified to undergo a routine test today, the organisers added.
Organisers said Zverev did not consult with the Roland Garros medical service before his match against Sinner.
Zverev said he had been ill since his third-round win against Italian Marco Cecchinato on Friday and had a body temperature of 38 degrees Celsius.
"It was nothing wrong but I am completely sick after the match with Cecchinato in the night. Yeah, what can I say? I'm completely sick," said a masked Zverev during his virtual post-match news conference.
"I can't really breathe, as you can hear by my voice. I had fever, you know, as well. It was 38. It was 38 in the night or in the evening."
French government guidelines state that a person with Covid-19 symptoms - a body temperature above 38°C, a cough, sore throat, headache, muscle ache, loss of smell or taste - needs to isolate for seven days and immediately make an appointment for a test.
Zverev had declined to answer when he was last tested for the coronavirus at his post-match news conference.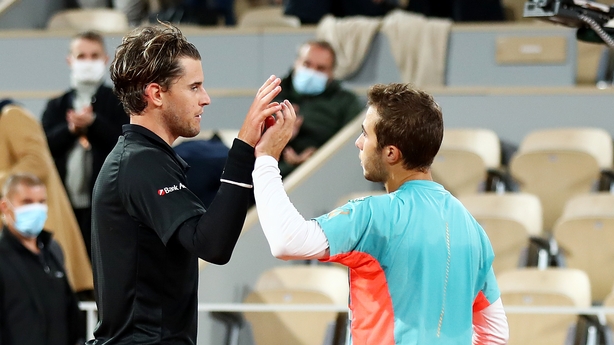 Later, Dominic Thiem survived a brave fightback from French wild card Hugo Gaston to reach the quarter-finals.
US Open champion Thiem looked to be sailing through to the last eight when he led Gaston, ranked 239, by two sets to love but the 20-year-old Frenchman battled back to force a decider.
Thiem, who had not dropped a set in his first three matches, began to look both physically and mentally weary as Gaston, who defeated Stan Wawrinka in the third round, dragged him to the net time and again with drop shots.
But Thiem held his nerve in the fifth set as his opponent showed his inexperience at crucial moments, the Austrian eventually winning 6-4 6-4 5-7 3-6 6-3 after three hours and 32 minutes.
The 27-year-old said: "I think it was an amazing match for both of us, such good fighting qualities for him. I haven't seen for a very long time a player with such a big touch in his hands. His drop shots were from another planet.
"I was losing a little bit of energy, he was playing amazing. In the fifth set I found somehow new energy. It was a great fight to the end and I'm very lucky I made it through today."
In the last eight, Thiem will face 12th seed Diego Schwartzman, who has been in great form in Paris and beat Lorenzo Sonego 6-1 6-3 6-4.