There was no stopping Rafael Nadal as he soaked up 22 thunderbolt aces to flatten Sam Querrey 7-5 6-2 6-2 to set up the Wimbledon semi-final the whole sporting world had been waiting to see - a showdown with great rival Roger Federer.
The Spaniard made a jaw-dropping start to his quarter-final as he won all 12 points during his first three service games.
Querrey, a semi-finalist here in 2017, finally got a foothold on Nadal's serve in the eighth game but making any form of sustained attack proved to be mission impossible.
A warning for a time violation threw third seed Nadal, who had already squandered four set points, off his service stride in the 10th game and allowed Querrey to break back for 5-5.
But that was as good as it got for the unseeded American as his serve might have been on fire but everything else was misfiring and he bowed out after the Spaniard whipped a forehand winner on match point to make sure it was game on with Federer in Friday's semi-final.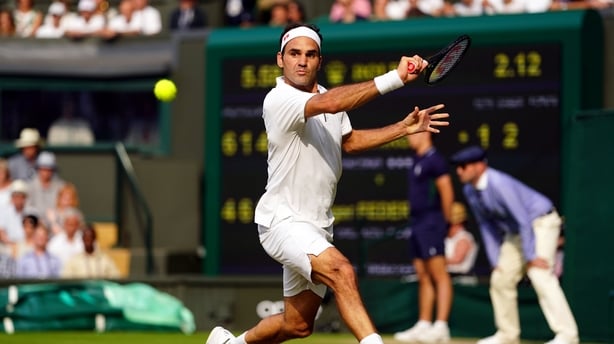 Federer is the first man to reach 100 wins at the All England Club and is in his 13th last-four clash.
Federer is chasing a ninth Wimbledon title, but if he is going to do that he will more than likely have to beat both Nadal and Djokovic.
Nadal's victory meant it was the first time more than one Spanish man had reached the Wimbledon semis in the same year, with Roberto Bautista Agut also through to the last four after he beat Argentine Guido Pella in an earlier quarter-final.
Novak Djokovic won 10 games in a row in a 6-4 6-0 6-2 quarter-final rout of David Goffin to reach a ninth semi-final.
For eight games, Dojokovic-Goffin was a fantastic contest. Goffin, in his first quarter-final at SW19, came out hitting the ball exceptionally cleanly and seemingly determined to take the match to the world number one.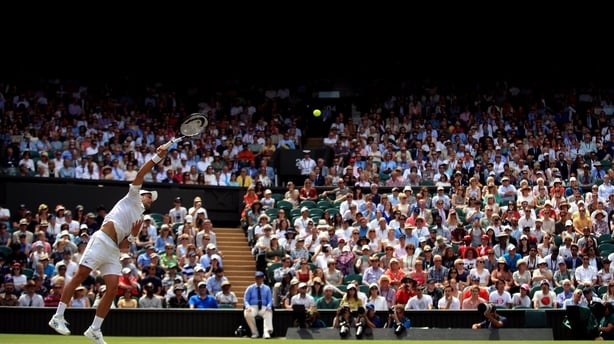 Djokovic, meanwhile, looked a little tense. He struggled to find his forehand and, after saving two break points in the third game, a forehand wide gave Goffin the first break for 4-3.
But, instead of a launchpad for the Belgian, it turned out to be the point at which Djokovic caught flight.
A tentative game from Goffin to hand the break back was all it took for the momentum to switch completely. By the time the 21st seed won another game, they were already in the third set.
There were still moments of brilliance from Goffin, such as the tweener lob, returned less successfully by a tweener from his opponent, in the opening game of the second set.
But Djokovic was playing at a level of consistent excellence that Goffin simply could not match.
Goffin double-faulted to hand Djokovic yet another break for 3-1 in the third set.
The extraordinary dominance of the big three of men's tennis has been a story not just of their remarkable talents but also their competitive desire, and Djokovic roared after saving two break points in the next game.
Soon after it was all over, with Djokovic through to face Roberto Bautista in the last four.