Defending champion Roger Federer has suffered a shock exit from the fourth round of the Australian Open, losing to Greece's Stefanos Tsitsipas in Melbourne.
Federer's chances of winning a third consecutive Australian Open title were ended as 20-year-old Tsitsipas came of age on Rod Laver Arena.
The Greek, who was not born when Federer made his professional debut, has rapidly established himself as one of the most exciting up-and-coming talents in the game and backed it up spectacularly with a 6-7 (11) 7-6 (3) 7-5 7-6 (5) victory to move through to a first slam quarter-final.
Federer had not lost a match at Melbourne Park since a semi-final defeat by Novak Djokovic in 2016 but his often-brilliant forehand was wayward, especially at the big moments, and he failed to take four set points in the second set which might well have changed the outcome.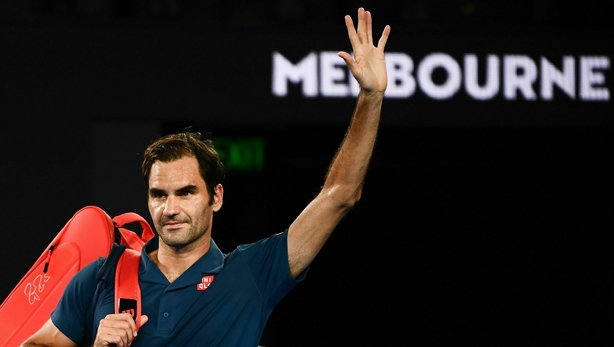 For the first time all evening, Tsitsipas looked overwhelmed as he stepped out for the on-court interview, saying: "I'm the happiest man on earth right now. I cannot describe it.
"From the very beginning it was very important to keep that mindset, to believe in yourself, believe in your capabilities.
"Roger is a legend of the sport, so much respect for him. He showed such good tennis over the years. I've been idolising him since the age of six. It was a dream come true just being on Rod Laver facing him. Winning at the end, I cannot describe it."
Federer made no attempt to hide how much the defeat hurt, saying: "I have massive regrets tonight. I felt like I have to win the second set. I don't care how I do it, but I have to do it. Cost me the game tonight."
On John McEnroe's on-court remarks that the result marked a changing of the guard, Federer replied: "He's in front of the mic a lot. He's always going to say stuff. I love John. I've heard that story the last 10 years. From that standpoint, nothing new there.
"About Stefanos, I think he's definitely done a really nice job now the last year and a half. Before that, too, obviously. But beating Novak in Toronto, the likes of (Kevin) Anderson and (Alexander) Zverev, now me here. That's what you need to do to get to the next level. He's doing that. It's really nice for him.
"I see him definitely being high up in the game for a long time. That was a good night for him tonight."