Nine years after his first grand slam final, Juan Martin del Potro reached a second as Rafael Nadal retired with knee problems during their US Open semi-final.
The world number one had spent more nearly 16 hours on court in reaching the last four, averaging more than four hours a match during the last three rounds, and that took its toll here.
Nadal had had his right knee taped during his gruelling third-round clash against Karen Khachanov but insisted afterwards it was not a big issue and he appeared in good shape for his next two matches.
The Spaniard had tape applied here after seven games only to take it off two games later. But he took a medical time-out after three games of the second set and, as he limped around the court, it became increasingly clear that he was in serious trouble.
They had battled for 69 minutes in the first set before Del Potro eventually took it on a tie-break. The Argentinian had twice been a break up, and held two set points at 5-4 only to allow his opponent back in.
But Nadal was unable to take advantage and immediately after the time-out, with the 32-year-old struggling to cover the court, Del Potro broke again.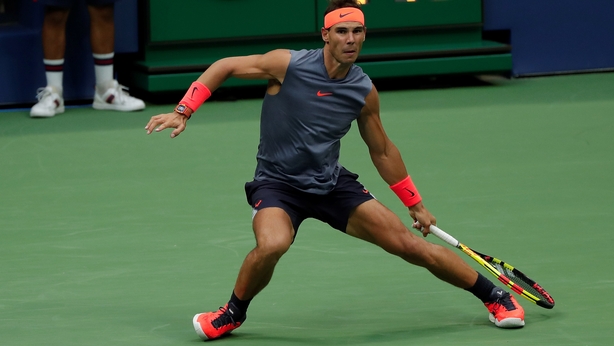 In the sixth game of the second set, he argued with umpire James Keothavong over a line call, telling the British official: "It's all right, i'm going to retire, but you were not right on this one."
Nadal continued but, after Del Potro won the second set to lead 7-6 (7/3) 6-2, Nadal had one last chat with the trainer, shook his head and offered his hand to his opponent.
Del Potro said: "Of course it's not the best way to win a match. I love to play against Rafa because he's the biggest fighter in this sport and I don't like to see him suffering on court like today so I'm sad for him but I'm also happy to move forward.
"It means a lot to me. I didn't expect to get in another grand slam final. This is my favourite tournament, my biggest memories on a tennis court came on this court in 2009. I was a kid then and now I'm much older."
Unfortunately, Rafa Nadal has retired after 2 sets in the semifinals, sending Juan Martin del Potro through to the final...#USOpen pic.twitter.com/uegztbgIyl

— US Open Tennis (@usopen) September 7, 2018
Del Potro, a man far too familiar with his body letting him down, is probably the last person who would have wanted to progress in such a manner but surely no player deserves a kind break more.
The Argentinian looked set to be a major rival to the big four when he won the US Open title in 2009 aged just 20, beating Nadal in the semi-finals and Roger Federer in the final.
But six months later he was sidelined by right wrist problems and, having fought back to the top again, then missed the better part of two years when an injury to his left wrist required three operations.
He feared his career was over but instead returned to the sport in 2016, managing the pain and slowly rebuilding his game. Initially able only to hit slice backhands, Del Potro began to trust his two-hander more and, with it, the 29-year-old again became a major force.
Of the now nine grand slams he has played since returning, Del Potro has reached the quarter-finals twice, the semi-finals twice and, at last, another final, where he awaits the winner of Novak Djokovic's clash with Kei Nishikori.