Rafael Nadal was in ominous form as he dispatched Vasek Pospisil to set up a third-round clash with Karen Khachanov at the US Open.
The defending champion took exactly two hours to clinch a 6-3 6-4 6-2 victory under the lights on Arthur Ashe Stadium, with the only moment of alarm coming in the second set when he dropped serve to trail 4-2.
But Nadal broke straight back and a run of four games in a row gave him the second set, with the third largely one-way traffic.
Nadal has played both his matches so far at night, when there is some respite from the searingly-hot conditions, although the humidity means temperatures have still been pushing 30C.
The world number one expects the level of tennis on show to go up as the temperature goes down, saying: "The good thing is I think things are going to improve the next couple of days.
"We'll be able to see, I think, better tennis than we saw the first couple of days of the US Open because playing under those conditions is, first thing, not healthy and, second thing, is not good for anybody: not good for the fans, not good for the players.
"The show is a little bit worse under these conditions."
Nadal was the biggest critic of the shot clock that has been introduced to count down the 25 seconds permitted between points but so far believes it is being implemented well.
He was given one warning in the third set but remonstrated with the umpire, claiming he hesitated because Pospisil indicated he was not ready.
Expressing disappointment that his Canadian opponent did not back him up, Nadal said: "Being honest, my surprise is that Vasek didn't came to the umpire and say, 'that's what happened'."
Nadal could have a sterner test in the next round on Friday against big-hitting Russian Khachanov, who defeated Lorenzo Sonego 7-5 6-3 6-3.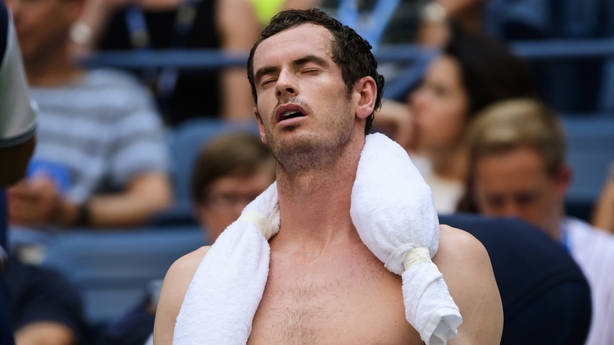 Andy Murray's grand slam comeback ended with a second-round defeat by 31st seed Fernando Verdasco at a baking hot Flushing Meadows.
The three-time grand slam champion had stressed expectations should be severely tempered going into the tournament, with these still very much the early stages of his return to tennis, and there was plenty to be encouraged by.
But ultimately Verdasco proved too strong, hitting 17 more winners and only two more unforced errors than his opponent in a 7-5 2-6 6-4 6-4 victory that lasted three hours and 23 minutes.
Murray threw everything he had at the final game in an effort to break back but it proved to be in vain.
The pair are old rivals, with Murray having won 13 of their previous 14 matches, but most were tight and Verdasco's resurgence this season at the age of 34 made this a much better test of his form and fitness than his first-round clash with James Duckworth.
In a topsy-turvy opening set, Murray was a break down and then a break up before forcing a set point at 4-5, which Verdasco saved with an ace. A double fault then gave the Spaniard another break and this time he held on to it to clinch the set.
Murray was still moving awkwardly between points and still looks a touch slow when pulled out wide on his forehand side, but he responded well in the second set as Verdasco dropped his level.
Both players' shirts were soaked in sweat and it was Murray who lost energy at the start of the third set, quickly trailing 4-1. He retrieved one break but not the second, Verdasco thumping a backhand cross-court to clinch the set.
Murray carried his disappointment into the 10-minute heat break, introduced for the first time in men's matches this tournament, and returned fuming, telling the umpire: "He's sitting there with his coach and his doubles partner. I had to tell them, because nobody knows the f***ing rules."
Players are not allowed to talk to their coaches or any member of their support team during the break.
Murray is usually at his best when aggrieved by something and he came out pumped up at the start of the fourth set, whipping up the crowd after one particularly impressive rally.
But Verdasco was also looking strong and he weathered the storm, taking advantage of a very poor game from Murray to break for 4-3.
Verdasco has a reputation for struggling to close out matches and some nervy play gave Murray two break points at 5-4 only for the Spaniard to produce two big serves.
One match point disappeared with a forehand hooked wide, and Verdasco was furious to be given a time violation at break point after the shot clock, used at a grand slam for the first time, ticked down to zero.
But Murray just could not find a way to get back on level terms and it is the Spaniard who moves through to a third-round clash with Juan Martin del Potro.
The tournament lost one of its most talked-about names on Wednesday when 15th seed Stefanos Tsitsipas was beaten 6-4 6-3 4-6 6-3 by in-form Daniil Medvedev, who won the Winston-Salem Open last weekend.
Greek Tsitsipas, with his flowing hair and one-handed backhand, has soared up the rankings this season and arrived in New York having beaten four successive top-10 players to reach the final of the Rogers Cup in Toronto.
But the 20-year-old could not summon the energy for another famous run, saying: "I kind of felt tired from the beginning of the tournament. I didn't feel the same fire inside of me.
"I did win the first-round match, but I did feel a bit empty. It's very annoying, because you really want to do well, but at the same time your body refuses to give 100 per cent."
Former champion Stan Wawrinka reached the third round of a slam for the first time since before his knee surgery last summer, battling to a 7-6 (7/5) 4-6 6-3 7-5 victory over Ugo Humbert to set up a tasty third-round clash with Milos Raonic.
Wawrinka said: "My level is there. I'm playing really good tennis. I'm 33 years old, first time after big surgery that I'm pushing myself that much, but in general I think I did enough hard work to know and have confidence in my fitness."
Raonic defeated Gilles Simon in straight sets while there were also victories for third seed Juan Martin del Potro - who plays Andy Murray's conqueror Fernando Verdasco - Kevin Anderson, Dominic Thiem, John Isner and Denis Shapovalov, who overcame Andreas Seppi in five sets.