Novak Djokovic was back to his brutal best as he beat South African eighth seed Kevin Anderson 6-2 6-2 7-6(3) to win the Wimbledon men's singles title for the fourth time.

The Serb was back roaring into the skies in triumph as he captured a 13th Grand Slam title to end a 25-month barren run at the slams.

After being kept on court for almost 11 hours during his last two wins over defending champion Roger Federer and John Isner, fatigue finally caught up with Anderson on Sunday as he failed in his bid to become the first South African man to win the Wimbledon title.

Djokovic had also spent more than five hours to subdue Rafael Nadal in the semi-finals but he relied on his supreme levels of fitness to outlast Anderson, with the South African netting a service return on match point.
A fourth #Wimbledon title: sealed ?

The moment @DjokerNole would have dreamed of... #TakeOnHistory pic.twitter.com/czu3QgrdHr

— Wimbledon (@Wimbledon) July 15, 2018
Djokovic wrapped up victory after two hours and 19 minutes, pointing his finger at the sky before taking his now customary bite of the Centre Court grass.
Anderson did not even schedule a practice session on Saturday as he battled to recover from the effects of his epic semi-final against John Isner, where he finally overcame the giant American after six hours and 36 minutes.
That came on the back of the four hours and 14 minutes he played to defeat Roger Federer in the match of his life in the quarter-finals, so it seemed inevitable he would not be at his peak.
Djokovic also had to focus on rest and recuperation following his stunning match against Nadal, more than two hours of which were played on Saturday after the 11pm curfew cut them off on Friday night.
But he made the perfect start, reading the Anderson serve immediately and breaking in the opening game when the South African double-faulted.
What it means to team Djokovic ??#Wimbledon pic.twitter.com/Iv2RERjk0m

— Wimbledon (@Wimbledon) July 15, 2018
But his physical troubles were evident when he called the trainer at the end of the first set for massage on his right arm, which has done more than its fair share of serving this fortnight.
After last year's final, when Marin Cilic was heavily beaten by Federer and his own blistered foot, this was shaping up to be another underwhelming occasion, but Anderson was determined not to go down meekly.
The 32-year-old has worked tirelessly to improve his game and has seen the rewards over the last two years, including a first slam final at the US Open last summer and a place in the top 10.
He could not prevent the second set slipping away but Djokovic was no longer having an easy time of it and Anderson ensured he kept his nose in front early in the third set.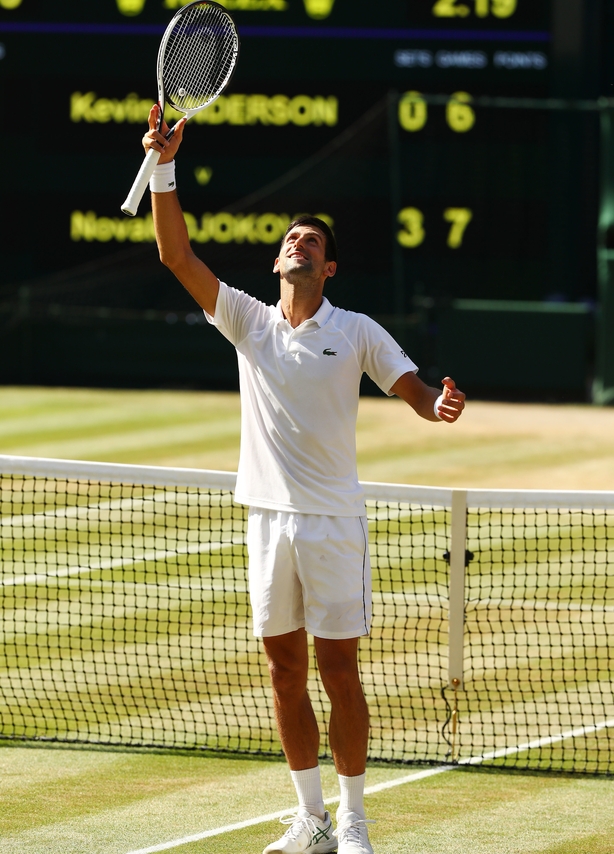 Djokovic was increasingly on the back foot in rallies, and he double-faulted twice to cough up two set points at 4-5 - only to hold his nerve and save them both.
On the first, the crowd roared prematurely when they thought he had missed a forehand, prompting the Serbian to put his finger to his lips and then pump his fist in their direction when he finally held.
It was reminiscent of his third-round win over Kyle Edmund, but this time the crowd reaction was less about bias towards his opponent than in favour of a great contest.
Anderson was certainly doing his best to create that, but three more set points came and went in the next Djokovic service game and they headed into a tie-break, where the Serbian quickly stamped his foot down and did not yield.