Angelique Kerber became the first German player since Steffi Graf in 1996 to lift the Wimbledon title, beating seven-times winner Serena Williams 6-3 6-3.

Contesting her first major singles final of the season and second at the All England Club, Kerber hardly put a foot wrong as she prevailed in 65 minutes.
Urged on by husband Alexis Ohanian and her celebrity supporters, Williams upped her aggression and noise level, nearly taking out her opponent with a thunderous drive volley in the third game of the second set.
But Williams seemed unsure how best to break down Kerber, and the next point saw her inexplicably pat a volley back that should have been the simplest of put-aways and pay the price. All she could do was smile.
There was no doubt in Kerber's mind, though, and she produced a series of superb points to break the Williams serve for the fourth time in the match and move 4-2 in front.
Williams tried everything to get back on terms but this was not her day, and when a final return dropped into the net, Kerber lay flat on her back in celebration of her 6-3 6-3 triumph.
Kerber said of her win: "It's just a dream come true.
The moment @AngeliqueKerber won #Wimbledon for the first time ??#TakeOnHistory pic.twitter.com/GsySRMNXaq

— Wimbledon (@Wimbledon) July 14, 2018
"First, I have to say: Serena, you're a great person and a champion. You are coming back and you are such an inspiration for everybody, for all of us.
"It's amazing and I'm sure you will have your next grand slam title soon. I'm really, really sure. Congrats again for coming back.
"I knew I had to play my best tennis against a champion like Serena. It's always an honour to share a court with her."
She becomes Germany's first women's singles champion at Wimbledon since Steffi Graf 22 years ago.
"I think I'm the next one after Steffi who's won, that's amazing," Kerber said.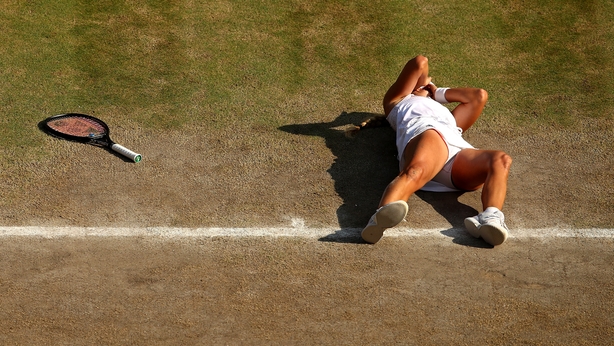 Williams became emotional as she spoke after the match.
She said: "It was such an amazing tournament for me. I was really happy to get this far."
Interviewed on court by the BBC's Sue Barker, she briefly appeared to become tearful before gathering her thoughts.
"It's obviously disappointing but I can't be disappointed," she said. "I have so much to look forward to. I'm literally just getting started so I'll look forward to it."
Told she was a 'super-mum', Williams said: "No, I'm just me, that's all I can be. I tried but Angelique played really well. It was really good and I look forward to continuing to be back out here and do what I do best."
Williams said of Kerber: "She's an incredible person and a really good friend so I'm really happy for her. It's her first title and I know she's going to really enjoy it and enjoy the moment. Congrats again - it's amazing."