South African eighth seed Kevin Anderson has reached his first Wimbledon final, beating American ninth seed John Isner 7-6 (8/6) 6-7 (5/7) 6-7 (9/11) 6-4 26-24 in the longest semi-final in the tournament's history.
The game dragged on for a total of six hours and 36 minutes, with the final set alone taking two hours and 54 minutes.
Isner had already featured in the longest men's tennis match in history, when he beat French player Nicolas Mahut in the 2010 Wimbledon championship, taking the final set on a scarcely believable scoreline of 70-68. That game is commemorated with a plaque on Court 18.
For a while this game appeared to be going the same way.
A showdown between two tennis skyscrapers - with Isner topping the 6 foot 8 Anderson by two inches - predictably featured three tiebreaks and 102 thunderbolt aces but it was the 32-year-old South African who delivered the knockout blow.
As the fifth set dragged on and on, the American Isner appeared more visibly tired and had to survive more scares on his own serve than Anderson.
At 24-24 Anderson took a tumble but managed to get to his feet and hit a left-handed shot inside the baseline, taking the point for 0-30.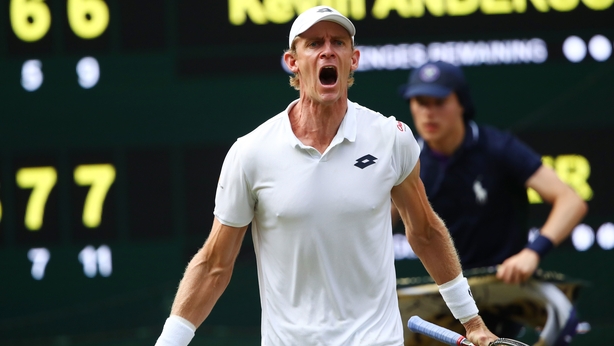 He fashioned three break points from the next rally and took the second, the first break in 49 games.
Anderson served for the match and it ended with Isner planting a forehand wide before both exhausted players embraced at the net.
Speaking after his marathon victory, Anderson said:
"I don't know what to say right now. Just playing like that in those conditions was really tough on both of us. At the end you feel like it is a draw, but someone has to win," a drained Anderson, who had sensationally beaten defending champion Roger Federer in another nail-biting five setter two days ago, said.

"John is a great guy and I really feel for him. If I was on the opposite side I don't know how you can take that playing for so long and coming out short... getting through something like that is quite different.

"I've known John for such a long time, he is a great guy. To be honest he has pushed me through my career and had a great one himself. I have pushed myself harder because of the success he has had. I have to say congratulations to John on a great tournament, semi-finals here is a remarkable achievement and hopefully he can come back stronger."
The match is likely to re-open the debate about allowing tie-breakers in the final set at Wimbledon.
Anderson, who also won a marathon game against Roger Federer in the quarter-final, will face the either Novak Djokovic and Rafael Nadal in Sunday's final, both of whom sat in the locker room for the duration of the first final.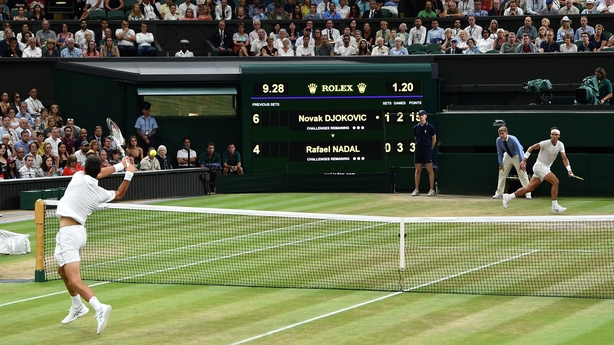 Nadal did not hit the first serve of his match until 8.09pm. That gave two players who have contested some of the most gruelling matches in tennis history less than three hours or the prospect of completing the match on Saturday.
In the end, and to the surprise of no one, they did not come close to finishing. And so, with Djokovic leading 6-4 3-6 7-6 (11/9), it became the first match since the Centre Court roof was added in 2009 to be stopped due to the strict curfew imposed by Merton Council to avoid disruption to local residents.
The announcement of the curtailment of play was greeted with understandable disappointment by the crowd, the vast majority of whom had stayed as a contest more than worthy of a Wimbledon final played out in front of them.

But only one of these men can move through to take on Anderson on Sunday, and they will resume on Saturday, when ticket holders for the women's final will get an unexpected treat.

The match will get back under way at 1pm, tournament organisers said, and it will be played under the roof again, no matter how the weather looks outside, given it began in those conditions.