Serena Williams has told how she almost died after giving birth to her daughter Olympia.
The former world number one said she suffered a "slew of health complications" during "six days of uncertainty" after developing a pulmonary embolism 24 hours after her baby's arrival.
Williams, 36, underwent emergency surgery where doctors found a large swelling of clotted blood that required a further operation to prevent fatal lung damage.
As a result the 23-time singles grand slam winner, who returned to competitive tennis this month, spent the first six weeks of motherhood in bed as she recovered from the ordeal.
Writing for CNN, Williams paid tribute to the team of doctors and nurses who saved her life and called for maternity care to be improved for women around the world.
"If it weren't for their professional care, I wouldn't be here today," she said.
Olympia was delivered by an emergency caesarean section on September 1 after her heart rate dropped dramatically during labour, although the procedure went smoothly, Williams said.
The champion said holding her baby was "the most amazing feeling I've ever experienced in my life", but things took a turn for the worse when she began to feel unwell and developed the symptoms of a pulmonary embolism.
"This sparked a slew of health complications that I am lucky to have survived. First my C-section wound popped open due to the intense coughing I endured as a result of the embolism.
"I returned to surgery, where the doctors found a large haematoma, a swelling of clotted blood, in my abdomen.
"And then I returned to the operating room for a procedure that prevents clots from travelling to my lungs. When I finally made it home to my family, I had to spend the first six weeks of motherhood in bed."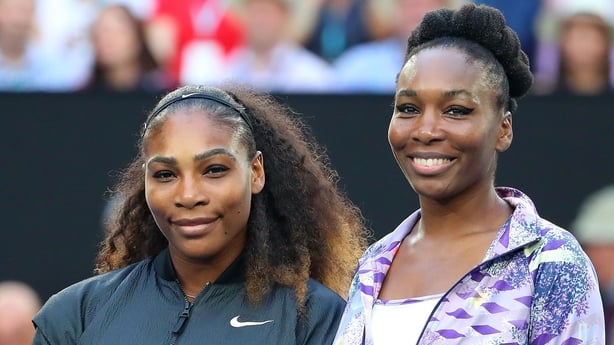 Williams was, incredibly, back in action months later and she lined up alongside her sister Venus Williams in a doubles match at the Fed Cup on February 11.
Olympia was courtside in Asheville, North Carolina, as her mother played her first competitive match since winning the Australian Open while pregnant in 2017.
The pair were beaten 6-2 6-3 by Lesley Kerkhove and Demi Schuurs of Holland, but the US team had already won the tie to advance to the semi-finals.
Williams, a Unicef goodwill ambassador, said she was "so grateful" to have had access to such an "incredible medical team of doctors and nurses at a hospital with state-of-the-art equipment".
"Every mother, everywhere, regardless of race or background deserves to have a healthy pregnancy and birth," she said, calling for donations to the cause.
Williams has previously told how she was left her "on her death bed" in March 2011 after developing a pulmonary embolism, which is caused when one or more arteries in the lungs gets blocked.