Sloane Stephens raced to her first grand slam title at the US Open with a one-sided victory over friend Madison Keys.
The meeting between the two young Americans, both in their maiden slam final, was all over in exactly an hour as Stephens triumphed 6-3 6-0.
It may have been an underwhelming final but the victory caps a remarkable summer for the 24-year-old, who returned from more than 10 months out with a foot injury in July and a month ago was ranked 934.
At 83 in the rankings, Stephens is the fifth lowest-ranked woman to win a slam title in the Open era and her ranking will now soar to 17.
Stephens, who was unable to walk after undergoing surgery in January, looked at her support camp in disbelief when Keys netted a final forehand before sharing a long embrace with her former junior rival at the net.
.@SloaneStephens is your 2017 #USOpen champion!

She defeats Keys 6-3, 6-0.

🇺🇸🏆 pic.twitter.com/EXuTr0TKmk

— US Open Tennis (@usopen) September 9, 2017
After climbing up into the stands for an emotional celebration with her support camp, Stephens returned to the court and sat beside Keys as the pair chatted and waited for the trophy presentation.
Both Keys, 22, and Stephens have long been touted as potential grand slam challengers but very few people expected that to come at the same time and at this tournament.
With injuries forcing both to miss the Australian Open, and Stephens not making her return until Wimbledon, they arrived in New York with just two grand slam victories between them all season.
Stephens' run had been probably the more eye-catching, largely because of the length of her lay-off and her semi-final victory over Venus Williams.
But Keys claimed the higher-ranked scalp in fourth seed Elina Svitolina and hit peak form to crush Coco Vandeweghe in the semi-finals.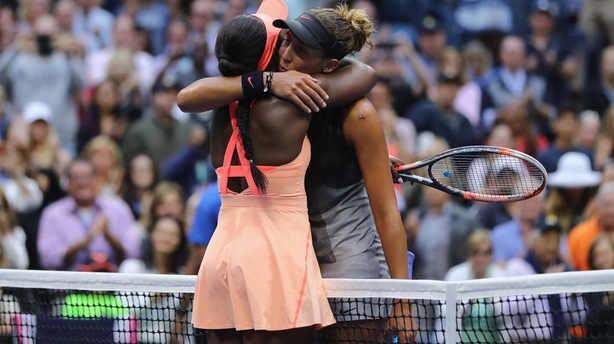 This was a classic match of styles, the natural ball-striking ability of Keys against the athleticism and consistency of Stephens. And it soon became clear which would be in the ascendancy.
Stephens has returned to the game with a new, relaxed approach and that did not change in her first grand slam final.
Keys looked tense and again had heavy strapping on her right thigh after feeling something late in her semi-final victory over Vandeweghe.
Stephens added to her rival's troubles by forcing Keys to put all the pace on the ball from difficult areas.
By the end of the first set, Keys had made 17 unforced errors compared to just two from Stephens, and there was no change in momentum at the start of the second.
The crowd had struggled to get into the match from the start, understandably unsure how to react to a clash between two young Americans, and now it was hurtling towards a conclusion.
Keys simply could find no way through Stephens' defences and her last chance to at least make a match of it went when she missed three break points at 0-4.
She fought hard to get on the board in the second set, saving two match points, the second with a fizzing forehand winner, but this was not her day.
Stephens said: "It's incredible. If someone told me when I had surgery that I would win the US Open, it's impossible I would say. Coming back, just being able to keep it all together, this journey's been incredible and I wouldn't change it for the world.
"I should just retire now. I told Maddie I'm never going to top this. Things just have to come together and the last five or six weeks they really have.
"I just have to say thanks to my team because in the toughest times we stuck together. This one's for all of us."
Of her decision to sit next to Keys, Stephens said: "Maddie's one of my best friends on tour and to play her here, I wouldn't have wanted to play anyone else.
"I told her I wished it could have been a draw. If it was the other way round, I know she would have done the same for me. I'll support her no matter what."
Keys fought back tears as she said: "Sloane is truly one of my favourite people. To play her was really special.
"Obviously I didn't play my best tennis and was disappointed but Sloane being the great friend she is was very supportive and if there's someone I had to lose to today, I'm glad it's her."
Another title @jamie_murray and @mhingis! 👏👏👏

They won 6-1 4-6 10-8 in the @usopen mixed doubles final 🎾

Report 👉 https://t.co/rtllpQJsOJ pic.twitter.com/I48FllSNuf

— Team GB (@TeamGB) September 9, 2017
Earlier, Jamie Murray and Martina Hingis won their second successive grand slam mixed doubles title.
The Scottish-Swiss partnership defeated Michael Venus and Chan Hao-ching 6-1 4-6 10-8 in a tight battle to keep their winning run going after also claiming the Wimbledon title.
The victory takes Murray's tally of slam titles to five, three in mixed doubles and two in men's doubles, while Hingis has won 24 across singles and doubles.