The last Irishman to qualify for the main draw at Wimbledon says Ireland is unlikely to produce any top tennis players unless it builds a ton of indoor clay courts to aid the development of junior players.  
In 2011, Conor Niland became the first Irishman to reach the main draw at Wimbledon in 31 years, after winning all three of his qualifying matches. 
In a gruelling five-set battle on Court 17, he was eventually defeated by France's Adrian Mannarino, ranked 129 spots above him in the ATP standings. Niland admitted afterwards he tightened up after achieving a double break in the deciding set. 
No Irish player has reached the main draw at Wimbledon in the intervening years.
Castleknock's James McGee, currently the highest ranked Irish player at 206 in the world, beat his Spanish opponent in the opening qualifying round this year, but fell short against Russian teenager Andrey Rublev in the penultimate round. 
Pumped to get my 1st @Wimbledon qualies win today! Came back from 1-4 down in the final set to grind it out! 👊🏼💪🏼🌱 #wimbledon #letsgoooo pic.twitter.com/AzdWfrBZes

— James McGee (@jamesmcgee01) June 26, 2017
Speaking on Game On on RTÉ 2FM, Niland says that when it comes to producing tennis players, Ireland doesn't have the infrastructure to cope with the natural disadvantages wrought by the climate. 
And he points out that most Irish juniors play on artificial grass, a surface hopelessly ill-suited to producing top level players.   
"The big issue in Ireland is our climate isn't conducive to tennis," Niland says.  
"We don't have a huge number of indoor courts. And all our surfaces are artificial grass which is a terrible surface to learn tennis on.
"Because when it gets wet the ball skids through so if you want to go and practice for an hour on an artificial grass court, you're going to hit 100 balls. 
"But if you go and play for an hour on a sunny clay court in Spain you're going to hit three times that amount of tennis balls because the ball bounces higher and it doesn't break down.  
"Our training element for our young ambitious juniors doesn't really serve them very well. So until we build a ton of indoor clay courts I don't think we're going to produce an awful lot of players.
"We might get lucky and have an exceptional talent who comes through and lights a fire for Irish tennis."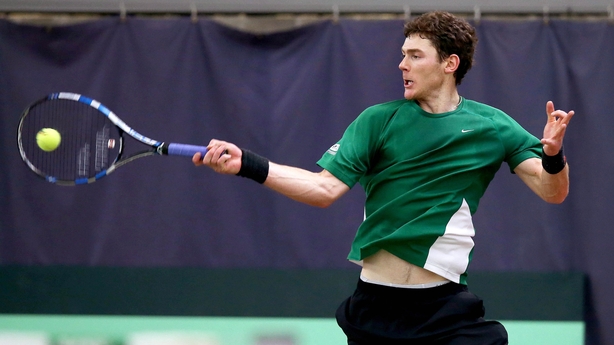 As Niland acknowledges, for many casual sports fans in Ireland, 'the tennis' is effectively over now for another year.
The sport becomes a brief craze during Wimbledon fortnight but promptly returns to being a footnote for most of the rest of the calendar. 
Niland said this could change if an Irish player was to break through and begin playing regularly in the major tournaments.  
"We haven't had a player consistently in the top 100, playing in the biggest events. 
"And until we have that, tennis is only going to be talked about for two weeks of the year really. 
"It's just part of our culture that we hone in on Wimbledon. It gets an awful lot of press. But then for the rest of the year, it doesn't really get talked about a lot. 
"So, if one player, like a Simon (Carr), or a Sam (Barry), or a James (McGee) is able to break through and consistently play in the biggest tournaments then it can't not be in the papers and on the news.
"And then hopefully, we'll see people being inspired and starting to play."