Petra Kvitova sympathised with Venus Williams after the five-time Wimbledon champion broke down in tears over the fatal car crash she is being sued over in the United States.
Following a 7-6 (9/7) 6-4 win against Belgium's Elise Mertens on Court One, Williams met with media as normal, as she has through her 20 years of coming to the All England Club.
She was asked about the crash that, according to police, saw the 37-year-old cross a junction when her vehicle collided with a car being driven by Linda Barson, whose husband Jerome was in the passenger seat.
Mr Barson died 13 days later. Civil court documents filed last Friday by the couple's daughter Audrey Gassner-Dunayer in Palm Beach County, Florida, claim Williams was "driving carelessly and recklessly".
Williams said: "There are really no words to describe, like, how devastating and - yeah. I'm completely speechless."
"I feel like for women it's more difficult because we are more sensitive and more emotional than you guys."
At that point she began to cry and after an uncomfortable silence left the room, before returning shortly afterwards, with the moderator suggesting subsequent questions focused on tennis.
Williams mentioned that she was missing the company of her sister Serena, the reigning Wimbledon champion who is absent this year as she prepares for the birth of her first child.
When asked about the circumstances in which Williams finds herself, two-time Wimbledon winner Kvitova said: "I think it's difficult, especially in her position. Every traumatic situation is always tough. I feel like for women it's more difficult because we are more sensitive and more emotional than you guys. So I feel like it's not easy.
"I know that she doesn't really have a good time right now, but I wish her all the best."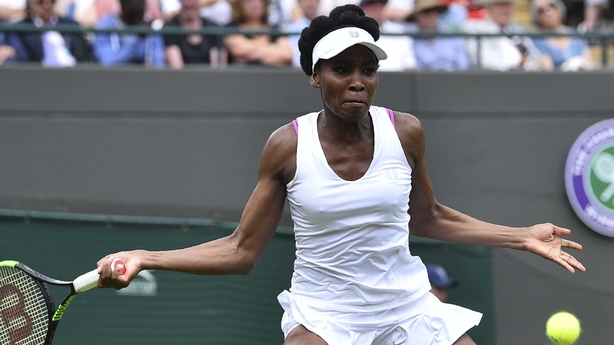 Kvitova had a satisfying day, earning a 6-3 6-4 victory over Sweden's Johanna Larsson and receiving the warmest of receptions after a traumatic period in her life.
An attack in her home in December left Kvitova with severe injuries to her left hand, and the fear she would never play again.
But she has recovered well and in her third tournament back is already being tipped to lift another grand slam title.
Speaking about the Centre Court crowd response to her, Kvitova said: "It was very special, I have to say."
There was a similarly emotional victory for former world number one Victoria Azarenka, contesting her first grand slam since becoming a mother for the first time. She gave birth to son Leo in December, and the Belarusian marked her big-stage return with a 3-6 6-2 6-1 win over American CiCi Bellis.
Azarenka was asked about motherhood and the challenge of returning to the tour, and said: "The guys have the luxury to never stop their career and for girls it's tougher.
"But I think it's possible. Even before me, we had players do this, like Kim Clijsters and a lot of girls who are maybe less ranked so their story isn't as big.
"It is possible. One of my biggest inspirations was (US volleyball player) Kerri Walsh that came back after three kids and was still playing for a gold medal. Nothing is impossible. For women, that's definitely true."