The head of women's tennis has condemned the reasons behind Maria Sharapova's French Open snub.
The former world number one only recently returned from a drugs ban and hadn't earned enough ranking points to make it into the main draw or even the qualifiers.
There was some speculation that the French Tennis Federation (FFT) would offer her a wildcard entry, but they decided not to – leading WTA chief Steve Simon to condemn their call.
The WTA runs the women's tennis tour and Simon said: "Wildcards are offered at tournaments' sole discretion. I fully support the players that received wildcards and wish them the very best of luck. It's going to be a very exciting fortnight at Roland Garros.
May 17, 2017
"What I do not agree with is the basis put forward by the FFT for their decision with respect to Maria Sharapova. She has complied with the sanction imposed by the Court of Arbitration of Sport (CAS).
"The tennis anti-doping program is a uniform effort supported by the Grand Slams, WTA, ITF and ATP.
"There are no grounds to penalise any player beyond the sanctions set forth in the final decisions resolving these matters."
Sharapova has competed at three events since returning to competitive tennis following her 15-month suspension for testing positive for meldonium, a sanction that was reduced from two years by the CAS.
FFT president Bernard Giudicelli hinted that the decision not to grant her a wildcard entry was due to her recent ban.
He said: "It is my responsibility and my mission to protect the game and protect high standards of the game played without any 'doping' on the result, so that is our decision."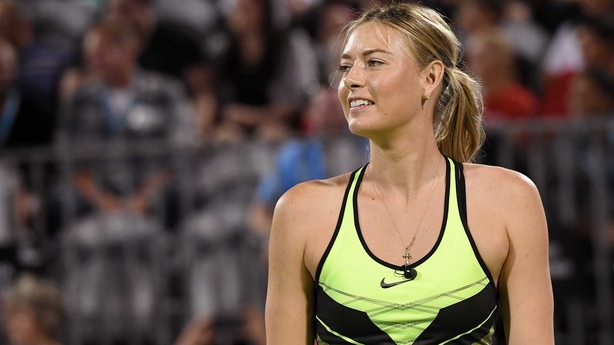 However Simon insists the FFT are not in a position to hand Sharapova further punishment.
On Tuesday the two-time Roland Garros champion was forced to retire injured from her second-round clash at the Internazionali BNL d'Italia in Rome, having took to the court just 30 minutes after Giudicelli's announcement.
That early exit against Mirjana Lucic-Baroni, which came in third set where she was a break up, means that she can no longer secure a place in the main draw at Wimbledon, though she is already assured of entry into qualifying at SW19.
The All England Lawn and Tennis Club could even hand the 2004 champion a wildcard for direct entry into the tournament, something the FFT opted against.
The decision on whether to award Sharapova a wild card for direct entry to the Wimbledon tournament is due to be taken at a meeting of the All England Club's sub-committee, chaired by former British number one Tim Henman, on June 20.
If no wild card is awarded, the 30-year-old would need to negotiate her way through qualifying at Roehampton.
The qualifying competition at the Bank of England Sports Centre is due to run from Monday, June 26 to Thursday, 29 June.