Maria Sharapova has had her doping ban reduced from two years to 15 months by the Court of Arbitration for Sport (CAS).
The 29-year-old tested positive for the heart-boosting drug meldonium in January at the Australian Open and was given a two-year ban by the International Tennis Federation (ITF) in June.
But CAS, sport's highest court, announced it has reduced that by nine months, meaning the five-time grand slam winner will be eligible to play again on 26 April, 2017, four weeks before the French Open.
Speaking on her official Facebook page, Sharapova said: "I've gone from one of the toughest days of my career last March when I learned about my suspension to now, one of my happiest days, as I found out I can return to tennis in April.
"In so many ways, I feel like something I love was taken away from me and it will feel really good to have it back. Tennis is my passion and I have missed it. I am counting the days until I can return to the court.
"I have learned from this, and I hope the ITF has as well. CAS concluded that 'the Panel has determined it does not agree with many of the conclusions of the [ITF] Tribunal…'
"I have taken responsibility from the very beginning for not knowing that the over-the-counter supplement I had been taking for the last ten years was no longer allowed. But I also learned how much better other Federations were at notifying their athletes of the rule change, especially in Eastern Europe where Mildronate is commonly taken by millions of people."
This result is probably being greeted as a victory by Sharapova and her legal team as 15 months is very close to the minimum ban she could have expected at June's initial hearing, which is one year for cases where there is "no significant fault".
That always seemed unlikely as her lead agent Max Eisenbud admitted he and Sharapova failed to check the World Anti-Doping Agency's list of banned drugs, which is updated every year on 1 January, but apart from this mistake the three-man appeal panel has emphatically backed the former world number one.
In a statement posted on its website, the Swiss-based court said: "The panel found that Ms Sharapova committed an anti-doping rule violation and that while it was with 'no significant fault', she bore some degree of fault, for which a sanction of fifteen months is appropriate.
"The Panel wishes to point out that the case it heard, and the award it has rendered, was only about the degree of fault that can be imputed to the player for her failure to make sure that the substance contained in a product that she had been taking over a long period remained in compliance with the anti-doping rules."
Congratulations to @MariaSharapova! #WeStoodWithMaria #headtennis pic.twitter.com/NXGLvl4wzr

— HEAD Tennis (@head_tennis) October 4, 2016
And in the panel's more detailed, formal decision, it said: "Under no circumstances, therefore, can the player be considered to be an 'intentional doper'."
Meldonium was added to the banned list this year, having been on WADA's monitoring list for all of 2015, and athletes and their entourages were warned several times by email that it was about to be prohibited from September onwards. Sharapova told the ITF she did not read those emails.
But since its ban the whole debate about meldonium, an over-the-counter drug made in Latvia, has been plunged into confusion as it became apparent WADA did not know how quickly the drug is excreted from the body, meaning athletes who stopped taking it before 1 January could still have tested positive months later.
This has led to WADA twice putting back the date from which positive samples can be prosecuted, causing considerable embarrassment for the agency and anger in eastern Europe, where the drug is widely used.
Sharapova's case, however, was always different, as she had already admitted to taking the drug several times at the Australian Open.
That honesty initially looked like it might cost her, as she would probably have avoided a ban if she had said nothing about when she took the drug, but this ruling has rewarded her for coming clean on the dates.
The CAS panel has also criticised the ITF's efforts to notify players of meldonium's impending prohibition, contrasting it with the repeated and much clearer messages sent out by other sports federations.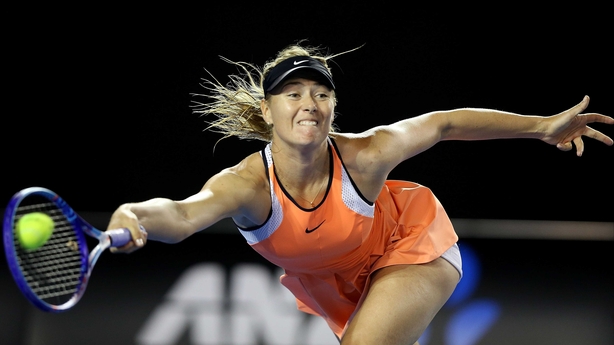 There was a hint of censure from the panel for Sharapova in that she did not mention her use of meldonium and two other over-the-counter heart treatments on her doping control forms, but her legal team argued that she did not do so because she did not take these products every day and did not see the need to list them as they were legal.
Her lawyers also tried to argue that meldonium's very presence on the banned list is a matter of dispute as there is little verifiable evidence of its performance-enhancing qualities. CAS, understandably, did not engage in this particular debate but it will be something for WADA to consider going forward.
The ITF responded to the news from Lausanne with a dry restatement of the facts of the case but did make a few points to clarify that CAS had not completely absolved the world's most highly-paid female athlete of all blame.
"The CAS panel found that Ms. Sharapova was at fault for (a) failing to give her agent adequate instructions as to how to carry out the important task of checking the prohibited list, and (b) failing to supervise and control the actions of her agent in carrying out that task (specifically the lack of any procedure for reporting or follow-up verification to make sure that her agent had actually discharged his duty)," it said.
"The CAS panel also noted Ms. Sharapova's failure to disclose her use of meldonium on her doping control forms."
But the result was much better received by one of Sharapova's staunchest allies, the chairman of her tennis racquet manufacturer and sponsor Head.
"We eagerly await her return to competitive tennis in April 2017 and we are very proud to have stood by Maria for the right reasons throughout these difficult and testing times for both Maria and those who have supported her all over the world," said Johan Eliasch.
"This calls into question the revelations about certain Olympic athletes who were granted therapeutic use exemptions for substances that could most certainly be considered performance-enhancing...while meldonium...has yet to be proven under any significant clinical testing to have any performance-enhancing benefits."
As Sharapova's great rival Serena Williams is one of those "certain Olympic athletes" whose TUEs have recently been leaked by Russian computer hackers, there could be even more frostiness between the pair next time they meet.