Serena Williams has brushed off suggestions female players do not deserve equal prize money to men after her 48-minute thrashing of Elena Vesnina.
Williams' 6-2 6-0 victory is the fastest singles semi-final at Wimbledon since official records began and the thumping regurgitated debate about prize money in the men's and women's tournaments.
Losing semi-finalists in both draws will earn #500,000 this year while the runner-up will pocket £1m and the winner £2m.
Williams' domination came in stark contrast to the two thrilling men's quarter-finals on Centre Court on Wednesday, which both went to five sets as Roger Federer fought back to beat Marin Cilic and Andy Murray held off a late comeback from Jo-Wilfried Tsonga.
Together with Angelique Kerber's 6-4 6-4 win over Venus Williams on Thursday, the two Centre Court matches took exactly two hours in total, while Federer and Murray's victories lasted a combined seven hours and 11 minutes.
"If you happen to write a short article, you think you don't deserve equal pay as your beautiful colleague behind you?"
Wimbledon has awarded equal prize money to men and women since 2007 and Serena Williams insists that remains the correct decision.
"Yeah, I think we deserve equal prize money, absolutely," Williams said. "If you happen to write a short article, you think you don't deserve equal pay as your beautiful colleague behind you?
"I would like to see people, the public, the press, other athletes in general, just realise and respect women for who they are and what we are and what we do.
"I've been working at this since I was three years old. Actually maybe younger, because I have a picture where I'm in a stroller. I think Venus is actually pushing me, and we're on the tennis court.
"Basically my whole life I've been doing this. I haven't had a life. I don't think I would deserve to be paid less because of my sex, or anyone else for that matter in any job."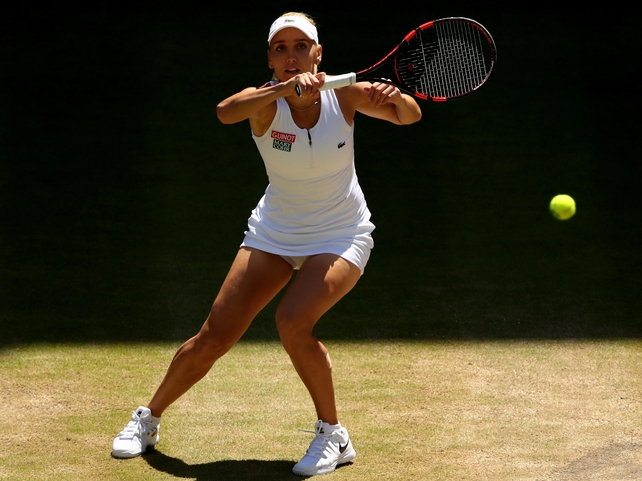 Fans paid £126 for Centre Court tickets on both Wednesday and Thursday. The men's semi-finals on Friday and the women's final on Saturday each cost £145. The men's final on Sunday is worth £175.
"I think it does not depend on the score," Vesnina said. "It's just amazing that we have such a great champion like Serena on the women's side. I don't think that it's the right topic, to speak about that.
"We had amazing matches here in the women's tournament, amazing matches with the guys. It's not about that. Women's matches are tough, I can say. We deserve what we have right now."
Kerber will now face Williams on Saturday, in a repeat of the Australian Open final in January when the German produced a stunning upset to clinch the title.
The world number four believes matches are just as unpredictable in the women's game.
"This is tough because you never know how the matches are before you came here," Kerber said.
"We are giving everything on court, everybody. It doesn't matter if you win or if you lose, that's sport. You never know what happens at the end.
"We give our best. At the end only two can win. You never know if it's two hours or, at the end, eight hours."