Maria Sharapova has been banned for two years after failing a drugs test at the Australian Open, the International Tennis Federation has announced.
Sharapova's suspension is backdated to January 26 this year, when she tested positive for prohibited substance meldonium.
The five-time grand slam champion will miss the Olympic Games in Rio this summer while the earliest grand slam she could next compete in will be the French Open in 2018.
In a statement issued on her Facebook page, Maria Sharapova has said she will "immediately appeal the suspension portion" to the Court of Arbitration for Sport.
An ITF statement said: "An Independent Tribunal appointed under Article 8.1 of the 2016 Tennis Anti-Doping Programme (the "Programme") has found that Maria Sharapova committed an Anti-Doping Rule Violation under Article 2.1 of the Programme and as a consequence has disqualified the affected results and imposed a period of ineligibility of two years, commencing on 26 January 2016."
"I cannot accept an unfairly harsh two-year suspension." - Maria Sharapova
Sharapova announced in March she had tested positive for meldonium, insisting she had been prescribed the drug since 2006 for "several health issues", including irregular heart test results and a family history of diabetes.
The 29-year-old also claimed she was unaware meldonium, which boosts blood-flow and can improve endurance, had been added to the World Anti-Doping Agency's banned list from 1 January this year.
Sharapova described the two-year suspension as "unfairly harsh" and says she will lodge an appeal to the Court of Arbitration for Sport.
"While the tribunal concluded correctly that I did not intentionally violate the anti-doping rules, I cannot accept an unfairly harsh two-year suspension," Sharapova wrote on Facebook.
"The tribunal, whose members were selected by the ITF, agreed that I did not do anything intentionally wrong, yet they seek to keep me from playing tennis for two years.
"I will immediately appeal the suspension portion of this ruling to CAS, the Court of Arbitration for Sport."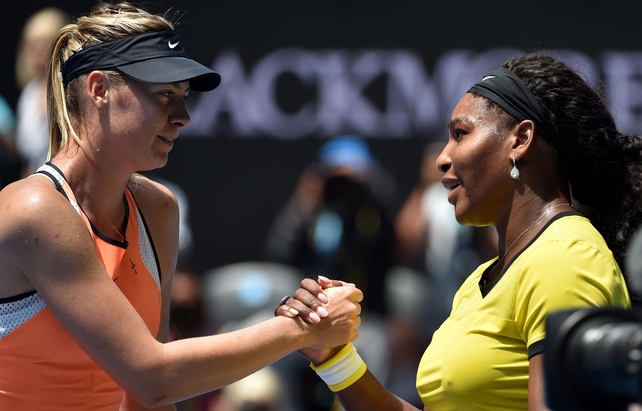 Meldonium was on WADA's watch list last year and in September the agency announced it would be banned from the start of 2016, citing "evidence of its use by athletes with the intention of enhancing performance".
Sharapova's results at the Australian Open, where she lost to Serena Williams in the quarter-finals, as well as her prize money and ranking points earned at the event have also been disqualified.
The Independent Tribunal's report concluded: "The contravention of the anti-doping rules was not intentional as Ms Sharapova did not appreciate that Mildronate contained a substance prohibited from 1 January 2016.
"However she does bear sole responsibility for the contravention, and very significant fault, in failing to take any steps to check whether the continued use of this medicine was permissible.
"If she had not concealed her use of Mildronate from the anti-doping authorities, members of her own support team and the doctors whom she consulted, but had sought advice, then the contravention would have been avoided. She is the sole author of her own misfortune."
Sharapova reached the French Open final as well as the Wimbledon semi-final last year and she began 2016 ranked number four in the world.
Her chances, however, of rejoining the elite after two years away from the game appear slim, particularly given the Russian will be almost 31 when her suspension ends.
Sharapova added: "I intend to stand for what I believe is right and that's why I will fight to be back on the tennis court as soon as possible."