Jordan Spieth fell foul of a crackdown on slow play as a "masterclass" from Rory McIlroy ensured the world number three won their first duel of the year at the Abu Dhabi HSBC Championship.
McIlroy had insisted he was not concerned about laying down a marker to Spieth after being drawn with the world number one and Rickie Fowler, but the four-time major winner certainly made an impression with an opening 66.
"It was a masterclass, the Rory that I have seen win major championships," Spieth said after a birdie on the last ensured he finished just two shots behind his playing partner and four behind clubhouse leader Bryson DeChambeau, who carded seven birdies and an eagle in an impressive 64.
"It was very impressive today and minus one or two short putts, which is mainly just rust, it felt like he was on his A game."
Rory McIlroy's opening tee shot of the year. #ADGolfChamps https://t.co/tvLS3NghWH

— The European Tour (@EuropeanTour) January 21, 2016
McIlroy did not touch a club for eight weeks after winning the DP World Tour Championship in November, but the only evidence of rust came with two three-putt bogeys, each of which he immediately followed with a brace of birdies.
"It was a great way to start the year," said McIlroy, who has finished second in Abu Dhabi four times in the last five years. "I felt in practice last week I was swinging well and I came back mentally fresh and excited to play again. I could not be happier.
"I drove the ball well and that's one of the secrets around this course because if you hit it into the rough, it's difficult just to reach the green. I missed a few putts but holed a few I probably shouldn't have so it all evens out."
Spieth, who started his year by shooting 30 under par to win the Tournament of Champions in Hawaii by eight shots, admitted his driving was "short and crooked" for most of the day, but was more concerned with receiving a "monitoring penalty" on the penultimate hole.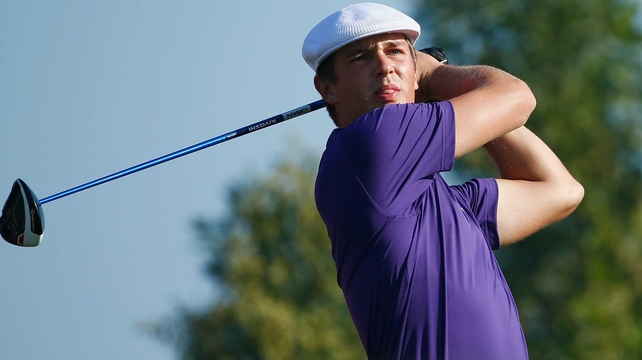 "It was a bit odd," said the world number one, who will be fined £2,000 if he transgresses again. "I got a bad time on my putt on the eighth when they took us off the clock on that green and the guys behind us hadn't even reached the fairway on a par five.
"I understand that if you are being timed and you are taking longer than the allotted time, you get a bad time. I understand the rule but it doesn't make a whole lot of sense when our group had caught up."
McIlroy sympathised with Spieth and felt officials should use "common sense" as they were not out of position, but that cut little ice with European Tour chief referee John Paramor.
"Pace of play on the European Tour is measured by whether a group keeps to the starting interval between groups, rather than if they are on the same hole, as it is in America," Paramor said.
"Jordan was assessed a monitoring penalty after his putt on the eighth hole, which I advised him of as he walked to the ninth tee."
Under a revised pace of play policy approved only on Tuesday by the Tour's tournament committee, any player exceeding the time allowed for a shot - 50 seconds if playing first, 40 seconds thereafter - while being monitored, will be given a monitoring penalty.
The group of Spieth, McIlroy and Rickie Fowler were being monitored from the fourth hole, with Fowler's time-consuming drop in a waste area on the second hole believed to be largely responsible.
Played with Bryson Dechambeau today. Quite possibly the most impressive player I have ever seen...I like the cut of his jib too 👍

— Chris Paisley (@ChrisPaisley86) January 21, 2016
Early leader DeChambeau became the fifth player after Jack Nicklaus, Phil Mickelson, Tiger Woods and Ryan Moore to win the NCAA and US Amateur titles in the same season last year, but has also made headlines for his unique approach to the game.
The physics graduate describes himself as a "golf scientist" and has modified his irons so that they are all the length of a six iron, while he uses water and Epsom salts to establish which of his golf balls are slightly flawed [he says about four per dozen] so they can be discarded.
"It was quite incredible," DeChambeau said of his round, which contained seven birdies, an eagle and one bogey. "I had no expectations and was just able to freewheel a little bit and that allows me to do my best."
At eight under par DeChambeau led by one from Henrik Stenson, who also started with low expectations after having keyhole surgery on his right knee just six weeks ago.
"It was a bit of grind, more for my foot and hip than the knee, but I just have to take it easy and pace myself," the world number five said. "'I have missed the cut here the last two years so it was nice to get a good round in early."
Michael Hoey and Darren Clarke are both well off the pace, as Hoey opened with a level par 72, while the Ryder Cup captain is a shot further back on one over par.