Two-time Wimbledon champion Petra Kvitova will bid for a second WTA Finals crown on Sunday when she meets Agnieszka Radwanska, after both players emerged victorious from their semi-final clashes.
Kvitova, the WTA Finals winner from 2011, pulled off arguably the bigger win of the two in Singapore on Saturday as the Czech beat Maria Sharapova 6-3 7-6 (7/3) in less than two hours.
Radwanska, meanwhile had a marathon on court, fighting back from a set down to beat White Group winner Garbine Muguruza 6-7 (5/7) 6-3 7-5.
No matter the result on Sunday though, it will be the end of Serena Williams' three-year stranglehold on the WTA Finals crown, with Kvitova the last to win it before the American.
While Sharapova had been on fire in the round-robin section of the tournament with three wins out of three, Kvitova's passage to the last four needed a helping hand following her two defeats.
Compatriot Lucie Safarova's victory over Angelique Kerber provided that and Kvitova was eager to show her gratitude, clinching a break in the first set for a 4-3 lead that she did not relinquish.
Sharapova, though, was not about to roll over, a superb run putting her 5-1 ahead in the second set only to then see a fightback from Kvitova, who saved a set point and then broke the Russian to level up at 5-5.
Five successive games for Kvitova had eventually helped force a tie-break and the Czech saw things out in relative comfort at 7/3.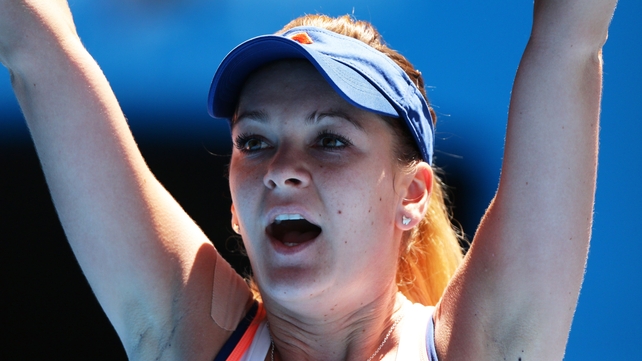 "I didn't expect this, for sure," Kvitova said on www.wtatennis.com. "I had two losses in my group, and I couldn't really believe I would play the semi-finals.
"And I knew Maria would be strong today - she played so well in the round robin group, so I expected a really tough match. But I knew I had the game to beat her, and that I really had to keep trying today."
Earlier, Poland's Radwanska had notched the 50th win of her season so far by beating Muguruza, who like Sharapova had come through unbeaten in the round-robin stage.
Muguruza is having the best season of her career so far, having reached the final of Wimbledon 2015 and then rising to world number three, and the Spaniard showed the skills to fight back and clinch a topsy-turvy first set in the tie-break.
Radwanska then took the second set 6-3 and the momentum had shifted towards the Pole. Despite another Muguruza revival from 4-1 down in the third, Radwanska held her nerve to win 7-5.
Following the match, an emotional Radwanska said: "I didn't know if I could come back after that first set, but I think it was a great match from the beginning until the end, so many rallies and a lot of running.
"I'm just so glad I could win this match in the end."