Novak Djokovic withstood a courageous fightback from Roger Federer to win one of the most remarkable Wimbledon finals of all time.
Djokovic served for the match in the fourth set and had a match point on Federer's serve but each time his 32-year-old opponent hung on.
Having lost five of his last six Grand Slam finals, Djokovic was staring at the prospect of a shattering defeat but he simply refused to be beaten and took his second match point to win 6-7 (7/9) 6-4 7-6 (7/4) 5-7 6-4.
The victory will see him take over from Rafael Nadal as world number one on Monday.
It was the Serbian's seventh Grand Slam title and his second Wimbledon, while Federer will be left to wonder whether he will ever get a better chance to win an 18th slam.
This was also a first slam title with Djokovic for the Serbian's head coach Boris Becker, who found himself on opposite sides to his old rival Stefan Edberg, now coaching Federer.
The two men could only look on from the sidelines this time, and Becker would have settled the easier into his seat as his charge made a brilliant start.
If there was mental anguish carried over from recent finals, Djokovic had buried it away, and it was only Federer's serve that kept the man from Basle on level terms in the opening set.
The 32-year-old had to fight toe-to-toe off the ground in the 10th game, successfully repelling a Djokovic charge to the delight of his adoring public.
Djokovic recovered from 0-3 in the tie-break to lead 6-5 with a set point on his own serve but Federer found the sideline and forced the error.
Another came and went with a Federer ace and, when the seven-time Wimbledon champion brought up his first chance, it was Djokovic who faltered, netting a backhand.
Djokovic finally made the breakthrough in the third game of the second set, sweeping a backhand pass beyond Federer and breaking the world number four's serve for only the second time all tournament.
The Serbian called the trainer for treatment to his left ankle after taking a heavy fall but there did not appear to be any lasting damage.
Federer had one chance to retrieve the break when Djokovic betrayed a few nerves serving for the set, but the threat was averted.
This was the 35th meeting between the two men but only their second Grand Slam final - the first came back in 2007 at the US Open - and second match at Wimbledon.
Federer won both of those clashes, and the third set appeared crucial to his hopes of a repeat.
Federer's serving was almost immaculate and there may have been a first for the world's best returner in the ninth game as four consecutive aces flew past him.
It came to his rescue two games later as Djokovic forced two break points, the Serbian yelling at the chalk dust in frustration.
But in the tie-break Federer's resistance ran out, and his hopes of victory appeared over when he trailed 5-2 in the fourth set.
Having been broken for 3-1, Federer had hit straight back with his first break of the match only to drop serve once more.
But at the biggest moment of the match, Djokovic faltered and back came Federer again, the Swiss breaking serve to trail only 5-4 while his opponent lay sprawled on the ground.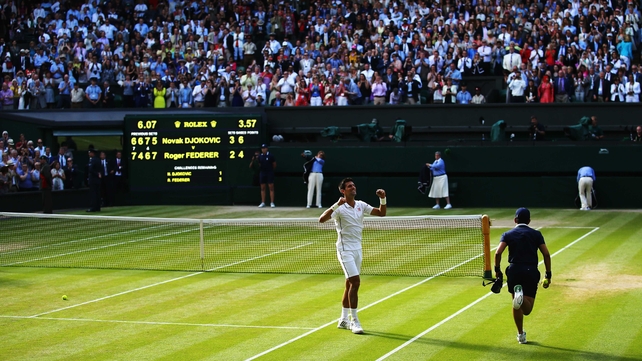 Still it looked like it would not be enough as Djokovic brought up a first match point, but Federer, the man who loathes Hawk-Eye, may revise his opinion after a challenge gave him an ace.
The missed chances must have haunted Djokovic and he handed Federer a second straight break.
Federer duly served out one of the most remarkable sets of his long career.
The momentum was all with Federer, and physically Djokovic was struggling too, taking a medical time-out after the third game of the fifth set for treatment to his right leg.
Federer piled on the pressure in the seventh game and brought up a break point but then netted a backhand.
Djokovic held and suddenly he was the man pushing forward as Federer faced three break points. Each time the Swiss came up with an answer.
The third, when he dug a half-volley off his toes, was one of the shots of the championship.
But Djokovic was pressing intensely and two games later he brought up two match points.
This time Federer could not fight back, the Swiss netting a backhand as Djokovic celebrated a hugely emotional victory after three hours and 57 minutes.
"I respect your career and everything you've done Roger - thank you for letting me win today!" - Novak Djokovic
"Congratulations to Roger, he proved what a great champion he is once again here this year," said Djokovic afterwards.
"I respect your career and everything you've done Roger - thank you for letting me win today!
"After dropping a fourth set it wasn't easy to regroup. I tried to compose myself and find the necessary energy to win the fifth. I don't know how I managed to do it.
"This is the tournament I always dreamed of winning. This is the best tournament in the world, the most valuable one."
"He's a great opponent and I would just like to congratulate Novak on his title," said Federer.
"You know going into a match against Novak it's going to be tough, I can only say congratulations.
"I'm certainly delighted to have been able to be back here again in this final."