Novak Djokovic came into Wimbledon as the favourite to win the title but he knows he has his work cut out to prevent a resurgent Roger Federer making Centre Court his stage once again.
Federer is bidding for an unprecedented eighth Wimbledon crown 11 years after his first and has been the most impressive player throughout the men's tournament, dropping just one set.
In contrast, Djokovic has ground his way through the draw but should take confidence from the fact he has beaten high-calibre players including Jo-Wilfried Tsonga, Marin Cilic and Grigor Dimitrov without playing his best.
The Serbian is in his third Wimbledon final in the last four years, having won the title in 2011 and lost to Andy Murray 12 months ago.
In 2012 he lost in the semi-finals to Federer, their only previous meeting on grass.
Djokovic has been impressed by his rival's form this fortnight, saying: "His level has been very high, I have to say.
"I've been watching him in a few matches. He didn't have many tough matches up to the quarter-finals. Against Stan (Wawrinka) he played well.
"With his immense experience of winning this title so many times and from being so dominant in men's tennis for over a decade, of course that helps in the approach of a grand slam final.
"Hopefully I can tactically prepare myself and execute well to not allow him to be in top shape on Sunday."
Grass clearly favours Federer but the 32-year-old Swiss has won only one grand slam title in four and a half years and is through to his first final since beating Murray here two years ago.
Playing the only man ever to have won 17 grand slam singles titles could never be described as a good draw but Djokovic will no doubt be relieved not to be facing either Murray or Rafael Nadal.
All of Djokovic's last six slam finals have come against those two men and he has lost five of them, his only victory coming against Murray at the Australian Open last January.
There is plenty of history between Djokovic and Federer - they have played 34 times - but their only previous meeting in a slam final came at the US Open back in 2007.
"It's a good chance for me to try to win against him on his favourite surface, on his favourite court" - Novak Djokovic
"It's a good chance for me to try to win against him on his favourite surface, on his favourite court," said Djokovic, who would reclaim the number one spot from Nadal with victory.
"The key against him in the game, of course, is trying to not allow him to dictate too much because he likes to be very aggressive, he likes to come to the net.
"I'm going to have to be able to get as many returns as I can back in the court and try to also protect the baseline."
Federer leads the head-to-head record 18-16 and won their most recent meeting in Monte Carlo in April, although Djokovic was hampered by a wrist problem.
Federer also won a semi-final clash in Dubai in February but Djokovic fought back from a set down to win the final in Indian Wells a month later, for his first title of the season.
"We both like to be close to the baseline," said Federer.
"We both like to take charge, especially on quicker courts. He has a wonderful way of either redirecting or taking the ball early, taking pace from the opponent, even generating some of his own.
"So I think that's what makes him so hard to play. There's not really a safe place you can play into.
"I think for me it's really important to stay aggressive against him. And especially here at Wimbledon it's more simple how we need to play against each other."
While the big four generally get on well, there has always been an edge to matches between Federer and Djokovic, many of which have been extremely close.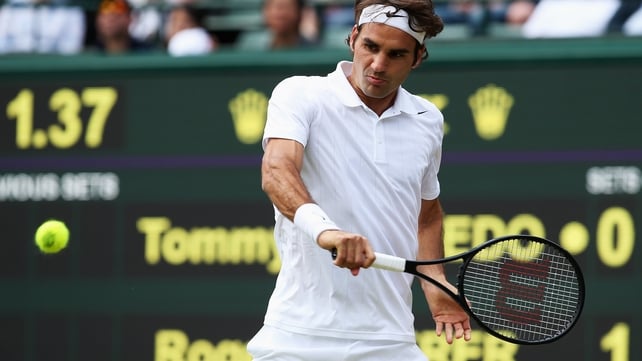 Federer was clearly annoyed in the US Open semi-finals in 2011 when Djokovic saved a match point with a go-for-broke forehand return.
Federer described it as a "lucky shot, saying: "It's just not a guy who believes much any more in winning."
But the 32-year-old has played down any friction, saying: "I must say I've enjoyed the matches against him. It's been a cool rivalry."
Federer's form is all the more remarkable considering he and wife Mirka had their second set of twins two months ago.
Juggling family commitments with his tennis cannot be easy but for Federer it is also providing added motivation.
He said: "The fun for me is being able to do it at this age, with a family, with the team I have.
"So the fun is not just after match point, it's the entire package. I really enjoy it. It makes everything so much more worth it."