Birthday boy Rafael Nadal hit back from a set down to turn his quarter-final against David Ferrer around completely and keep his hopes for a record ninth French Open title alive.
On the day after he turned 28, Nadal was slow to come out of the blocks and deservedly lost his first set at Roland Garros this year as Ferrer nudged in front.
Almost every facet of Nadal's game was below par at that point, but he awoke from his slumber and struck back in blistering fashion to win 4-6 6-4 6-0 6-1.
In the early stages Ferrer's impressive shot variation caused problems for Nadal, but he used the anger from losing the opening set to fuel a total turnaround.
Nadal will face Andy Murray in the semi-finals after the Wimbledon champion's win over home favourite Gael Monfils.
The world number one made 12 unforced errors in the first seven games, to Ferrer's five, and that made it all too easy for his compatriot to gain a foothold in the contest.
Ferrer, who hit 13 winners in the opening set and had plenty of joy from forays to the net, broke Nadal early on before the Spaniard responded immediately.
At that point, many would have expected Nadal to kick on, but he continued to struggle before Ferrer made him pay by claiming the first of two break points to clinch the set.
Last time the two met, Ferrer beat Nadal in straight sets at the quarter-final stage of the ATP World Tour Masters 1000 Monte Carlo, so it was not too much of a surprise that he was proving such a tricky customer.
But in the second set Nadal came out with renewed purpose and never looked back.
His frustrations were epitomised by a furious smash close to the net to set up a break point in the third game, which he duly converted with a pin-point backhand down the line.
Nadal's trademark pace and power began to give Ferrer the run-around but he still had opportunities and let a break point slip at 3-2.
Nadal was ruthless in clinching the second set, serving the final game out to love to tie the match.
That mean streak carried over into the third set as Ferrer began to buckle under the sheer ferocity of Nadal, who raced into a 5-0 lead to serve for the set.
With the world number one now finding top form he made no mistakes, with no unforced errors throughout the third set, once more holding serve to love to take the lead.
Ferrer had started to look like a broken man at that point, going 3-0 down in the fourth set, before crafting two break points to give himself a glimmer of hope.
After letting one slip he made no mistake to end an 11-game losing streak, but Nadal broke back immediately and then won the next two games to win the match at a canter.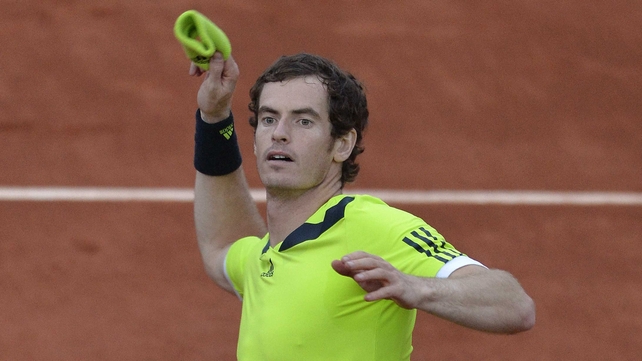 Murray cruised to a two-set lead in his quarter-final against Monfils, but the Frenchman fought back to level the match in the fading Parisian light.
The Scot did not want to start the fifth set but ended up winning it in just 24 minutes to clinch a 6-4 6-1 4-6 1-6 6-0 victory at 9.41pm.
Murray said: "It was very tough conditions. It was very windy at the start. I started well but when the wind died down he began to play so much better. He's such an amazing athlete. I was lucky that he started the fifth set badly."
The Wimbledon champion has only made the semi-finals at Roland Garros once before, losing in straight sets to eight-time champion Nadal in 2011.
"He's got very good memories on this court," said Murray. "I'll need to recover very well but I'm just happy to be in the semi-finals and I'll try to play my best tennis."
Murray was ready to be the villain for the French crowd, who have been waiting for a home men's champion since Yannick Noah's triumph in 1983.
Murray knows all about such expectations, of course, and had a smile on his face as he walked out to some jeers but plenty of cheers.
It was the Scot's first match this tournament on Court Philippe Chatrier, Roland Garros' main stage, and he could not have made a better start.
He was really looking forward to the match against his old junior rival, one of tennis' great showmen.
Murray was striking the ball even better than he had in his fourth-round win over Fernando Verdasco, particularly on the backhand side.
He stormed into a 3-0 lead with a flurry of winners only to be pegged back by Monfils, who Murray described before the match as possibly the best athlete in tennis history.
In the seventh game Monfils even played a left-handed forehand to help him reach the ball, and made the shot.
But Murray was the one in control of most of the rallies and a combination of a backhand down the line and a cross-court forehand helped him break the Monfils serve again and take the set.
Murray looked like a man completely sure of his game plan and, as in the first set, he raced out to a 3-0 lead in the second.
That quickly became 5-0 and the Scot should have chalked up a love set but fluffed three set points.
Having dominated the set, clinching it proved a little tortuous for Murray, who missed four more set points in a long service game.
There was then controversy when a ball fell out of Murray's pocket and, after Monfils protested the umpire Jake Garner's call of let with the crowd whistling and jeering, the seventh seed gave the point to his opponent.
Against Verdasco, he had also given away a point after the Spaniard was initially told to retake a first serve.
Verdasco had then broken back but this time Murray eventually clinched the set at the eighth attempt.
Monfils' performance certainly was not impressing former world number one Andy Roddick, who wrote on Twitter: "Nothing pisses me off more when watching someone giving a horrible effort. Showboats when winning and rolls over when down #hatethat"
But Roddick's appraisal of the Frenchman proved wide of the mark as he battled back doggedly.
The momentum shift began in the very first game of the third set when Monfils saved three break points.
Murray did the same in the next game but it was a tight set, with both men holding their serves, and when Monfils made it 5-4, he whipped the crowd up.
Murray saved two set points but he could not save a third.
The Scot now seemed to be struggling physically and Monfils dominated the fourth set to level the match.
Murray wanted to stop there, telling tournament referee Stefan Fransson "that's ridiculous" when it was put to him that he had to carry on.
Having held the opening game, Murray let out a yell of 'Come on', but the Scot surely would not have expected what followed, with Monfils winning just seven points in the final set.