Sabine Lisicki did the unthinkable this afternoon as she beat world number one and defending Wimbledon champion Serena Williams 6-2 1-6 6-4.
It was always slated to be the American's toughest challenge yet, but few could have predicted the enthralling duel that would follow on Centre Court.
German Lisicki, priced by several bookmakers at 10/1 to win the last-16 clash, started with aplomb and became the first woman of the fortnight to take a set off Williams.
The five-time Wimbledon champion looked a shadow of her normal self but recovered to dominate the second set.
Lisicki's exuberance and exquisite play was not to be overcome, though.
In a thrilling decider, the world number 24 broke the reigning champion's serve three times to edge through as victor and end Williams' incredible 34-match winning streak.
Lisicki was overcome by emotion as she absorbed her achievement.
"I'm still shaking, I am so happy," she said, before beginning to cry.
"Serena played fantastically all match. She is such a tough opponent. It's just an amazing feeling to win this match.
"The crowd were amazing, thanks to them for their support.
"They were amazing. I love this court so much, it's such a special place for me."
The German has always impressed on grass and gives little thought for her opponent's reputation, epitomised by the fact that Williams is the fourth reigning French Open champion in five years to be felled by Lisicki at the All England Club.
The American was in no doubt from the outset about how hard the match would be.
The first set was an incredible battle of wills, with Williams the first to buckle.
Having opened the sixth game with two aces, the American put a routine forehand wide before missing a sitter of a backhand, allowing Lisicki to break en route to taking the set.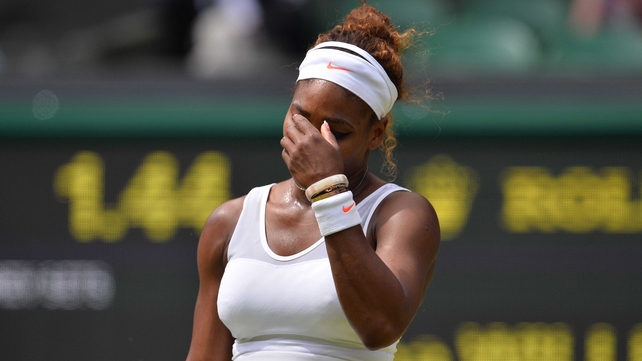 Williams had looked a shadow of her normal self but went into the second set with renewed vigour, tearing through it in a mere 27 minutes.
The third set was more of a topsy-turvy affair, with both breaking serve on more than one occasion to the delight of the Centre Court crowd.
Lisicki looked more composed, though, and edged the match in two hours and four minutes, setting up a quarter-final clash with Laura Robson's conqueror, Kaia Kanepi.
"I am not thinking about that yet," Lisicki told the BBC.
"I did enjoy it. She played unbelievable shots, but I fought for every point, hung in there, it's unbelievable."
Asked if she would be celebrating the win, Lisicki added: "No, not yet. The tournament is not over."
"I think I had opportunities in the first set. I mean, I had so many opportunities. I made so many errors. I hit so many balls in the net," Williams said.
"She definitely played a super aggressive game. When you're playing and you have absolutely nothing to lose, it's like you can really play with so much freedom and so loose. That's how she played today."
During a terrific career, there have also been a few rough years for Williams and she became frustrated when asked if this was her toughest exit to date.
"No," Williams responded sharply. "I feel like I had an extremely tough draw today.
"I feel like of all the round-of-16 matches, I probably had the toughest one. I don't know if you've heard, but she's a great grass-court player.
"You know, c'mon guys, let's get with it. She's excellent. She's not a pushover. She's a great player."