Serena Williams became the oldest women's world tennis number one as she reached the top spot for a fourth time and said: "I'm so happy I'm back."
A three-set win over Czech Petra Kvitova in the quarter-finals of the Qatar Open in Doha means Williams will overtake Victoria Azarenka when the rankings are published on Monday morning.
The 31-year-old American will eclipse the previous record set by Chris Evert, who was 30 years and 11 months when she was number one in November 1985.
It marks Williams' return to the top spot after a gap of almost two and a half years, having been usurped by Caroline Wozniacki in October 2010, and her fourth reign at the top in total.
"There were times I never thought I'd even play again" - Serena Williams
The feat also caps a remarkable comeback from Williams, who missed almost an entire year on tour due to injury and illness in 2011, and briefly slipped as low as 175th in the world.
She cut her foot badly on glass in July 2010, and survived emergency surgery in Los Angeles in March 2011 - a haematoma and a pulmonary embolism having put her life in the balance - as she admitted at Wimbledon last year.
"There were times I never thought I'd even play again," Williams said today. "Then I thought I'd never be able to win tournaments or grand slams again.
"Number one was so far off. I mean, it was always a dream - I was number one when tragedy struck, and it was just an awful thing to happen. I'm so happy I'm back."
Williams scotched retirement rumours by storming back in 2012 to win Wimbledon, US Open and Olympic titles.
Today she fought back from going a set behind and triumphed 3-6 6-3 7-5 against Kvitova in just over two hours, despite also having twice fallen a break behind in the final set.
Williams said of her spirited victory: "I don't know how I did it - I really don't know. I just hung in there and she was playing so well. Every time I looked around she was hitting a winner. I just tried to stay in there."
After tearfully speaking on court at the end of the match, she later said: "I didn't expect that reaction at all afterwards. I didn't expect that reaction. It was completely surprising to me, but it was nice. It was really genuine, and it felt good, and completely unexpected."
Now Williams intends to stay at number one.
She said, according to wtatennis.com: "It's very important for me. I think it's important for everyone at the top. Everyone's trying and playing so well and so consistent, and no one is really losing early. I'm the only one that lost pretty early in Australia. There are two top players that are just playing so well, and so consistent.
"It's not as lonely as it looks at the top."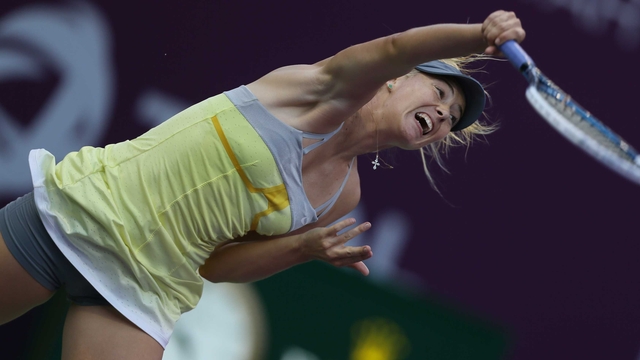 She will next face Maria Sharapova in the semi-finals, after the Russian third seed beat Australia's Samantha Stosur 6-2 6-4 in an hour and 22 minutes.
Top seed and now-deposed number one Azarenka moved into the semi-finals with a 6-2 6-2 win over Italy's Sara Errani, but whatever the Belarusian achieves this weekend she cannot deny Williams the top ranking.
After Williams' win, the final match of the day in Doha saw Polish fourth seed Agnieszka Radwanska beat Danish 10th seed Wozniacki 6-2 7-5 to set up a last-four tussle against Azarenka.