Andy Murray has eased through to his ninth successive grand slam quarter-final with a straightforward victory over fatigued Frenchman Gilles Simon at the Australian Open.
Simon was taken to five gruelling sets by compatriot Gael Monfils in the previous round in a match which drifted into the early hours of Sunday morning and, having battled gamely, tired as the contest went on.
Murray still had to put him away but managed with ease to advance 6-3 6-1 6-3 in one hour and 35 minutes.
Elsewhere, Roger Federer beat Milos Raonic and Jo-Wilfried Tsonga beat compatriot Richard Gasquet.
The win improved his head-to-head record with the 28-year-old to 10 wins from 11 meetings.
"No one knew what to expect (from Simon) but I just had to focus on my side of the court," said Murray, who will meet another Frenchman, Jeremy Chardy, in the last eight.
"He's one of the best movers on the tour but he was struggling today.
"That's what grand slam tennis is all about, it's tough."
It was hard to gauge the performance given his opponent's limitations but Murray will be pleased to have made it this far without overly exerting himself.
The match was in stark contrast to title rival Novak Djokovic's five-hour struggle against Stanislas Wawrinka last night and the world number three will be hoping his relatively easy route through the bottom half of the draw will prove an advantage in the challenges which lie ahead.
The Monfils match, which included a 71-shot rally - the longest in grand slam history, was followed by almost four hours of treatment as Simon was attended to for muscle cramps in his quadriceps and right forearm.
All eyes were on how he would shape up today and the early signs were largely positive.
He may have been broken in the opening game as he battled some lingering stiffness in his joints but he hit back immediately.
As if affronted, Murray broke again for a 2-1 lead as Simon struggled to find any power on serve - his average first serve speed in the opening set was just 100 miles per hour.
Given his condition, Simon was performing admirably in the majority of the rallies although he was aided by some uncharacteristically sloppy play from the US Open champion.
Murray was having few troubles on serve, though, and held with ease to make Simon serve to stay in the first set at 3-5.
And he was unable to do it as Murray broke for a third time to move ahead.
Simon's weakened serve was not giving him any freebies with Murray able to work his way into every point.
And from there the Scot was happy to rally, moving his opponent round the court, knowing his energy reserves were low.
It was to prove a clever tactic as Murray broke at the third attempt for a 2-0 second set lead thanks to another patient build-up followed by a cunning angled cross-court winner.
But, as he did at the start of the match, he was unable to consolidate, playing a sloppy game as Simon was handed a route back.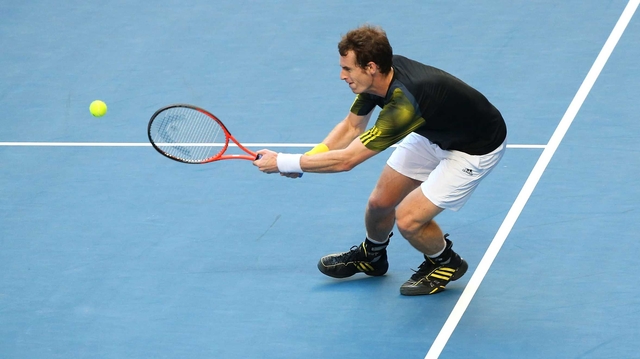 The Frenchman was starting to look tired, however, his sliced forehand into the net at break point in the next game the shot of a man with plenty of miles in the legs.
Murray held for 4-1 and all of a sudden it was starting to look an awfully long way back for 14th seed Simon.
And the hole got even deeper as a weary forehand on break point extended Murray's advantage before he served it out to move two sets up.
Simon was continuing to fight hard but his body was, by now, failing him.
The trainer was called after the fifth game of the third set with Murray leading 3-2 having broken in game three.
Sensing the end was nigh, the third seed was playing a smart game. There was no need for him to go for too much, simply getting the ball in court was sufficient to beat a player now looking desperate to be put out of his misery.
And he got his wish when Murray converted his second match point, blasting a winner down the line.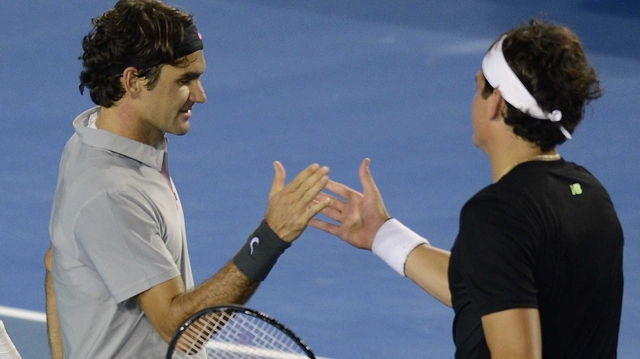 Meanwhile, second seed Roger Federer today reached his 35th consecutive grand slam quarter-final with a straight-sets victory over Canada's Milos Raonic.
Federer, seeking a fifth Australian Open title and 18th grand slam of his career, took a while to get to grips with his big-serving opponent before running out a convincing 6-4 7-6 (7/4) 6-2 winner in one hour and 54 minutes.
The Swiss star, who has yet to drop a set in Melbourne, will now face seventh seed Jo-Wilfried Tsonga in the last eight after the Frenchman beat compatriot Richard Gasquet in four sets in their fourth-round clash.
Tsonga famously beat Federer in the Wimbledon quarter-finals in 2011, the first time Federer had ever lost a grand slam match from two sets up.
"He is a good guy with a great game, he is a great shot-maker and a great character for the game," Federer said of Tsonga.
"We didn't play each other last year I don't think and the year before we played three times in 10 days.
"We just came from a trip in South America, played a couple of exhibition matches against each other which was a lot of fun and now we're going to try to bring it here to centre court and I am really looking forward to that.
"It should be exciting."
The first nine games of today's match went with serve, but 13th seed Raonic was the first to blink and a double fault gifted Federer a set point which he gratefully accepted as Raonic netted a backhand volley.
Federer had amazingly made just one unforced error throughout the set and although much is often made of Raonic's powerful serve, the 31-year-old was more than holding his own in that department too.
Just nine points were lost on serve in the second set - Federer dropping only two - and a tie-break was required to decide the outcome.
Raonic produced aces with his first three serves, but Federer was simply waiting patiently for his opportunity and seized it with a backhand winner down the line as Raonic came into the net.
An ace of his own gave Federer three set points and he took the second with a forehand winner.
That seemed to break Raonic's spirit and Federer broke serve twice early in the third set on his way to a convincing victory.