Daniel Wiffen limbered up for next month's European Short Course Championships with a dominant display at the British Universities & Colleges Sport Championships in Sheffield at the weekend.
Wiffen's primary focus may be Paris 2024, but the 22-year-old coasted to a 400m-800m-1500m freestyle treble at Ponds Forge to signal his wellbeing ahead of December's six-day meet in Bucharest.
The 2022-2023 season proved an annus mirabilis for the freestyle specialist from Magheralin, on the Down/Armagh border, with new Irish records seemingly set every time he took to the blocks. Wiffen lowered the 400m, 800m and 1500m previous national bests over the campaign in both short course and long course.
His short course season reached its zenith at last December's Irish National Winter Championships, where he became the first Irish swimmer to set a European record when winning the 800m in seven minutes 25.96 seconds. That time was the fastest clocked in the world in 2022 and the fourth fastest swim in history.
Personal bests and Irish records followed at the Stockholm Open when the long course season got under way, with the season culminating in fourth-place finishes at the World Championships in the 800m and 1500m.
Wiffen set a new European long course record in the 800m, and the disappointment he expressed in 'only' finishing fourth in the longer event only serves to highlight the astonishing progress he has made in the last two seasons.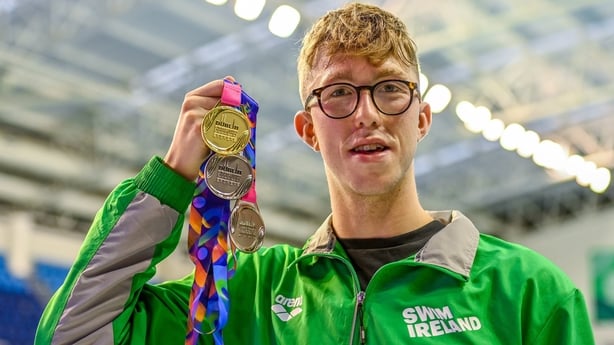 Medals – three of them – came a month later at the inaugural European U-23 Championships in Dublin, with silver in the 400m and 800m complementing his gold in the 1500m.
Long before his meteoric rise, Wiffen took his first baby steps in the sport in Water Babies sessions, although they weren't literally 'baby steps' – the three-month old wasn't quite that prodigious a talent.
When he no longer needed to be carried poolside, lessons at Lisburn Leisureplex led on to Lurgan Swimming Club, prior to a return to Lisburn, with the National Aquatic Centre in Dublin eventually becoming his base for the briefest of periods at the end of 2019, until he faced a sink or swim moment.
"I was in Dublin for four months and then Covid happened," Wiffen told RTÉ Sport.
"That was kind of a blessing in disguise for me because when I got there I had no real shot of making the Olympics in 2020. It gave me an opportunity for another year to try to make it."
In adversity lies opportunity, and the move that followed was to prove the catalyst for the swimmer Wiffen has become.
"I was in Dublin until August and then I decided I was going to go to university in Loughborough in England.
"It was probably the best move I made in my life. I was just an average swimmer, I would have had no chance of making any senior meets and then I got there and it just changed my whole mindset.
"I was training with world champions and I've a massive training group of nine guys who all do the same event as me, the 1500 freestyle. It kind of just inspired me to go even faster.
"In my first year, I made the Olympics in 2021 and from then on I just kept progressing. The next year I medalled [silver] in the Commonwealth Games."
Life at Loughborough is unlikely to resonate with too many former college students.
"I wake up at 5.45 [am], eat breakfast, and go to the pool for 6.15, get in the water for 6.45 and I swim for about two hours. I probably get about 8,000 metres done.
"I get out of the pool and go straight to the gym for just over an hour, doing normal exercises an athlete would do, I guess.
"I have a little break and go to a couple of university lectures. I have a two-hour lecture on Mondays, then I swim in the evening from 6-8. That's probably another 8K session. It's normally a hard session on Monday. night."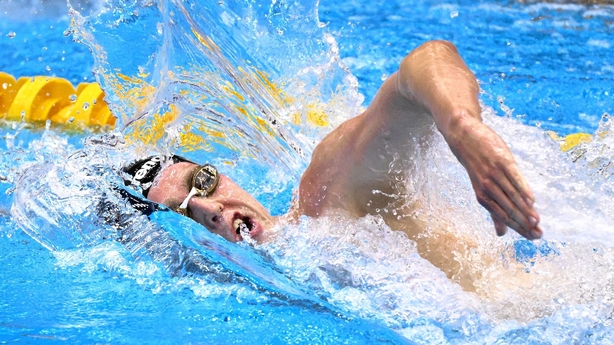 Wiffen's routine throughout the week is mainly a case of rest and repeat, with Tuesday's and Thursday's involving less lark-like starting times.
In contrast to their splash-and-dash sprinting counterparts, the distance swimmer can often appear to be gliding through the water with Zen-like grace. However, you know what they say about appearances, and the intensity of training at Loughborough affords few opportunities for contemplation, distraction or general tomfoolery when racking up training laps.
"If it's a long aerobic session, where we can be swimming for 45 minutes straight, I might play a game with my twin [brother Nathan]," Wiffen admits. "If we've got somebody in our lane, for example one of the girls in our squad, we'll see how many times we can lap them, something like that.
"But like I said before, we've got nine guys all doing the same event, so normally we're just racing the whole time. You're just trying to beat the person next to you. That makes the time fly."
Next summer, Paris La Defense Arena will stage the Olympic swimming events from 27 July to 4 August, with Wiffen's programme until then pretty much mapped out.
"I'm going to the Netherlands in two weeks to do a long course hit in a 50-metre pool because in an Olympic cycle, you always want to do a long course meet in the short course cycle. Then I've got the European Championships Short Course, which will be good fun. I'm the defending champion in the 800 freestyle. Then there's the World Championships in Doha in February. Then I've an altitude camp in Arizona in March. There's the Irish Olympic trials, but I'm pre-qualified, I just have to go there and prove I'm fit. There might be a little competition after and then it's the Olympics."
Wiffen will arrive in the City of Light with plenty of expectation weighing on his broad shoulders and determined to progress from just missing out on podium finishes at the Worlds in Fukuoka.
"I'll go in with the mindset to personal best. If we're talking personal best, then we're probably saying in the medals.
"Definitely to make the finals anyway. I'd two at the Worlds and I've got to keep up and keep getting better. That's what I like to do, make sure I'm better than the last time and that was two fourth places.
"There are areas I can definitely improve on and definitely areas where I went wrong in the races at the Worlds. The 800 was a very good race. It's one of the only races I've ever walked out of and known that I'd given 100% and I was happy with my time.
"The 1500, I was very disappointed because I was about seven seconds off my personal best and then two week later I went basically on my personal best.
"I think it was a race-plan issue, busy thinking too much about the other competitors, even though I was the guy to beat in that final because I'd the fastest personal best in it."
It's reasonable to assume that the steep trajectory of his rise up the ranks has prompted a few raised eyebrows and increased scrutiny.
Wiffen deals with questions on the provenance of that improvement in a measured, unflinching, matter-of-fact manner which belies his boyish visage and admits: "You never really see people at 21 or 22 improving as much as I have.
"I think I'm probably one of the only people to make this big of a jump in the sport.
"The only reason I can put it down to is literally the group that I train with. I've said before, there are world champions. Nobody in the world has a bigger group than we have in terms of people doing the same event. We all get on really well, so it makes it so much easier to improve.
"I go into a race and I know I've tried my hardest in training and beaten everybody in training. I've beaten world champions and I can go in with confidence, knowing I can win, which makes it so much easier on raceday.
"Also, I've a really good coach who knows what he's doing and he has a lot of support, in terms of other coaches helping make me better.
"A big shout out to Swim Ireland as well. A couple of years ago I would have had to stay in the National Centre to train. I wouldn't have gotten any support if I wasn't in Ireland training. Since I moved to Loughborough, they've supported every move since I made the Olympics."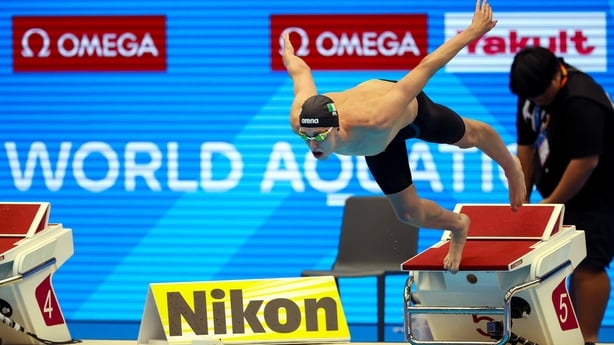 Wiffen estimates that he has been tested "40 to 50" times over the last year, but welcomes such rigorous measures in a bid to reduce doping in swimming.
"I get tested nearly every week and I'm happy the sport is doing that because it keeps it as fair as possible.
"I know that in terms of doping in swimming, they're narrowing it down and basically stopping it. I'm getting tested and I hope every other athlete is getting tested as often as I am."
Daniel is confident of being joined at Paris 2024 by a team-mate he swam in the same lane with before he was born. Identical twin Nathan was a 200m backstroke champion in 2022, but has recently shifted his focus to freestyle in light of his brother's feats and may have found his true metier.
Nathan will compete on the Ireland senior squad for the first time at the Europeans and heads to Bucharest in top form after personal bests in the 400m and 1500m at the British Universities & Colleges Sport Championships, where he finished third in the overall swimmer of the meet standings behind his brother.
"Nathan was always a 200 backstroker and then last season he was like, 'I'm focusing on distance freestyle', because he saw how good I got at it and said, 'Do you know, we've got the same genetics, we're identical twins, it's going to work for me', and I tell you what, it is working for him.
"In training at the moment, we're basically level in sessions. I might win the majority of reps, but he's up there.
"It's changed a lot. In the past year, I didn't think he was going to be as fast as he is right now. He's pushing ahead and I've no doubt in my mind that he's going to qualify for his first Olympic Games, which would be amazing.
"Nathan being at a competition makes it so much easier for me because I can share a room with someone I've known for 22 years.
"We like the same things, we always get on. Well, we might fall out the odd time, but that's just twins."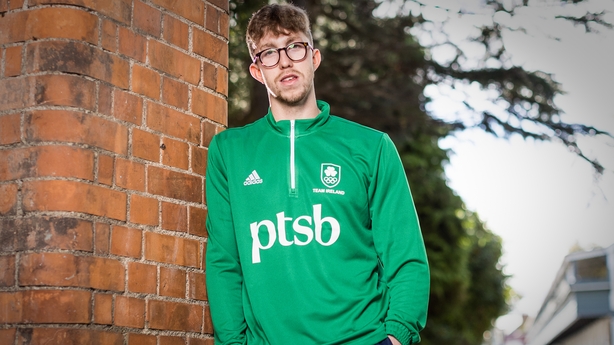 The 'little sibling effect', whereby later-born children statistically outperform their older brothers and/or sisters in sporting endeavours is already in evidence in the Wiffen family, with Daniel and Nathan the youngest of four, but Nathan could also be primed to capitalise on the experiences and blueprint of his twin.
"I made all the mistakes on the way," Daniel insisted. "I can literally just tell him this is how you do it, this is how you make the Olympics, this is how you go fast enough to make it. Tell him exactly what he needs to do in training in terms of speed and times he needs to hit."
Sponsors play a key role in funding Olympic dreams, with Wiffen grateful for the support and flexibility afforded to him by PTSB, saying of the financial services provider: "They're really helpful. They're an easy brand to work with in terms of how they work around me and they want me to do well.
"Living in England, they're not asking me to come over every weekend to do promotional work and it makes things a lot easier."
If the media and public relations obligations do become too onerous in the year ahead, the (currently) better-known Wiffen has devised a cunning strategy.
"Nathan can do half the interviews I do. We can split them in half!"
As proud sponsor to Team Ireland at both the Paralympic and Olympic Games in Paris next summer, PTSB is delighted to announce Daniel Wiffen as one of 11 athlete ambassadors.