The Irish Open Championships continued in Dublin today with two new Irish records as Max McCusker, the fastest qualifier from the morning's heats, won the men's blue riband: the 100m freestyle event.
The finals on day two of the five-day Irish meet began with an Irish junior record for Liam Custer at the NAC in Dublin in the 400m individual medley.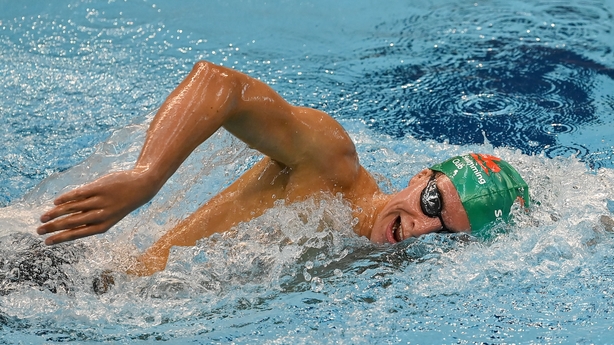 The Sunday's Well swimmer (pictured above) stormed to a national title in a time of 4:24.50, the 18-year-old controlling the race to hold off Limerick's Caden McCarthy.
Custer's time is just 1.28 seconds off the Irish senior record held by Castlebar's Cillian Melly.
McCusker won the 100m freestyle in 49.67, holding off Callum Bain (Cookstown) and Irish relay Olympian Jordan Sloan (NCU).
As a result, the 23-year-old qualified for August's European Championships in Rome and also won gold in the final of the men's 50m butterfly at the NAC in 23.44 seconds in a new Irish senior record.
Tokyo Olympian Danielle Hill won the 200m backstroke in 2:14.35, beating Limerick-based Maria Godden - the fastest qualifier - to take her second title of the week having won the women's 50m freestyle on day one
Another to double up was Trojans's Grace Hodgins who won the women's 1500m freestyle gold to add to the 400m free title she won on day one.
Dublin's Niamh Coyne, who won a silver medal at the 2018 Buenos Aires Youth Olympic Games in the 100m breaststroke, won the national title in 1:07.83, denying 17-year-old Molly Mayne (Templeogue) her second gold of the week with Eimear Doyle (NCL) in bronze.
Coyne also qualified for the Europeans with that swim.
Irish Paralympic gold medalist Ellen Keane warmed up for the summer World Para Swimming Championships in Madeira, Portugal, registering 1.26.65 in the 100m breaststroke - the event in which the 27-year-old won gold at the Tokyo Games last year.
---
Men's 400m individual medley
1 Liam Custer 4:24.50 sec (Irish Junior Record)
2 Caden McCarthy
3 Adam Wilson
100m freestyle
1 Max McCusker 49.67 secs
2 Callum Bain
3 Jordan Sloan
200m backstroke
1 Nathan Wiffen 2:05.11
2 Adam Barnes
3 Neddie Irwin
50m butterfly
1 Max McCusker 23.44 secs (Irish senior record)
2 Conor Fitzgerald
3 Sam Winston
Women's 200m backstroke
1 Danielle Hill 2.14.35
2 Maria Godden
3 Lottie Cullen
100m breaststroke
1 Niamh Coyne 1:07.83
2 Molly Mayne
3 Eimear Doyle
1500m freestyle
1 Grace Hodgins 17:09.89.
2 Ella Carroll
3 Grace Cochrane