The Irish Open Championship got underway today at the NAC in Tallaght without many of the star attractions.
With many of Ireland's elite swimmers having already qualified for the upcoming European and Paralympic championships, the Swim Ireland Open meet was an opportunity for others to shine.
Shane Ryan continues to recover from shoulder surgery while Mona McSharry, Ellen Walsh (Tennessee) and Daniel Wiffen (Loughborough) have remained at their training bases abroad.
Tallaght's Brendan Hyland, another of Irelands Tokyo Olympians, has moved to Australia and has linked up with the Nunawading Swimming Club who train out of Melbourne Sports and Aquatic Centre, with the express intention of swimming at the Paris Olympics in 2024.
All nine of Ireland's Olympians have been pre-selected for the European Championships in Italy in August with Danielle Hill, Daniel Wiffen and Jack McMillan also selected for the Birmingham Commonwealth Games in July.
Hill won the women's 50m freestyle title in 25.30 seconds, just .11 of a second off her Irish senior record on the opening day of the five-day meet.
The NAC's Robbie Powell, who served a 12 month suspension for the use of a banned substance, won the opening final on day one, the men's 400m freestyle in a respectable 3:59.02 seconds, ahead of Nathan Wiffen, whose bother Daniel is the Irish record holder.
Grace Hodgins of the Trojan club in Dublin, won the women's 400m freestyle in 4:24.40
Eoin Corby of Limerick and Tuam's Uiseann Cooke beat Tokyo Olympian Darragh Greene into third place in the men's 100m breaststroke, with 20-year-old Coby winning the national title for the first time in 1:01.53.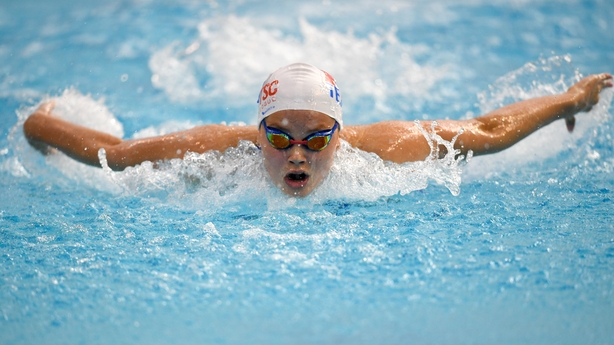 Molly Mayne of Templeogue, the European Youth Olympic Festival medalist, came from fifth place at the 50 metre turn to power through the field to win the women's 100m butterfly in 1:01.96.
Paddy Johnston of Ards doubled up winning both the men's 200m butterfly in two minutes flat and the 50m backstroke in a time of 26.06.
Women's 400m freestyle
1 Grace Hodgins (Trojan) 4 mins 24.40 secs
2 Amelia Kane (Ards)
3 Grace Davison (Ards)
Women's 100m butterfly
1 Molly Mayne (Templeogue) 1 min 1.96 secs
2 Sharon Semchiy (SWSC)
3 Ellie McKibben (NCU)
Women's 50m freestyle
1 Danielle Hill (Larne) 25.30 secs
2 Erin Riordan (NCD)
3 Grace Davison (Ards)
Men's 400m freestyle
1 Robert Powell (NAC) 3 mins 59.02 secs
2 Nathan Wiffen (Ards)
3 Jack Fleming (Lisburn)
Men's 100m breaststroke
1 Eoin Corby (NCL) 1.01.53
2 Uiseann Cooke (Tuam)
3 Darragh Greene (NCD)
Men's 200m butterfly
1 Paddy Johnston (Ards) 2 mins 0.00 secs
2 Liam Custer (SWSC)
3 Ethan Hansen (Trojan)
Men's 50m backstroke
1 Paddy Johnston (Ards) (26.06 secs)
2 Mathew Walsh Hussey (NAC)
3 John Short (BLFN)