Mona McSharry broke her own record in the final of the 200m breaststroke at the World Short Course Swimming Championships in Abu Dhabi.
The Olympic finalist, who took bronze in the 100m breaststroke yesterday and placed third in her 200m heat, took another second off her fastest time over the distance, finishing seventh in a time of two minutes 20.19 seconds.
The County Sligo swimmer had already swam a time of 2:21:59 ahead of the final, breaking her personal best in the event by just over three seconds and toppling the previous Irish record of 2:22:70 held by team-mate Niamh Coyne.
That makes it the eighth new Irish record she has set at these championships and she now holds eight Irish records across long course (50m) and short course (25m) pools.
"It was so much fun to just finish the meet with yet another final and to be able to say I swam in every finals session this week," she said.
"It has been tough, but it's been great and it's such a good character builder. I'm glad I had the opportunity to do it."
Looking ahead to 2022, she added: "I'm just going to take next year as it comes. It's the year after the Olympics. I've done a lot of competing in college and now this, but I am trying to make it a more relaxed year. Just give myself a break, because the Olympics was quite a big pinnacle, and I did so well.
"I'm just going to get out there and try and race and see how I do over the next year.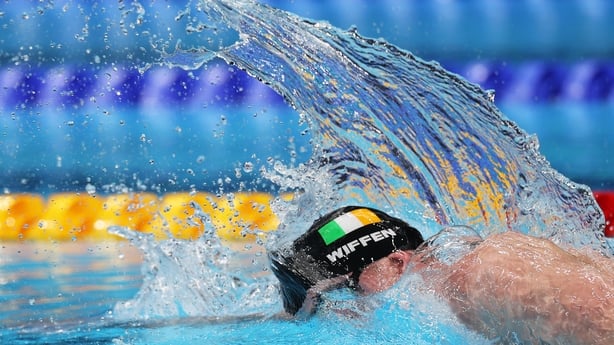 In his first ever international 1500m freestyle final, Daniel Wiffen produced a time of 14:36.78 to finish eighth, with race winner Florian Wellbrock setting a new world record of 14:06.88.
"I'm pretty happy with that," he said afterwards. "I thought it was going to be a lot worse and I did go out a bit harder, because I tried to push on from yesterday, but it just didn't work today."
Elsewhere, Jack McMillan swam a sub-47 second race in the final of the 100m freestyle to finish seventh.
"It was crazy and exciting," he said. "I just learnt a lot from racing the best sprinters in the world I think I was just obviously tired at the end of the meet, but it was great to swim another 46 – that's only my second time doing it.
"This is my first World Short Course, and just to make a final on the last day of the meet was great. I got out there and had fun."