Irish swimmer Shane Ryan is feeling leaner and stronger than ever as he works toward achieving the final leg of what would be a unremarkable hat-trick: an Olympic medal.
In 2018 Ryan won bronze in the men's 50m backstroke at the 2018 World Short Course Swimming Championships in China and bronze at the European Championship 50m backstroke in Glasgow.
In 2015 he came here from his home in Philadelphia to represent the country of his parents' birth and made an instant impression, making it to the Rio Games.
Speaking to RTÉ's Game On, Ryan aired his ambition to make the podium in Tokyo, revealing he's managed to intensify his training during the lockdown periods. Ryan, who weighed 84kg at the Games in 2016, is currently a muscular 93kg.
"During the lockdown I worked out four hours a day," he told RTÉ's Game On.
"I had a stationery bike and I'd just throw a movie on or pay some video games. The Sports Institute gave me some weights and I was like, 'why not?'. If I can't get in to the water I might as well work out'. I came out pretty lean and ended up doing really well.
"I used to be a bit heavier. In 2019 I got up to 99kg. It was just bad weight. I felt like a slug going through the water. I'm 6'6" so it didn't seem like a lot of weight on me but 93kg is where I'm at because I'm lighter, I'm leaner and I'm able to recover better as well. Now I'm maintaining that weight and trying to stay strong and healthy. It's been good.
"I've always been very skinny. When I got up to 99kg it just didn't look right. Even when I first moved over here to live here at the beginning 2018, I was 94kg but I didn't look as good as I do now. I look a lot bigger now, a lot leaner, I'm capitalising on my nutrition and recovery. It's optimal for me right now."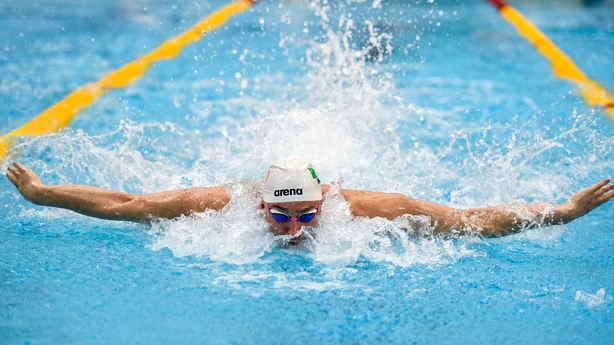 Reflecting on his Rio weight he added: "I was like a little stringbean! Looking back it's kind of crazy what you're body can do, how it can adapt.
"Going from high school into college I'd never lifted before, I didn't even take swimming seriously until my first year in college and ended up gaining 15kg in eight months. It's all about learning curves."
Ryan is based on the Sport Ireland National Sports Campus in Abbottstown. Routine and camaraderie have been crucial over the last 12 months.
"During the first lockdown over a year ago I lived by myself for three months," he said. "That was pretty tough. I had a really, really good sports staff around me at Swim Ireland.
Each little goal builds momentum, it has that snowball effect. I just tried to do little things each day and it really helped me
"We had Zoom calls. We had certain weights we got from the Sport Institute. But it was more so having the mentality of keeping yourself on a schedule, keeping yourself in a routine. I found that really helped.
"Each little goal builds momentum, it has that snowball effect. I just tried to do little things each day and it really helped me.
"Our coaches here are very good. Every Sunday they send out a schedule of what we're doing for the whole week.
"Our coach Ben Higson made a decision that everyone is going to be on the Zoom call at 9 in the morning and we're doing a core session. Then we had game nights once a week. We had lifting sessions. It was good, we had that routine, and it was great they set that up.
"I think I'm stronger, Swim Ireland is stronger and if you're going through this it's like, just take it day by day. There is going to be an end date."
Leaner, stringer and hopefully faster, Ryan now hopes he can et himself to Japan to prove it's all come together.
"Swimming is all about the technique. If [your strength] doesn't correlate to the water then it doesn't really mean anything. Technique is so crucial. You need to feel the water and be able to move as much water as you can as efficiently and as fast.
"It's not only my body weight, my mentality and mental side is completely different form four or five years ago. I'm a lot more experience.
"I'm a world medallist, I'm a European medallist. The next one would be an Olympic medal. If everything falls in line, if I stay healthy and keep climbing up that hill, I think things could work out really well."
Shane Ryan is a Circle K Here for Ireland ambassador and was launching the 'Keep It Lit' campaign giving customers the chance to double up on their support of Team Ireland athletes