A day after five of the country's elite swimmers returned to training at the National Aquatic Centre in Dublin, it was the turn of Swim Ireland's diving squad to hit the water.
The squad includes Oliver Dingley - who finished eighth in the three-metre springboard event at the Rio Games - and 26-year-old Clare Cryan, who competed for Ireland in the one-metre springboard at the World Championships in Korea last year.
Cryan is also Dingley's partner in the international mixed synchronised event.
Both were relieved and happy to get back into the swing of things after a testing and strange few months. Thoughts now turn to making the delayed Tokyo Games in 2021.
"It's just nice to be back in [the water] and in an environment that's safe for everyone involved," Dingley told RTÉ Sport.
"We're all kept at least two metres apart. In a sport like diving it's easy to do. You're only allowed one person on the diving board anyway. We all have our little stations, our water bottles, our masks, our multi-surface wipes.
"It's very hygienic. My housemate is a cleaner on campus so I know all the protocols and I know they've all been working very hard to make it possible for everyone to get back. We have to say thank you to them as well."
Dingley, like so many athletes and sports people around the globe, has had to tweak his routine, though there's been positives, he says.
"I've never had a period before where I've been out of the water for so long. I've been able to work on things I wouldn't have necessarily been able to work on if I was diving every day. It's been a nice time to reflect and then get back in to the groove of things.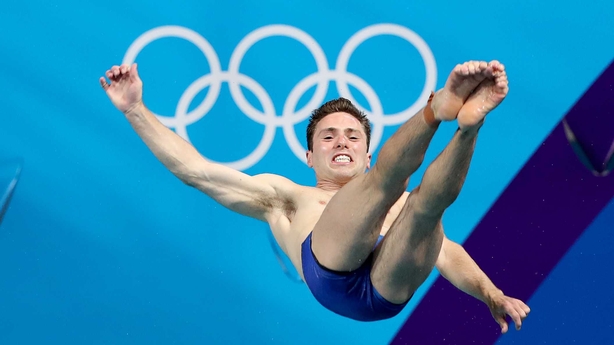 "My neighbours must think I'm a bit weird, coming out to the garden every day and doing random somersaults! 
"For every kid when you're growing up, when you're dreaming of the Olympic Games, it's not just a four-year cycle. It's a whole lifetime of a journey, so what's another year?"
Cryan has had a particularly arduous few weeks. After spending two weeks in quarantine, she was raring to go today and is ready to embrace an extended pre-season.
"I was in the UK when the lockdown came in. I came over by ferry so we had our mandatory 14 days [of quarantine]. It's a really nice reward to get on the water after those 14 days.
"It's really strict and it's a little bit weird but actually, it's okay. 
"There's no competitions for a while but it's good that we've got the back end of this season... to go back down to the raw stuff.
"We can come into next season even more prepared than we would usually because the pre-season will be a bit longer. We can take our time building back up. Hopefully we can benefit in a weird and wonderful way.
"The season starts again in September. We go again. The training, we know that it works.
"I guess there's going to be slightly different things happening at competitions because of all of this so we just have to wait and see what comes out about that."