The National Aquatic Centre (NAC) is usually a busy place first thing on a Monday morning in the summer months, with adults running on the treadmills and pumping iron while hoards of children play in the pools and the AquaZone water park.
Irish swimmers returned to the NAC today and could start, once again, to dream of Tokyo, reports @jacquihurley #RTEsport pic.twitter.com/fH9iBMnrjZ

— RTÉ Sport (@RTEsport) June 8, 2020
After almost three months of lockdown however, the NAC was a much quieter place this morning as it took its first tentative steps towards reopening by welcoming five of Ireland's elite swimmers back to training in the 50m pool.
Strict protocols were in place for the swimmers, coaches and members of the media who turned up to see Swim Ireland athletes become the first to resume training as Ireland begins its cautious waking from lockdown.
A TV screen was the first thing that greeted me as I arrived at the NAC to have my temperature checked. The results came back normal.
Having set up our broadcast point in the stands for our Morning Ireland reports, I spoke to John Rudd, the Swim Ireland High Performance coach in the first sports bulletin, followed by Tallaght's Brendan Hyland, an Olympic hopeful who was delighted ton be back in the pool.
"It's the longest I've been out of the pool since my Junior Cert maybe ten years ago," laughed Hyland.
"The pool looks sparkly and clean and I'm buzzing.
"I've been trying to keep fit was much as I can. The staff at the NAC have been pretty good keeping an eye on us with regular online checks and a lot of classes and I was able to take home a lot of gym equipment which I set up in my back garden.
"To be honest I was slightly lacking in motivation towards the start of it (lockdown), but I reasoned then to keep myself healthy and happy and it's good now to be back in the water."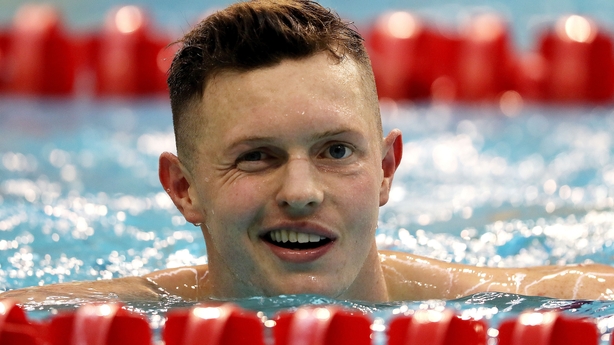 Hyland [pictured above] then hit the pool with the likes of Shane Ryan, Darragh Greene and Niamh Coyne, who were all put through their paces by Ben Higson, the Irish National swim coach 
"Relief and excitement are probably the two words that come to mind," said Higson. "It's a great day for the athletes and to be back training towards Tokyo is monumental.
"Safety and compliance is at the forefront of our minds. We are, for the moment, going to run three two-hour sessions across the day because we will have various athletes coming from various places. It's just to ensure we can social distance in the water and that will be in place until we are told otherwise."
With the Games postponed to 2021, Higson has had to rethink his training and schedule for his elite swimmers, but he believes that the delay could actually be a good thing for Ireland's hopes.
"I think the postponement of the Olympic games is going to be beneficial to Swim Ireland. I think we are on an upward trajectory and as long as we can get these guys back into shape safely we will have a fantastic Olympics come 12 months time.
"We are going to be in a place where more people than ever make the team because we have some great up and coming youngsters and some senior athletes who are performing to their best in the last few years which is fantastic."
More Irish swimmers will be back at the NAC in the next few days while Swim Ireland also hope that their second national training centre at the University of Limerick will open in the not too distant future.