"That's like something you would do on your holidays……after a few beers" is what I uttered into the microphone in the RTÉ studio in Brazil, as the luckless Colombian Sebastian Morales was unable to complete his dive in the three-metre Olympic diving final in Rio in 2016.
Morales launched himself off the three-metre springboard, in round four of the competition twisting and cavorting his body before trying to straighten out to go into the water vertically.
However, in a split second, it all went horribly wrong for the Colombian who splashed down horizontally into the water at the Maria Lenk aquatic centre, throwing a spray into the air before sheepishly emerging from the water on a night of high drama four years ago.
"Commentator on point" tweeted Irish rugby legend Brian O'Driscoll. The diving had gone viral in Ireland but I was totally unaware of it at the time.
I was asked when I got back home just how come I knew how to commentate on a sport that only really comes into general view every four years during the games.
I've covered swimming as a sport since 1987 and my first Irish Nationals in Bangor and since 1989, I've been to every European swimming championships, which also doubled up as the European diving event.
Since 2008 and Beijing I have been commentating on the swimming and diving finals for RTÉ TV, but there was no Irish involvement in the diving events for me, that was until Oliver Dingley qualified in 2016 and with the three-metre springboard final kicking off at 8pm back home, we had found ourselves a captive audience.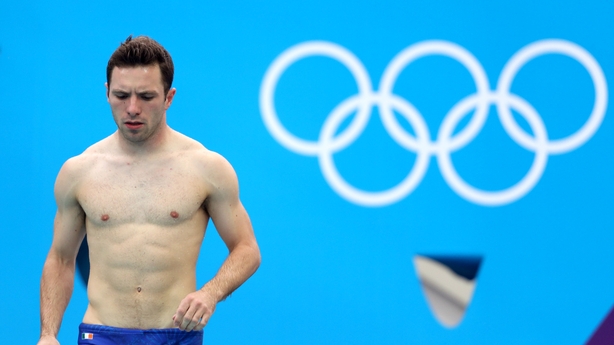 After the Colombian splashdown, Dingley, the first Irish diver since Dubliner Eddie Heron (London 1948) to qualify for an Olympic games, was concentrating on his next round.
The Yorkshire born Dingley, who had transferred to Ireland in 2014 with an Irish grandmother paving the way for a new passport, had shown tremendous form to not only make the Games themselves, but then stepped up to the final which was shown live on that hot August night during primetime viewing hours.
Having made the top 12, Dingley remarkably, was in the bronze medal position after the opening three dives, but I warned the growing TV audience that the Irish divers' three remaining dives, had a low "degree of difficulty" and those around him would probably overtake Dingley if they executed their "high tariff dives" well.
Diving is an incredibly technical sport with a complicated scoring system, based on an individual dive's "degree of difficulty" which is re-ordained, coupled with marks from seven pool side judges who score on execution, technique and a straight vertical entry into the water.
Divers must also post their intended six dives before competition. One cannot change on a whim and Dingley couldn't just suddenly attempt a dive he hadn't practiced in the white hot heat of an Olympic final,
Now 27, Dingley has been reflecting on that memorable final which drew in the biggest RTÉ audience of the 2016 summer games.
"I've never watched that final back, I need to get a copy of that tape. In fact the only action I have seen from Rio is of the Colombian diver on Facebook," said Dingley
Dingley, a former Commonwealth games bronze medalist played youth football for Middlesbrough as a 15-year-old, and at the same time became British one-metre diving champion.
But he had great difficultly actually being selected for Britain for international competitions after that, so much so that when he was overlooked for the 2012 games in London, despite finishing second in their trials, he began to look across the Irish sea.
After his 2014 declaration for Ireland, he then qualified for the Games at the World Cup series also held in Rio early in 2016 which gave him a place in the first round of 18 divers before making the final cut of 12 that summer in Brazil in the three-metre springboard event.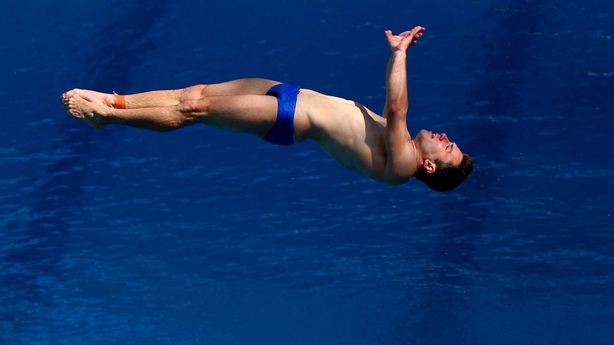 "I actually got injured going into the qualifiers earlier in the year, a really bad ankle injury which did damage to my ligaments"
"So between the qualifying competition and the Games, I couldn't push myself as I would have liked. It hindered the process"
"So we had to choose my dives wisely (with coach Damien Ball)."
So on a hot night in Rio on Tuesday 16 August 2016, Dingley lined up with the other 11 finalists ahead of his six dives in the men's three-metre springboard final.
"Looking back that was the one time that I wasn't as scared as I usually get before a competition. I remember really, really enjoying every single second of it.
"Walking out into the parade where they introduced all the divers, I was really struggling not to laugh. There was a calmness about me.
"The measure of success and failure in diving are so marginal that the Chinese world champion didn't make it (out of the first round) and I loved the final with the packed arena and competing under the floodlights.
"I was competing in a bubble and there were a few tricolours that night in the stadium. It never for once occurred to me that there would be so many people watching in back in Ireland.
"After my opening three dives I was on the podium and going well, but for the remaining three I couldn't just launch myself off the board and hope to grab a medal. I had to stick to my programme."
The Irish diver finished a creditable eighth place overall after a thrilling night.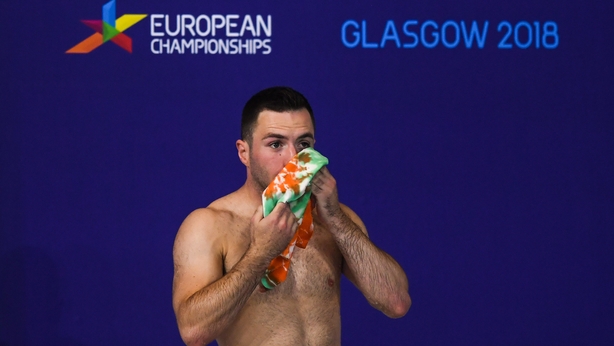 Four years later Dingley would have currently been going through the process of qualifying for the Tokyo Olympics this summer, but they now have been pushed back 12 months to 2021.
"I'm actually training in my back garden at the moment, probably getting weird looks from my neighbours as I walk on my hands and do handstands. They probably think quarantine has got to me," he laughed
"The one thing with my sport is that you have to stay supple and the one thing I'm not good at is naturally staying supple."
Dingley will be 28 by the time games go ahead (hopefully) in 2021 but he remains focused.
"I'm going to use this period to work on my fitness and get into peak condition.
"There is actually a calmness about me now that we know when it's going to be (the Olympics). In the grand scale of things I'm fairly relieved.
"The amount of people involved to run a games in 2020 would have been, in my opinion, extremely dangerous and you know what it now gives me time to get even better.
"The goalposts may have moved, but the goal remains the same."