Irish swimmer Nicholas Quinn felt relief upon learning that the Olympic Games have been postponed until 2021.
The Japanese government and International Olympic Committee had been hopeful of maintaining the Tokyo 2020 games in their original slot this summer but ultimately decided to postpone them by a year due to the effects of the coronavirus pandemic.
That came as welcome news to many athletes including Olympian Quinn who had competed in Rio four years ago but would have been involved in the qualifying trials this week at the Aquatic Centre if they had not been cancelled by Swim Ireland last month.
"To be honest, the first feeling was just relief because obviously we've been drip-fed information for a couple of days before then and you're kind of thinking 'this can't go ahead with everything that's going on in the world'," the Mayo native told RTÉ Radio 1's Ryan Tubridy Show.
"The problem was athletes were trying to train and carry on their routines as well as they can in exceptional circumstances and it's just not possible.
"So I think my initial reaction was relief that now I don't have to try and keep pushing myself and putting myself or others potentially in danger.
"I can just sit back and focus on playing my part in staying home and getting through this and then getting back to training."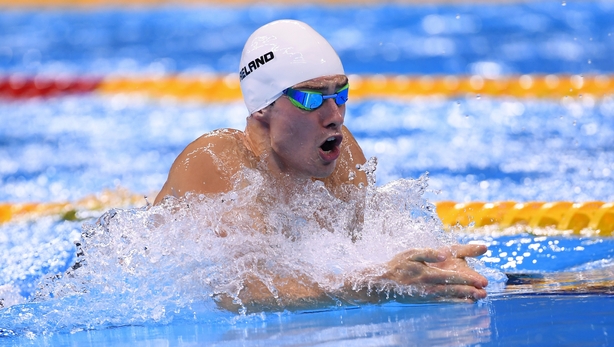 No training has been possible due to all swimming facilities being closed and it is 10 days since Quinn has been in the water.
"I'm having to find other ways to keep fit but it's now more to keep my sanity than anything else than at trying to keep in top physical shape," he said.
"It's just that if I was stuck in the house all day, I would go mad. So getting out for a run or getting out for a bit of a cycle, I've managed to set up a spin bike in my living room so I'm getting on that and just doing what I can more to keep sane and give a bit of structure to my day is now the amount of exercise I'm doing."
The 26-year-old had always viewed 2020 as a "marker to see where I'm at and potentially call it a day after that".
The postponement pushes that eventuality back one year, including key life decisions. 
"So that brings up a whole lot of questions in that I was looking at finishing off my college and then looking at getting a job and moving into the next chapter of my life and now I have to re-evaluate and see is it there in terms of the body and if I can stay healthy for another year and then more importantly, am I mentally capable of going through it for another year."
He also touched on the "turbulent path" since his appearance in Rio after the death of his father following a hill walking accident in 2018.
"It threw everything into the air and led me to kind of question what I was doing and where I wanted to go with my sport and with my life in general. It did change my perception on everything so it was a big change and a big struggle for two or three years," said Quinn.