Nineteen Irish swimmers will be in action at the 2019 LEN European Short Course Swimming Championships at the Tollcross International Swimming Centre in Glasgow.
The five-day competition, which begins on Wednesday, will see Ireland's largest ever squad to attend an international meet.
The team is made up of 11 senior and eight junior swimmers, with live coverage over all five days on the RTÉ Player.
Most of the attention will centre on Shane Ryan, who is Ireland's top medal contender. Earlier this year, he won a bronze medal at the World Short Course Championships in China.
The 2016 Rio Olympian has been in good form recently, breaking the Irish record in the 100m backstroke twice in the past month.
Swim Ireland Swimmer of the Year Brendan Hyland had a top-10 finish at the World Championships in the 200m butterfly and he, along with Darragh Greene - the only Irish swimmer to have made a Tokyo Olympics qualifying time - will be hopeful of making finals in Glasgow.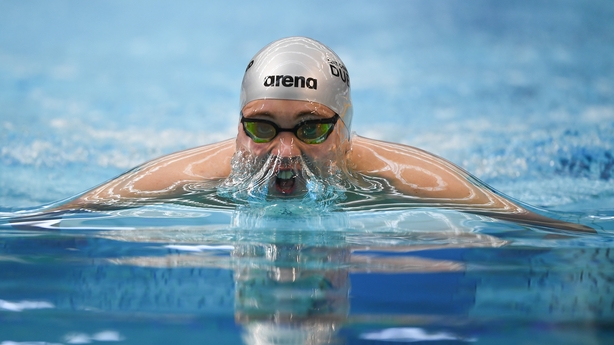 Longford man Greene (above) set a new Irish record in the heats of the 100m breaststroke at the FINA World Championships in South Korea in July, dipping under the standard required for Tokyo 2020 in the process.
At the last European 25m championships in Copenhagen two years ago, Jordan Sloan and Mona McSharry were finalists, while Conor Ferguson reached a semi-final.
Eighteen of Ireland's 19 swimmers will be in action on the opening day of competition.
Hyland, Cillian Melly and Paddy Johnston compete in the 100m butterfly, while Niamh Coyne, Mona McSharry (below), Molly Mayne, Greene, Liam Doyle and Eoin Corby will all swim in the 50m breaststroke heats.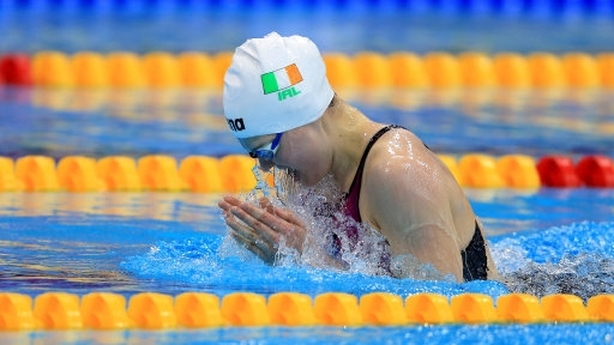 Amelia Kane will get her campaign underway in the 400m individual medley, with Danielle Hill swimming the 100m backstroke.
Jack McMillan, Robbie Powell and Daniel Wiffen compete in the 400m freestyle, while Conor Ferguson has his first taste of action in the 200m backstroke.
The opening morning will finish with the Ireland's men's team competing in the 4x50m freestyle relay.
National coach Ben Higson leads the Irish coaching team at the championships.
2019 LEN European SC Swimming Championships (Glasgow)
Day 1 – Wednesday 4 December (from 9.30am)
Men 100m Butterfly Heats
Brendan Hyland
Paddy Johnston
Cillian Melly
Women 50m Breaststroke Heats
Niamh Coyne
Molly Mayne
Mona McSharry
Men 50m Breaststroke Heats
Darragh Greene
Liam Doyle
Eoin Corby
Women 400m Individual Medley Heats
Amelia Kane
Men 400m Freestyle Heats
Jack McMillan
Robbie Powell
Daniel Wiffen
Women 100m Backstroke Heats
Danielle Hill
Men 200m Backstroke Heats
Conor Ferguson
Men 4 x 50m Freestyle Relay Heats
Ireland