The Irish Open Swimming Championships start this Wednesday at the National Aquatic Centre in Dublin where Ireland's top competitors will be hoping to qualify for this summer's World and European Championships.
The five-day event will see over 400 swimmers from 68 clubs compete for titles in 34 individual events and places on six international teams with the heats at 9.30am and the finals at 5.30pm each day.
The Open will be the only opportunity to post consideration times for events, including the World Championships, World Junior Championships, World University Games, European Junior Championships and European Youth Olympic Games, as well as being one of two opportunities for our para swimmers to secure times for the Para World Championships.
The championships also represents the first step on the qualification pathway to Tokyo 2020, with swimmers who qualify for the World Seniors offered a first chance to meet the consideration time for the Games this coming July in Korea.
2018 European and World Short Course medallist Shane Ryan, European semi-finalists Brendan Hyland, Darragh Greene and Conor Ferguson, along with World Youth Olympic Games silver medallist Niamh Coyne will be among those chasing times to make the team.
Greene, who became the first Irishman under the minute mark in the 100m breaststroke at the Europeans in Glasgow last August, has already qualified for the Worlds following that performance.
Sadly the meet will be missing Mona McSharry. The 2017 World Junior 100m breaststroke champion is not swimming at the NAC due to illness.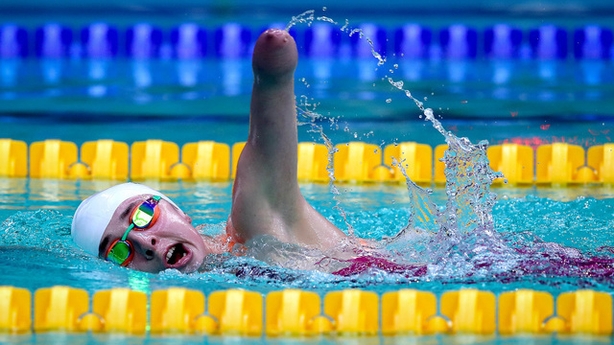 2018 European Para Championship medalist's Ellen Keane and Nicole Turner will be looking to get their consideration times secured for the World Paras in August and for the first time will be swimming at an Irish Open meet.
They'll be joined by teammates Jonathan McGrath, Patrick Flanagan, Barry McClements, Ailbhe Kelly and Sean O'Riordan.
International swimming events - summer 2019
LEN European Junior Swimming Championships, Kazan, Russia, 3-7 July
FISU World University Games, Naples, Italy, 4-11 July
FINA World Swimming Championships (50m), Gwangju, Korea, 22-28 July
IOC European Youth Olympic Festival, Baku, Azerbaijan, 22-28 July
IPC World Para Swimming Championships, TBC, 29 July-3 August
FINA World Junior Championships, Budapest, Hungary, 20-25 August