With just over 18 months until the Tokyo Olympics, there are many reasons for those in Irish swimming to look ahead with much confidence.
Down through the ranks world class times are being recorded on the back of many top ten finishes. And then you have Shane Ryan taking home bronze last year at the World Short-Course and World Long-Course Championships.
Of the other names that stand out, teenager Jack McMillan has just broken the Irish record for the 100m freestyle.
Mona McSharry smashed four records in the course of three days at last month's Irish Short-Course Championships.
So why are Irish swimmers swimming these fast times?
"I think it's down to the success of the system and the great support network from Sport Ireland and Sport Ireland Institute," was the response of Ben Higson, coach of the Irish senior squad.
"We all, and that includes that National Centres in Dublin and Limerick, have a common goal in trying to raise the standards and the athletes have matched that in their raising of the bar," he added when speaking to RTÉ Sport.
"It's about their expectations about themselves been higher and demanding more and more from themselves on a daily basis.
"Shane Ryan is the figurehead at the moment and he's driving the rest of the squad on.
"Every great swimming nation has upward pressure. Ireland has always had great swimmers but now we have strength and depth in numbers."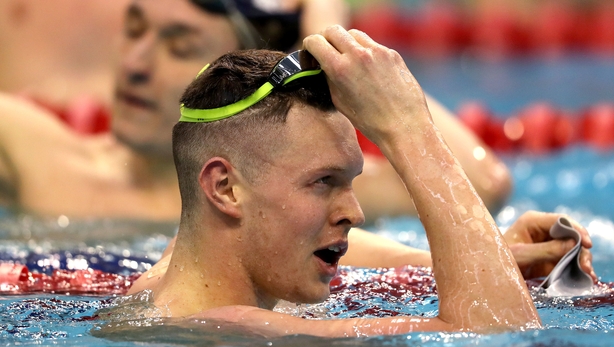 The new Irish record holder for the 200m butterfly and Olympic hopeful is Brendan Hyland and the Tallaght native also singled out the Shane Ryan effect.
"Everyone saw Shane Ryan winning a medal and it has given me a sense of urgency," he said.
"If I don't do something soon Shane will take the limelight. That said, the ultimate goal is to win medals and represent Ireland.
"Shane has given us a sense of 'let's get this done because you can do it'"
"Not so long ago, you could count on your hand the number of people that could do something. Now you have ten people that could do something. You have Jack McMillan. I don't think he knows how good he is. I think in time he could be a huge addition to all the relays.
"Shane has given us a sense of 'let's get this done because you can do it'.
"Now is the time to step out there and perform."
And what of 2019?
The National Championships take place in April and will act as trials for the World Championships in July. The European Short Course Championships in Glasgow in December will be the prelude to Tokyo.
The future looks bright.