Junior world champion swimmer Mona McSharry almost drowned when she was five years old.  
She was on a family holiday in Austria at the time, a trip that she remembers fondly for the most part. McSharry was unable to swim and while relaxing at a lake one day, she fell into the water. Her father immediately jumped in to save her.
McSharry can't remember the ordeal, but her parents decided soon after that their daughter required swimming lessons. Despite narrowly escaping a tragedy, they had no fear of allowing their child back into the water.
"Before that I was always in the water as well at the sea," McSharry tells RTÉ Sport.
"It was just an accident and there was a shallow area (in the pool), so I don't think it was too much on their mind. But it was a good idea to get me some lessons."
It started out as a way to empower McSharry with practical water safety skills, but it evolved into something much bigger, and moulded her into a European and World swimming champion by the age of just 17.
This year has been particularly good to McSharry in that regard. She pocketed three medals at the European Swimming championships in July, including a gold medal in her specialist subject, the 100m breaststroke. The World Junior Championships were kind to her too.
She returned with another gold medal and hacked almost three tenths of a second off her previous best time from the 2017 Irish Open.
She recorded a fifth-place finish in the final of the 100m breaststroke earlier this month and was also crowned the inaugural RTÉ Young Sportsperson of the Year award, to cap off an incredible 2017 for the Sligo swimmer.
The Young Sportsperson of the Year is @MonaMcsharry #rtesportawards #rtesport pic.twitter.com/8of5TFRwnR

— RTÉ Sport (@RTEsport) December 16, 2017
Although she was determined about her swimming from the outset, McSharry recalls that it was "just a sport that I was doing," in the early stages. It wasn't until she was 12 or 13 that the prospect of fully investing herself in swimming started to appeal to her.  
The realisation dawned on her at the Ulster Age Group Championships, where she barely qualified for the final. She simply sharpened her focus for that race, and was first to touch the wall and win.
That first hit of success left her craving for more and more of it.
"That was the first big medal I ever won and for me, that just started it all off because I got a real taste for the fast races. It was a touch and we were all very close. I fell in love with racing then and I still am in love with it.
"A year later I had my first international trip and I went to Canada. That was unbelievable going abroad. I still get excited when I hear where competitions are going to be held and where I'm going to be travelling to next. There's always such enjoyment figuring out where you're going.
"You mightn't see that much of the place but even just to travel there is just amazing. When I went to Canada, that just kicked it all off and it was just amazing really."
McSharry's star is surely in the ascendancy, but the progression of her sporting career brings certain concessions for the talented athlete. A tight and intense training regime that includes early morning pool sessions, leaves little room for all the other things that teenagers want to do.
Sacrifices have to be made and McSharry accepts that, but there are times when she feels somewhat left out.
"Sometimes I do, especially when your whole year goes out or festivals in the summer. Stuff like that I do sometimes feel like I'm missing out.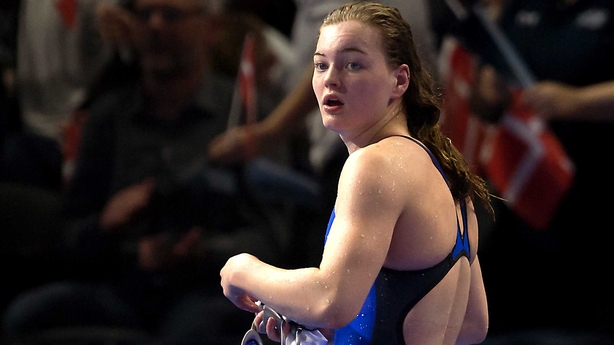 "But at the same time, I get to travel the whole world and what I'm doing, only a handful of people would be doing it. Really, I'm very lucky and I guess you have to look at it from that point of view."  
For a high performance athlete at that age, it would be easy to fall out of social circles, especially if you're not around a lot of the time. But McSharry has a solid network of friends, who come to support her whenever they can.
One friend even travelled with her family to the World Junior Championships in Indianapolis to watch McSharry compete. That gesture meant a lot to her.
"It was great to have her there," she says.
McSharry has had to navigate other road blocks in her swimming career. She developed a breathing problem last year whereby she sometimes felt out of breath before a race.
McSharry can't explain the exact origin of the issue, but with the help of her dedicated coaching team, she devised some deep breathing techniques to help lessen its impact.
"It probably started halfway through last season," she says," so that would have been April or May when I started to really notice it. It's gotten a lot better now, it's died down a lot. Even at the Europeans it wasn't as bad.  
"Over the summer, it just escalated out of nowhere really but it's gotten a lot better. I've been controlling it well.
"It wasn't really (affecting training or performance). It was something that affected me mindfully. I'd feel like I hadn't any air and wasn't ready to go and if you feel like you're not ready before you get on the block, suddenly you can't breathe or you can't get enough air in. It's just not a great mindset to be in before you go into a race.
"From that point of view, you don't want to be thinking negatively before you get on the block."
McSharry won't get much time off over Christmas. There'll be no training Christmas Eve, Christmas Day or St Stephen's Day, but that's mainly because the pool will be closed.
She would probably be in the water working through her training programme on those days if the option was there for her. In truth, it's more a case of the facility taking some time off rather than the 17-year-old wanted to take a break.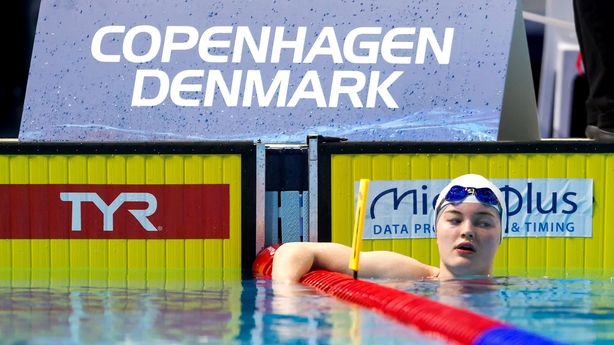 McSharry already has one eye on a training camp with the Swim Ireland team in Lanzarote at the end of the month.  
Even the festive treats will be kept to a minimum over Christmas, although sweets don't really interest her much anyway. But the time that she will be afforded away from the pool will be spent with her family.
"It'll be down time, family time and it'll be nice to get away from the pool I guess," she says.
She has a practice meet in Edinburgh to look forward to in the new year, along with the Irish trials where she hopes to clock up the qualification times for the European seniors in the summer.
There's much to look forward to in 2018, but this year has been a significant one for McSharry.
"It's been an amazing year. To look back on it, it's unbelievable, the Europeans, the Worlds and to be fifth at a senior level in Europe is unbelievable and a great way to end 2017, and start swimming in the senior age-group.
"I got a PB and a new senior record so it couldn't have gone any better. I did exactly what I wanted to do, I'm right where I want to be at this point in my training programme. Over the next two and a half years, I'm hoping I can build on it and see how far I can go."