After their medal winning performances on Thursday, Mona McSharry and Conor Ferguson continued their fine form at the World Junior Championships in Indianapolis qualifying for the finals of the 100m Breaststroke and 50m Backstroke respectively.

McSharry was one of only two swimmers under 1:08 in the heats where she progressed in 1:07.79 as top seed. Swimming in the second semi-final the Sligo competitor was the first home in the exact same time as her heat swim.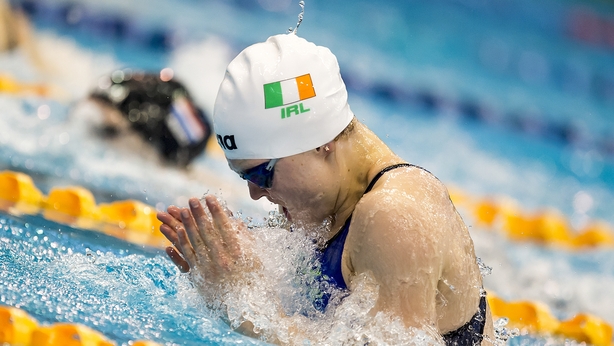 She goes into Saturday's final in second place behind Canada's Faith Knelson who won the first semi in 1:07.51.

Ferguson won his heat of the 50m Backstroke in 25.61 seconds, progressing in fourth place. He was just one hundredth of a second off that time in the semi-final, clocking 25.62 seconds to make the final in fifth spot.
USA's Michael Andrew, who set a new World Junior record of 24.63 seconds in the heats, will be top seed in the medal race.
Congrats @CFergusonn99 through to 50m Backstroke FINAL in 5th place #FinaWorldJrsIndy pic.twitter.com/rzuwmiR6I1

— Swim Ireland (@swimireland) August 25, 2017

Niamh Coyne had a drama-filled morning as she finished tied in 16th place in 1:10.88 in the 100m Breaststroke. Coyne went forward at the end of the session to a swim off against Belgium's Anke Geeroms where she stormed to victory in 1:09.67, her first time under 1 minute 10 seconds. In the semi-final Coyne was under 1:10 once again touching fifth and moving six places up the rankings for tenth overall in 1:09.83.

Darragh Greene concluded Ireland's individual events in the pool at the World University Games on Friday with a sixth-place finish in the 50m Breaststroke. Greene broke 28 seconds for the first time in his heat swim in 27.87 seconds, the UCD student bettered that time to 27.85 in the semi and knocked another .09 off it in the final coming home in 27.76.
Belarus' Ilya Shymanovich took gold in the event in 27.39, Sweden's Erik Skagius won silver in 27.49 while Germany's Fabian Schwingenschloegl was third in 27.63 seconds.

Just one race remains at the World University Games on Saturday as Ireland's Medley Relay take to the pool, while at World Junior Championships Robbie Powell swims the 50m Butterfly and Ellen Walshe the 200m Individual Medley.