It was a record breaking day for Conor Ferguson and Brendan Hyland at the Irish National/Open swimming championships at the NAC in Dublin on the penultimate day of competition.
In the morning heats Ferguson became the first Irish swimmer ever to go sub 2 minutes for the men's 200 metres Backstroke when he broke his own Irish senior record as the 17-year-old swam a blistering 1 minute 59.29 seconds.
That broke his own Irish record set earlier this year by a massive 1.55 seconds.
Ferguson, who has already won the 100 backstroke title this week, then broke the record again when he won the title in the final in 1.58.80.

The only regret for him was that he missed out on qualifying for the World Championships by a mere .35 of a second in that latter feat.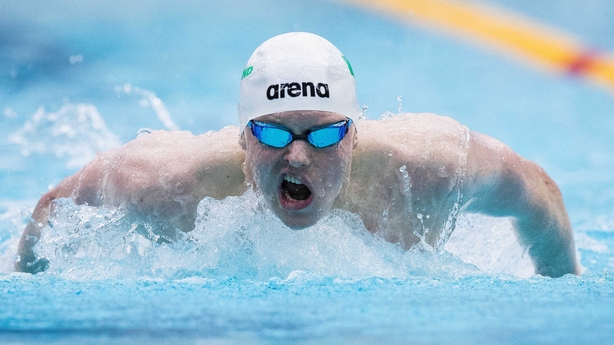 Hyland, added the men's 100 metres Butterfly crown to the 200 fly title he won on Thursday and the 23-year-old, who swims out of the NAC, did it in style, winning in a time of 53.26 seconds, cutting .08 of a second off Conor Brines' record.

Brines who swims for Larne, had to be content with the silver medal behind the Dubliner with Edinburgh's Greg Watson in bronze.

Jordan Sloan of Bangor added the men's 400 freestyle title to the 100 and 200 freestyle gold the 24 year old had already won this week, winning in a fast 3 minutes 55.47 seconds

As well as qualifying for the Worlds in Budapest this August, Sloan's club team Bangor also broke the Irish senior record in winning the 4x100 metres medley relay gold clocking 3 minutes 47.7 seconds, which broke UCD's two-year-old old record by over five seconds.

Both Sloan and Ferguson were in the Bangor quartet which also included 24 year olds - Jamie Graham and David Thompson.
Rachael Bethal of Lisburn was the fastest qualifier into the women's 400 Freestyle final and the 17-year-old duly turned that qualification into gold in the final.
UCD's Shauna O'Brien went mighty close to breaking her own women's 100 Butterfly Irish record when she won gold in 1 minute 00.41 seconds, just 2 tenths of a second off the Irish best time she set in 2015.

RESULTS

Men's
400m Freestyle
1 J Sloan (Bangor) 3.55.47
2 J McMIllan (Bangor)
3 F Gifford (WUSX)

100m Butterfly
1 B Hyland (NAC) 53.26 secs ISR
2 C Brines (Larne)
3 G Watson (Edinburgh)

200m Backstroke
1 C Ferguson (Bangor) 1.58.80 ISR
2 J Warren-Ballard (WUSX)
3 S Scannell (Kilkenny)
4x100m Medley Team Relay
1 Bangor 3:45.07 ISR
2 Vikings Rouen
3 Bangor
Women's
400m Freestyle,
1 R Bethel (Lisburn) 4.21.26
2 S Russel (Lurgan)
3 V Catterson (Ards)

100m Butterfly
1 S O'Brien (UCD) 1.00.41
2 E Walshe (Templeogue)
3 E Reid (Ards)

200m Backstroke
1 N Hofton (WUSX) 2.14.46
2 M Godden (Kilkenny)
3 M Briggs (WUSX)

Women 4x100m Medley Team Relay
1 Ards 4:27.97
2 Trojan
3 Templeogue