There was a sensational start to the finals session on day two of the Irish Open Swimming meet at the NAC in Dublin when 24-year-old Jordan Sloan from Bangor broke the men's 100 metres freestyle Irish record.
Sloan, who broke the 200 freestyle record yesterday to qualify for the World Championships in Budapest this summer, swam a time of 49.44 seconds, cutting .05 of second off the record of the blue riband event, set in the shiny suits days by Ryan Harrison at the 2009 worlds in Rome.
The suits have now been banned, so Sloan's record breaking times are all the more significant now that FINA the world governing body moved swimmers back to the textile suits.
The top women's swimmer at the meet so far is Mona McSharry who swims out of the tiny Marlin's club at the Ballyshannon Leisure Centre in Donegal. She won the women's 100 breaststroke gold in a time of 1.07.38 seconds to add to her 50m title she won on Thursday.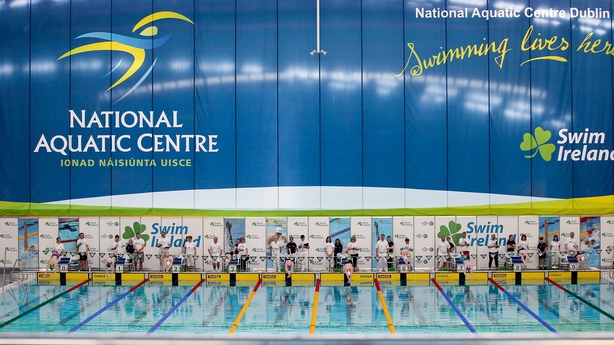 Of more significance is that McSharry's swim means that the 17-year-old Sligo competitor becomes the latest Irish swimmer to qualify to the worlds in August.
McSharry's time is only .23 of a second off the Irish record held by limerick's Fiona Doyle, who competed at the Rio Olympics in the same event in 2016
The Sligo teenager is no stranger to international success, having won a bronze in the 50m breaststroke before she claimed Silver in the 100m breaststroke at last year's junior European championships in Hungary.
18-year-old Danielle Hill of Larne, who won the 100 backstroke title on day one, added the 100 freestyle gold medal winning in a time of 56.93 seconds as Northern Irish swimmers continued their dominance of the 2017 meet.
Rio Olympian Nicholas Quinn, made his return to Dublin from his base at the University of Edinburgh and the Mayoman won a terrific mens 100 breaststroke final just getting the touch to win ahead of UCD's Darragh Greene in a time of 1.01.73
Full Results Day 2
Men 100m Freestyle Final: 1st J Sloan Bangor 49.44 ISR 2nd C Coulter Ards 50.33 3rd C Bain Stirling 50.91
Women 100m Freestyle Final: 1st D Hill Larne 56.93 2nd B Firth Ards 57.19 3rd N Hofton Stirling 57.24
Men 100m Breaststroke Final: 1st N Quinn Castlebar 1:01.73 2nd D Greene UCD 1:01.91 3rd J Graham Bangor 1:02.50
Women 100m Breaststroke Final: 1st M McSharry Marlins 1:07.38 IJR 2nd N Coyne Tallaght 1:11.84 3rd A Haughey Aer Lingus 1:11.95
Men 400m IM Final: 1st B Griffin Trojan 4:29.41 2nd C McCarthy Mallow 4:33.30 3rd C Melly Castlebar 4:36.01
Women 400m IM Final: 1st S Russell Lurgan 4:53.02 2nd R Reid Ards 4:58.13 3rd A Kane Ards 5:00.35
Men 50m Butterfly Final: 1st C Brines Larne 24.12 2nd C Bain Stirling 24.51 3rd B O'Sullivan NAC 24.82
Women 50m Butterfly Final: 1st L Mills Stirling 27.26 2nd E Reid Ards 27.31 3rd S O'Brien UCD 27.39
Men 4x200m Freestyle Team Relay: 1st Bangor 7:32.11 ISR 2nd Limerick 8:00.50 3rd Lisburn 8:04.50
Women 4x200m Freestyle Team Relay: 1st Sundays Well 8:50.58 2nd Limerick 8:51.57 3rd Leander 9:08.21