Two Irish senior and one junior record fell on the opening day of competition at the Irish National Open Swimming Championships at the National Aquatic Centre in Dublin today.
The first was recorded in the morning heats as 24-year-old Bangor swimmer Jordan Sloan swam a fastest heat time of 1 minute 47.41 seconds in the men's 200 freestyle
Sloan's time beat the existing Irish record by over half a second set by Ryan Harrison at the World Championships in Rome in 2009.
The most significant aspect of Sloan's new record was that it not only beat Harrison's time, set back in the days when competitors were allowed to wear the now outlawed and more buoyant shiny suits, but more importantly it qualified Sloan for this summer's World Championships in Budapest this August.
Sloan went onto win the gold medal easily in the final, but was marginally slower, winning in a time of 1.47.77.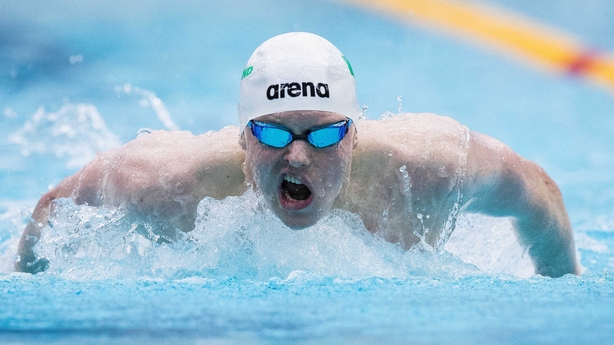 The second senior record had earlier gone in the finals session as Tallaght's Brendan Hyland broke his own best time by six tenths of a second when winning the gold medal in 1.58.08.
Hyland's time qualified him for the World University games in Chinese Taipei in August.
Conor Ferguson, the 17-year-old from Bangor who was touted at making the switch to compete for Great Britain but who this week fully committed to Swim Ireland, won back-to-back 100 metre backstroke titles in 54.61 seconds.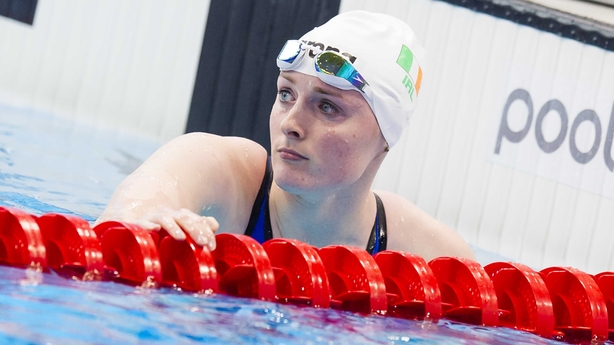 The top women's swim of the night came in the final of the 50 metres breaststroke when European junior silver medallist Mona McSharry from Sligo won the gold for the Donegal-based Marlins Club in 31.34 seconds, cutting .15 of a second off Sycerika McMahon's 2011 record time
Men's Results
1500 Metres Freestyle
1 D. Wiffen (Lisburn) 16.12.99
2 D. Fisher (Edinburgh)
3 J. Fleming (Lisburn)
200 Metres Freestyle
1 J Sloan (Bangor) 1.47.77
2 J McMillen (Bangor)
3 G Quinn (Longford)
200 Metres Butterfly
1 B Hyland (Tallaght) 1.58.08 ISR
2 F Gifford (WUSX)
3 C. Melly (MCLCB)
100 Metres Backstroke
1 C Ferguson (Bangor) 54.61
2 R McEvoy (NCL)
3 D Prendergast (UCD)
50 Metres Breaststroke
1 D Greene (UCD)
2 J Graham (Bangor)
3 A Moore (UCD)
Women's Results
800 Metres Freestyle
1 R Bethal (Lisburn) 9.00.19
2 V Catterson (Ards)
3 E Daly (Limerick)
200 Metres Freestyle
1 B Firth (Ards) 2.03.02
2 R Bethal (Lisburn)
3 N Hofton (WUSX)
200 Metres Butterfly
1 E Walsh (Templeogue 2.16.43
2 S Kelly (Galway)
3 C Flood (Tallaght)
100 Metres Backstroke
1 D Hill (Larne) 1.02.32
2 N Hofton (WUSX)
3 M Godden (Kilkenny
50 Metres Breaststroke
1 M McSharry (Marlins) 31.34 IJR
2 N Coyne (NCDTA)
3 A Blanchetiere (ENCN)